There is perhaps no more popular cake than a carrot cake, even among those who do not like the vegetable says ANDRY VOSKARIDOU
Striking to look at and a pleasure to eat, the carrot cake is regarded and considered as the third favourite cake in the world. It is no surprise then, that, on a monthly basis and a global scale, more than 300,000 people search the web for 'Carrot Cake Recipes'.
Cold weather calls for long tea breaks in the afternoon, especially in late autumn. I appreciate those moments even more when they include a sublime, soft and moist carrot cake smothered in a heavenly cream cheese frosting; the cosy environment, the warm tea and cake – all savoured in small bites.
Carrot cake could also be regarded as a sort of a healthier dessert due to the use of carrots as its main source of sweetness. Carrots not only deliver flavour but also provide an interesting dimension to the overall texture of the cake as well as assisting in maintaining the moisture and softness of the batter, and thus the final result.
I can always distinguish the flavours of the caramelised sugar and warming spices, the crunchiness of the roasted pecans and the richness of the velvety vanilla cream cheese, but carrots? A signature carrot cake doesn't taste much like carrots does it? Actually, most of the cake's 'character' is derived from the combination and delicate balance of sugar, spices and toasted pecans.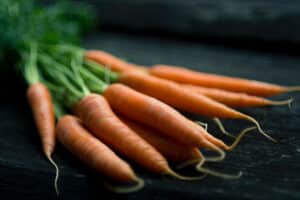 Food historians agree that modern carrot cakes have their 'roots' back in mediaeval times, when they were cooked in palace kitchens. They were called 'carrot puddings'; their main ingredient steamed or boiled to bring out the natural sweetness of the root. But why would mediaeval palace cooks use carrots as a key component for a dessert? Because sugar was a scarce commodity in Europe and people used whatever they had available to create desserts. Later on, exotic spices, flour and eggs were used to enhance the flavours of the mediaeval carrot pudding; and when the occasion called for something extravagant, these concoctions were flamed with brandy and served at celebratory banquets.
Hence, carrot cake is actually considered to be one of the staples enjoyed at mediaeval feasts in central Europe. Yet, interestingly, some of the oldest recipes we have on record come from Middle-Eastern scriptures of the 10th century but they were basic – a plain pudding of mashed carrots, walnut oil and honey.
Nowadays, based on individual taste, carrot cake can be enjoyed in its basic form or, if feeling adventurous and creative, there are many alternative versions made with shredded coconut, pineapple, raisins, rum, almonds etc
On the subject of carrots, they helped the allies defeat Germany in WWII. It all started by a myth spread to (and then by) the British public by the Air Ministry that their pilots were consuming large quantities of carrots to grant them exceptional night vision. This was to prevent the axes forces from finding out about the use of a new invention, specifically the radar, to intercept German Luftwafte airplanes on their night bombing missions.
This is a basic recipe for a wonderful treat to accompany your morning coffee or afternoon tea ritual.
Carrot Cake Bars
Makes 16
1.5 cups flour (all purpose)
1 cup shredded carrot
0.5 cup oil
3 eggs
Carrot cake spice mix (2 tsp powdered cinnamon, 0.5 tsp ground nutmeg, pinch of ground ginger, 0.5 tsp all-spice)
1 tsp salt
2 tsp vanilla (preferably liquid)
1 tsp baking soda
1 tsp baking powder
1 cup sugar
½ cup roasted and chopped pecans
Dreamy cream cheese frosting
ALL frosting ingredients should be at room temperature for better mixing
230g cream cheese
4 tablespoons butter
1 tsp vanilla
4 cups powdered sugar
Preheat oven to 180C fan
Prepare an 8×8 inch baking tray and line it with non-stick paper
In a glass bowl, mix all dry ingredients
Using a stand mixer, mix together butter and sugar on medium speed until combined and fluffy. Then add the eggs and vanilla extract and beat together until just mixed.
Add dry ingredients to the butter mix and fold lightly until just mixed (this ensures your final result is light and airy).
Gently fold in the carrots and mix.
Pour the final batter into the baking dish and place in the oven for 35-40 mins – (depending on your oven – you can check the centre of the cake with a toothpick)
Leave in the pan for about 5 mins and then place on a wire rack and allow for the cake to cool completely before frosting it.
To prepare the frosting add in a glass mixing bowl, the room temperature cream cheese, butter and vanilla. Beat on medium until mixed.
Continue beating and add 1 cup of powdered sugar until the butter mix becomes creamy. Continue with each cup of sugar separately until you achieve a nice, velvety and airy frosting consistency.
Spread the frosting on the surface of a completely cooled cake, either with a spatula or by using a piping bag (depending on the design you want to achieve.
Cut the cake into 16 squares/bars and if you want, you can sprinkle each bar with roasted pecans, extra cinnamon, grated carrots or drizzle with maple syrup.
Andry has been cooking since she was five and is a member of the World Gourmet Society in addition to organising the Desserts Festival Cyprus