Working at an environmental non-governmental organisation
By Konstantinos Perikleous
Terra Cypria – the Cyprus Conservation Foundation, is a non-governmental non-profit organisation (NGO), officially established in 1992 as a charitable trust. Its overall aim is to promote environmental awareness and sustainability through pressure and environmental education, as well as through programmes that promote conservation, environmental protection and research.
The main activities of the foundation are the application of pressure for better environmental protection, the implementation of projects and research for the protection and better knowledge of the environment and environmental education. It has two offices, one in Limassol and one in Kritou Terra in Paphos, and currently employs 12 full time officers.
Since 1995 Terra Cypria operates the Cyprus Environmental Studies Centre (CESC) in Kritou Terra village.
The CESC has been the longest and most important running activity of Terra Cypria. Established in 1995, it is the first centre providing environmental education in Cyprus. Today it is one of the most renowned, largest environmental studies centres in Cyprus. Its main offices are located in the village of Kritou Terra and since last year, it expanded its activities to the Akamas Regional Multicultural Centre of Kathikas village.
The activities that the CESC focuses on are education and research. With highly experienced staff in the research and education sector, the centre carries out scientific research on various aspects of conservation and environmental issues such as habitat and wildlife monitoring, mapping and restoration, as well as projects that include climate change impacts and empowerment of solutions for mitigation and prevention. The research projects are done in collaboration with partners from both locally and around the world and have an impact on a local, European and International level.
With an experienced scientific research and education team, the CESC excels in the environmental education sector as they incorporate the knowledge they acquire from research into educational programmes.
Each year more than 3000 students, both from abroad and from Cyprus, visit the centre and get educated about the environment and sustainable development through our outdoor studies. This massive number of students each year, leaves a positive economic impact to the communities of Kritou Terra and Kathikas as well as other surrounding villages, since the locals rent their uninhabited houses to accommodate the visiting students, who can stay for up to a week or more, and eat at the local restaurants which the CESC has also partnered with. Both Kritou Terra and Kathikas centres have their own dormitories where groups can be accommodated. In other occasions groups opt to stay in nearby hotels in the surrounding villages again benefitting the local economy.
The lessons that the CESC offers are an array of, but not limited to, biology and geography lessons.
Since we teach from kindergarten to university level students, we tailor the lessons for each group to meet their demands, based on their level of understanding and physical capabilities, and therefore do not exclude any child or group from our environmental educational activities.
Since the CESC also does scientific research, we incorporate that into our lessons, giving the students a proper scientific knowledge, how to carry out a proper scientific study and the opportunity to experience the natural world on their own. Our philosophy is for the students to spend as little time as possible in the classroom and the largest amount of time out in the field with our studies taking them into rivers, by the coast, in the forest, on nature trails and even the urban areas. The main goal is to get the students to be active and explore our natural world and bond with it by using science and physical exploration. The CESC does not limit its studies, for both the environmental education and research, to areas close by Paphos, but expands all over Cyprus hence having a national impact.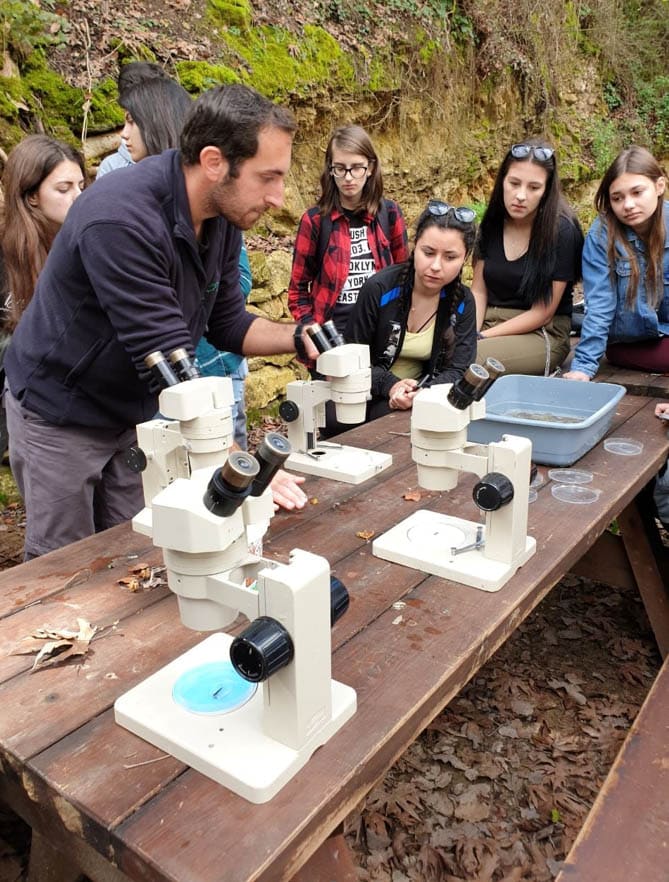 Konstantinos Perikleous: CESC education and research officer
I am a conservationist/wildlife biologist. My hunger for knowledge and love for the natural world pushed me to chase a career in the conservation sector. I did a bachelor's degree in Environmental Sciences. Because of my love for animals and their habitat, I followed up with a master's degree in Biodiversity and Conservation.
During my studies, I volunteered at various organisations such as the Wildlife Trust and Operation Wallacea. One of these organisations was also Terra Cypria and as soon as I finished my MSc and came back to Cyprus I was hired by Terra Cypria.
So for the past five years I have been a member of the CESC team, as an education and research officer.
I have two roles. I both teach and do research. Also, I am an award leader for the Duke of Edinburgh Award that the centre also facilitates.
As an educator, I have the responsibility of creating and delivering biology and geography lessons based on the requirements of each group to meet their demands. Also, I prepare fun educational activities that all take place out in nature such as environmental games, orienteering courses and nature hikes.
As a researcher I work on various conservation projects that Terra Cypria is involved in and a few examples of those are the monitoring of reptiles and amphibians in the Akamas Peninsula, the Darwin project for the Habitat Restoration and Wise Use for Akrotiri and Cape Pyla, the habitat mapping in Akamas, the LifeWithVultures project, etc.
What does the CESC offer and how can an individual contribute to it?
I could describe my experience working at the CESC so far nothing less than extraordinary! Being able to work in an environment where likeminded people can be found and share the same philosophy of never-ending growth both at work and at the personal life, is very motivational.
Also being able to do all the things that I love in one place does not really feel like I go to a job each morning but more like an exciting adventure!
Through this job I managed to get various research skills that helped me to grow as a researcher by participating in various projects increasing my knowledge for our natural world and especially Cyprus'.
Imagine a day where you wake up and then you know you will be hiking in a remote gorge to study reptiles, another day you will hike with a group of students on the Troodos mountains or doing a freshwater ecology study in a river where very few people know about. It sounds more like an adventure rather than a job really. This is what I call a dream job! I consider myself really lucky as I am one of the few people who actually returned to Cyrpus and am able to work in the sector that I have studied for.
As the CESC offers so much to me, I am trying my best to offer the centre back by developing myself in the conservation sector and be able to deliver environmental classes, improving them and carrying out research of the highest level.
Konstantinos Perikleous is a research and education officer in Cyprus Environmental Studies Center