Just 3.6 times the size of New York's Central Park, Tokelau is the smallest country in Oceania. It's also the fourth smallest country in the world, ranking just behind the Vatican, Monaco, and Gibraltar in the tiny stakes, and manages to boast 1,647 residents!
The name itself means North Wind in the local language, a fittingly romantic moniker for a place of turquoise lagoons, limpid green seas, and white sand beaches. There's a distinctly traditional Polynesian culture, with an ingrained respect for the elderly and a strong community spirit.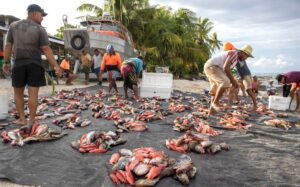 Fish is the staple here, and the surrounding waters boast an enviable variety of species: tuna, parrot fish, barracuda, coconut crabs and crayfish rutiana, all of which appear roasted, grilled, raw and in soups or stews. Taro, breadfruit, fish and coconut are the four foods that typify the islands' cuisine (even appearing on the local stamp). And, in this place of plenty, hunger is rare. But on the odd occasion someone goes without, the Tokelauans break out the age-old inati…
Instigated by the Council of Elders, broadcast and organised by the village mayor, and then carried out by the men's group, the inati is a well-organised ritual. On a pre-arranged day, all able men head out to fish a targeted species (often tuna), and return to tea and food prepared by the women. The entire catch is then taken to the common distribution place and shared equitably among the villagers: bigger families get bigger shares, and smaller sized families have smaller portions in terms of number and type of fish.
Everything is taken into account: the number of people per household, the needs of each family member, the species of the catch. And at the end of the inati everyone is well-fed and happy. Sounds idyllic, doesn't it? But this food distribution system, which has been studied in detail by various sociologists and economists, works only because it's an ingrained ritual, based on tradition and respect. And also because it's feeding a small population in a very small nation!