Here in Aland, there's an island for nearly every resident. No mean feat, considering that there are 28,000 people. Granted, you might have to settle for a small rocky outcrop (only 6700 of the more than 20,000 islands are named, and just 60 are inhabited year-round). And the weather might not be quite what you're used to (snow settles from November, and blankets the earth until March). But it's worth it to have your own little house on your own little island.
However, before you start packing your bags and escaping the family chaos, it's worth noting there are a few hurdles to overcome. To own a house, either you or one of your parents must have been born in Åland, or you have to be a Finnish citizen who has lived in Åland for five years (renting, presumably). Still, there's nothing stopping you from camping out on your own small bluff – the 'Everyman's Law' states that you can camp out anywhere you like as long as you don't disturb the locals! And the scenery is certainly worth the discomfort…
Known for its distinctive red-paint houses (traditionally made from copper) and vast snow-swept vistas, the Aland Islands are a northern paradise. An autonomous region located on the south-western tip of Finland, the archipelago commands one of the entrances to the port of Stockholm, and boasts an economy dominated by shipping. Add a little trade, tourism, farming and fishing, and you have the mainstays of life in Aland: surveys suggest this is one of the wealthiest regions on the continent, with a GDP per inhabitant 47 per cent above the EU mean. And yet, contrary to expectation, this is not a rushed place: Aland may be wealthy, but it's also renowned for its slow living – and its slow food.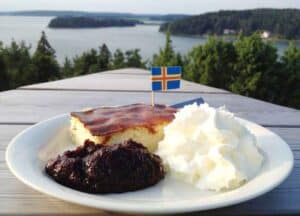 Thanks to its long autumns, Aland is famed for produce that grows slowly and is thus packed with flavour. Potatoes, asparagus, apples, strawberries and buckthorn all enjoy a concentrated taste and crop up in winter stews and pies. Slow-cooked fish soup, and ancient hemvetebröd (a type of black bread made with stone-ground wheat that's specific to Aland) also make the menu. And the islands are known for their rich dairy products: gourmet butter and prize-winning cheeses are a favourite on the mainland, and number amongst the many the islands' culinary exports.
Slow beer (which is allowed far more time to ferment than mass-produced brands) is another favourite on the islands, and several microbreweries create their own, unique ales, which include an award-winning Czech-style pilsner and a smoky Baltic porter produced from an age-old local recipe.
But perhaps the most iconic island dish isn't 'slow' at all: it's quick and easy! Known as the Ålandspannkaka, and usually enjoyed as an on-the-go snack, this thick, semolina-based pancake comes topped with whipped cream and stewed prunes or home-made buckthorn berry jam – an ideal campfire confection while you're waiting for your own island!