Although thousands of miles distant, the two nations have long been closely linked. This year, a host of events celebrate the enduring connection between them finds ALIX NORMAN
Cypriots first arrived in Australia almost 200 years ago! In the 1850s, a number of Cypriots sailed half-way round the world in search of fame and fortune in a new world. Among them was one Tony Miranda, who landed in Victoria in 1857. Like many of his compatriots, he'd followed the gold rush of the time: he became a prospector on various goldfields before eventually settling in the town of Daylesford and founding the well-known Athens Hotel.
Tony is one of the first Australian-Cypriot immigrants ever recorded. But he, and others like him, paved the way for hundreds of thousands more over the centuries. Today, Australia boasts a Cypriot population that's second only in size to that of the UK. 80,000 people of Cypriot heritage make their home in the country; roughly the same number as the combined populations of Larnaca and Paphos! And Cyprus itself is home to more than 5,000 citizens who are proud to claim either Australian or Australian-Cypriot nationality.
This close connection has echoed down the years: a relationship that's been centuries in the making. And in 2023, we'll be seeing a more contemporary expression of this age-old connection: the 50th anniversary of Australia-Cyprus bilateral diplomatic relations.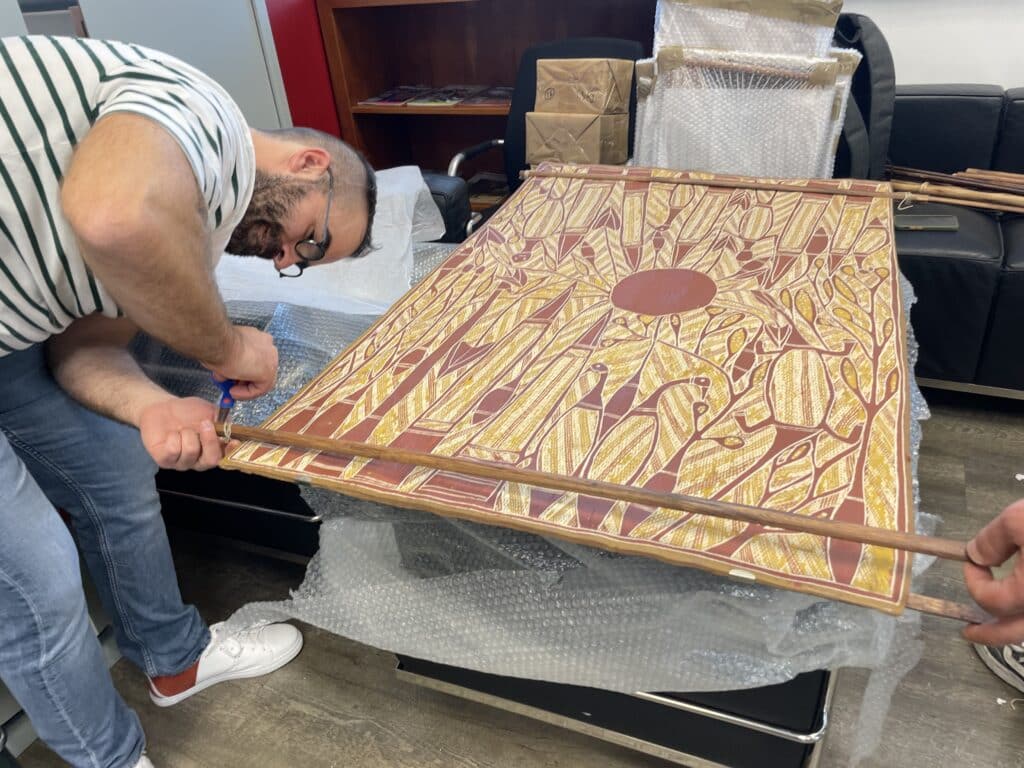 Organised by The Australian High Commission (AHC) in Cyprus, 2023 will see a year-long celebration of the enduring link between the countries. "Almost everyone on the island has at least one relative in Australia," says Policy and Public Diplomacy Manager to the AHC Costa Constanti. "There is a very human connection between our two nations.
"I mean, Australia's Eurovision entry is sung by an Australian-Cypriot this year! Add to that the more official relationships of the past – Christofias visited Australia twice, both as House President and as President, while the current Prime Minister of Australia, Anthony Albanese, has visited the island on two separate occasions – and you start to see our real people-to-people link."
This personal connection has been celebrated in numerous local initiatives and appointments over the years. "Between 1964 and 2017, the Australian police were part of the island's Unficyp police contingent, while Australian Army Major General Cheryl Pearce was force commander of Unficyp from 2018 to 2021," adds Costa.
"For the past 14 years, Australia has supported the peace-building NGO Cyprus Academic Dialogue (CAD). The country also manages the road safety collaboration between Monash University Accident Research Centre and the European University Cyprus CERIDES, as well as the CSIRO and The Cyprus Institute collaboration on photovoltaic research, and the University of South Australia and UCY Nireas water safety research project.
"In academia, the University of Adelaide has been instrumental in work on local drought resistant grape varietals, including Xynisteri and Maratheftiko – both of which are now successfully cultivated in South Australia. And the archaeological digs at both Paphos Fabrika Hill and Alambra are both conducted by Australian universities.
"But in 2023," Costa adds, "we'll be celebrating far more than these ongoing collaborations. This year, the Australian High Commission to Cyprus is organising a special programme of free events, which will focus on everything from First Nations art to fabulous film festivals!"
The celebrations kick off on January 20 with a unique exhibition of indigenous art, entitled From a Continent to an Island. Taking place at the CVAR – Severis Foundation in old Nicosia, and hosted in partnership with the Deputy Ministry of Culture and Cathrine-art, this exhibition will showcase the largest collection of indigenous Australian art ever to be exhibited on the island!
On display will be 70 pieces, all featuring fascinating images of ancestral beings from the Dreamtime and familiar indigenous motifs, such as family animal totems. Each work is painted on local eucalyptus bark using ochre pigments derived from natural minerals found in Arnhem Land: A veritable cornucopia of the richness and versatility of First Nations Australians' cultures!" reveals Costa.
Also included in the 50-year celebration is a year-long, island-wide film festival that will highlight such vital themes as LGBTQI+, gender equality, human rights, and multi-culturalism, as well as various Women in Leadership podcasts and workshops featuring influential women from Australian media, politics and civil society.
We'll also be seeing the continuation of the AHC tree-planting initiative, which aims to see 300,000 native Cypriot saplings (all grown at the AHC-sponsored sustainable nursery in Katydata) planted across Cyprus. "The Australian High Commission has always shown great interest in ecological awareness and greening activities," says Costa. "Though our two nations may be 8,000 miles apart, we're sharing the same planet. We believe it's our collective responsibility to ensure future generations reap the advantages of our present activities," he adds. "So, as well as our contributions to the environment, the AHC will be highlighting both our cultural unity and efforts for peace…"
In September, we'll be seeing an epic journey of unification, as Turkish Cypriot Yalcin Adal and Greek Cypriot Stavros Georges – both residents of Australia – walk across the entire island from east to west, crossing and re-crossing the Buffer Zone in an effort to 'stitch together' their two communities. And plans are in the works for a heart-warming theatre performance at Buffer Fringe, in which actors recollect the content of love letters sent between two Cypriots (he in Australia, she in Maroni) before their eventual marriage Down Under.
"Along with our shared values and the strength of our community spirit, it's ultimately our people that so inextricably link our two nations," Costa concludes. "Over the centuries, this personal connection has linked countless people – and will continue to link countless more well in to the future. In 2023, as we commemorate 50 years of Australia-Cyprus bilateral diplomatic relations, what we're really celebrating is our people: the people of two nations distant in miles, but close in heart."
For more information on the upcoming events, visit https://cyprus.embassy.gov.au/ or the Facebook page 'Australian High Commission, Cyprus'