Cyprus is not great at environmental stuff. Say what you will, we're still ranking well in the lower half of the EU in the green stakes – just above Lithuania and Bulgaria at the last count.
On the other hand, we're not the worst in Europe. That distinction falls to Poland which, in a recent EU-funded study, scored dead last. Taking into account the state of the environment, its effect on quality of life, and efforts by politicians, businesses and citizens to address climate issues, this eastern European nation did miserably. Cyprus scored in the 40s but Poland received a measly 34 out of 100!
Nevertheless, Poland is blessed by natural beauty: the wild Tatra Mountains in the south, known for their breath-taking alpine scenery; the picturesque Masurian Lake District; ancient forests such as Bialowieza, one of the continent's last remaining primeval forests; and the sandy beaches and soaring dunes of the Baltic coastline. And on top of that, you get wonderful people, and great food – a culinary tapestry that's as heart-warming as its residents.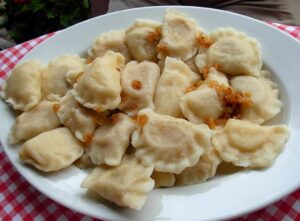 Exactly the sort of comfort food you want when the environment is going to pot, cabbage, potatoes and dairy are the staples, alongside scrumptious breads and succulent sausages. The stand-out is, of course, pierogi – the most iconic Polish food of all time. Thin dough packets stuffed with an endless variety of fillings (meat, sauerkraut, wild mushrooms, cheese, bilberries, blueberries), these divine dumplings are boiled or fried and then served steaming hot as everything from an appetiser to a main dish to dessert.
Then there's kotlet schabowy, a highly popular dish that appears on every menu. A flattened, breaded and butter-fried pork chop, it's similar to schnitzel. But the Polish version is said to be more filling, more warming – especially when served with the usual side of mashed potatoes and pickled cabbage.
Bigos is another heart-warming concoction, a one-pot mix of sauerkraut, meats, sausages, mushrooms and spices that's often cooked for days. Thanks to the host of ingredients, the name means 'mess' or 'confusion' in Polish. But it's also called Hunter's Stew, as the dish was traditionally made from whatever could be caught, and enjoyed with thick slices of crusty sourdough bread and butter.
The all-important cabbage pops up again in gołąbki, a word that translates to little pigeons thanks to the shape of the boiled leaves wrapped around minced pork and rice, braised in stock and covered with a thick tomato sauce. And again as a side to żurek (an ancient sour rye soup that's popular at Easter) and tatar (raw ground beef and a raw egg, served with onion, pickles, and that all-important shot of vodka).