Affiliate marketing is a very effective strategy for internet companies to expand their customer base by offering incentives to individuals who bring in new customers. You need an effective affiliate monitoring system if you want to maximize the returns from your affiliate marketing initiatives. An online company may simply monitor the success of its affiliate network and identify the best-performing affiliates with the aid of affiliate tracking software.
Overview of affiliate link tracking
An affiliate tracking platform is a software system that assists businesses in identifying, monitoring, and measuring the effectiveness of their affiliate marketing program. It helps to comprehend the effectiveness of affiliates and the precision of their sales.
The platform also enables organizations to examine data on affiliate performance. Online companies may use an affiliate tracker to improve and manage their campaigns, precisely record clicks and conversions, assess performance outcomes and accurately calculate commissions received.
Benefits of using an affiliate tracking platform
There are several benefits to employing an affiliate tracking platform. 
For starters, it helps organizations to precisely examine data pertaining to the success of their affiliates and clients. 

Second, it enables companies to precisely monitor affiliate conversion rates and clicks, as well as evaluate outcomes depending on the performance of each affiliate.

Third, the monitoring platform may assist firms in establishing dependable payment terms and providing effective commission payments. 

Finally, it aids in the detection of fraudulent activity, therefore ensuring a secure and dependable marketing campaign.
The best affiliate tracking software 
Because there are so many affiliate tracking platforms available, deciding which one is best for your business may be tough. These are the top affiliate link tracking software for online businesses.
Each of these affiliate link trackers, being one of the best tracking software for affiliate marketing on the market, has a unique set of features that contribute to its position. Businesses may use one of these tracking platforms to guarantee that their affiliate program operates as smoothly as possible.
1. Phonexa
G2 Rating: 4.9/5
Price: no information

Pros: 
automatically tracks clicks, impressions, and conversions 

offers detailed analytics and a suite of other marketing tools 

has an ERP integration option 

security protocols
Cons:
it can be expensive for businesses looking to start out

setup and implementation may take time
Affiliate link tracking and campaign optimization are both handled by Phonexa, an affiliate tracking software. It is one of the top 10 affiliate marketing systems and provides a variety of features and tools that will enhance the effectiveness and performance of affiliate marketing as a whole. Both small and large-scale organizations may use this software. It is capable of manual and automated tracking. 
This tool provides real-time performance indicators and optimization insights to aid in the smoother operation of campaigns. You can precisely monitor marketing activity and ROI thanks to Phonexa's extensive reporting and analytics features. Phonexa's cookieless tracking technology, which allows affiliates to quickly and precisely measure conversions, is one of its most significant advantages.
2. Post Affiliate Pro
G2 Rating: 4.5/5
Price: 129$/ month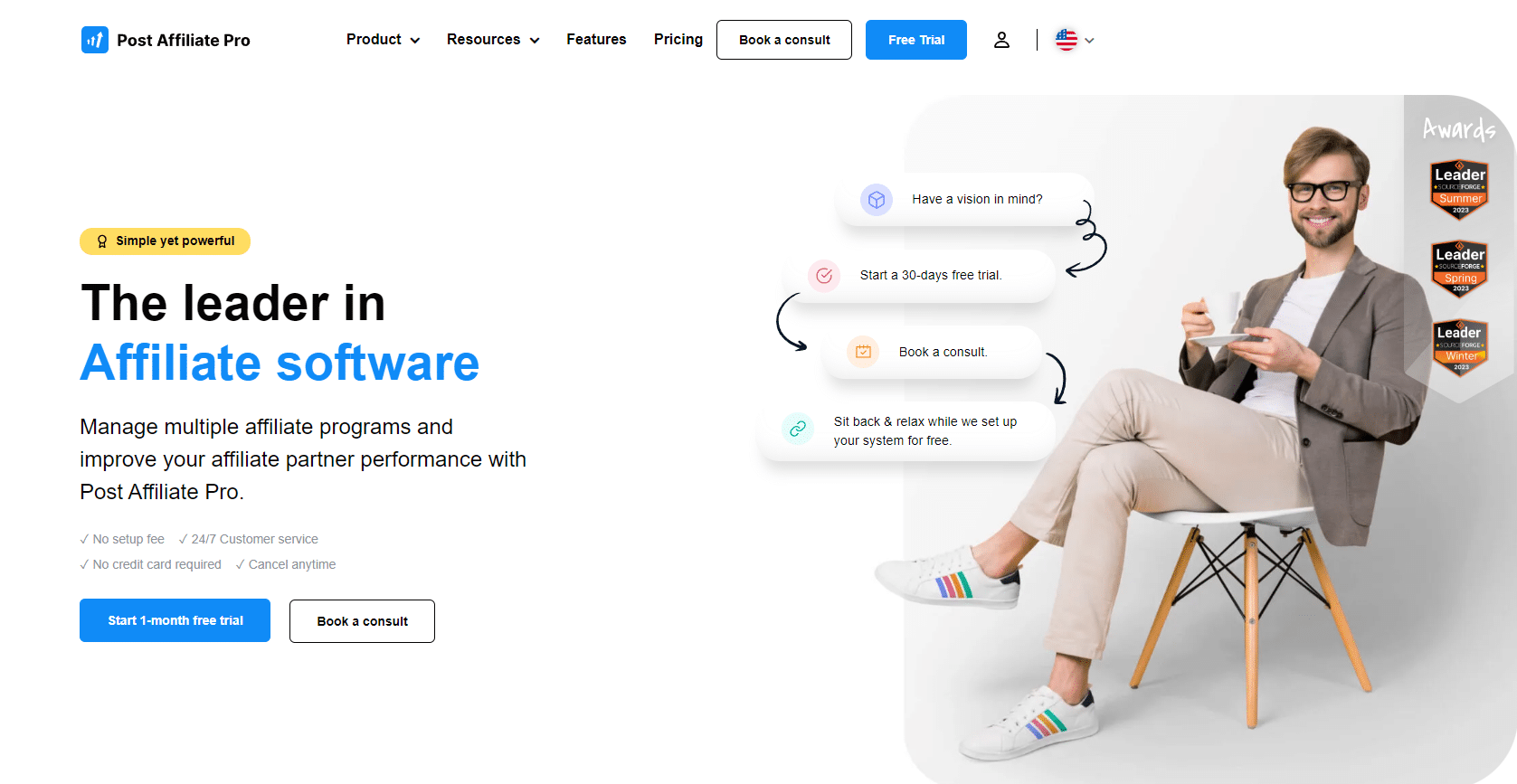 Pros: 
ability to create both direct and multi-tier affiliate campaigns 

includes options for tracking leads and specialized offers 

reporting and analytics are easy to use and understand 

multiple payment options are available
Cons:
can be difficult to use for bigger businesses and enterprises

limited integration options with other programs and services
To measure affiliate sales and enhance affiliate marketing initiatives, Post Affiliate Pro, an efficient and modern affiliate tracking platform, is employed. This tool is incredibly simple to install and use, and it is highly user-friendly. It is also supported by a variety of reputable payment processors, which is beneficial for both merchants and affiliates. 
Post Affiliate Pro employs accurate affiliate marketing tracking methods and offers thorough data and insights that are helpful for managing campaigns and optimizing outcomes. Dynamic link probabilities are another feature that enables affiliates to provide customized charges beside each affiliate link.
3. Affiliatly
G2 Rating: 4.4/5
Price: 16$/ month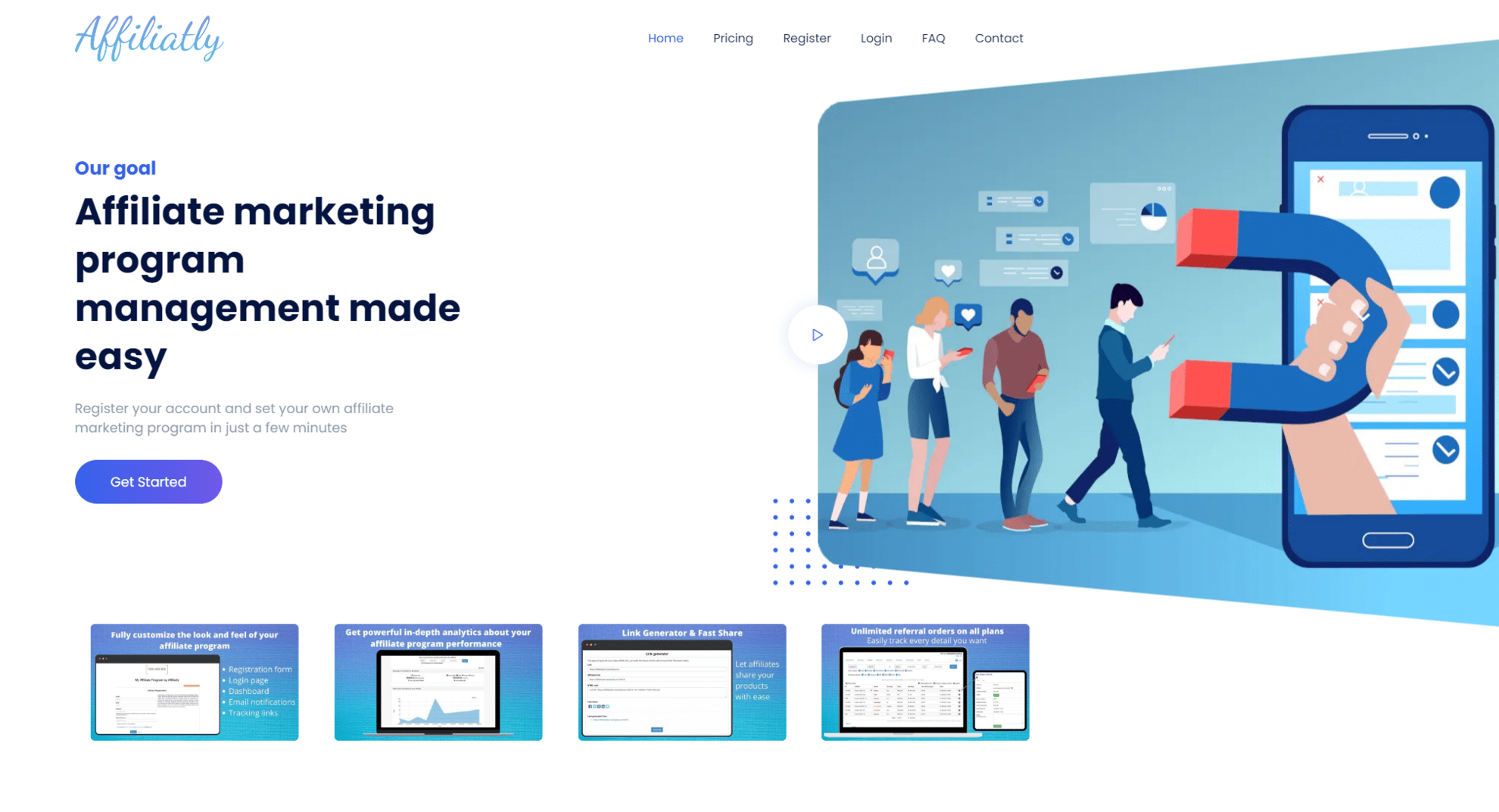 Pros: 
intuitive, user-friendly interface

customizable affiliate program management options 

automated email tracking and reporting 

comprehensive affiliate link tracking
Cons:
lacks some advanced features, such as multi-currency support 

aging UI can cause some confusion
To track and manage affiliate marketing efforts, Affiliatly is one of the top affiliate tracking platforms. The program is easy to use and provides every feature required for managing campaigns and maximizing ROI. 
Advanced tracking features like pixel tracking, postback tracking, and mobile tracking are also included in this program. The affiliate management solution from Affiliately is very safe and integrates with several top payment processors. Accurately tracking the effectiveness of affiliate programs is made possible by the reporting and analytics tools.
4. AffiliateWP
G2 Rating: 4/5
Price: 299$/ year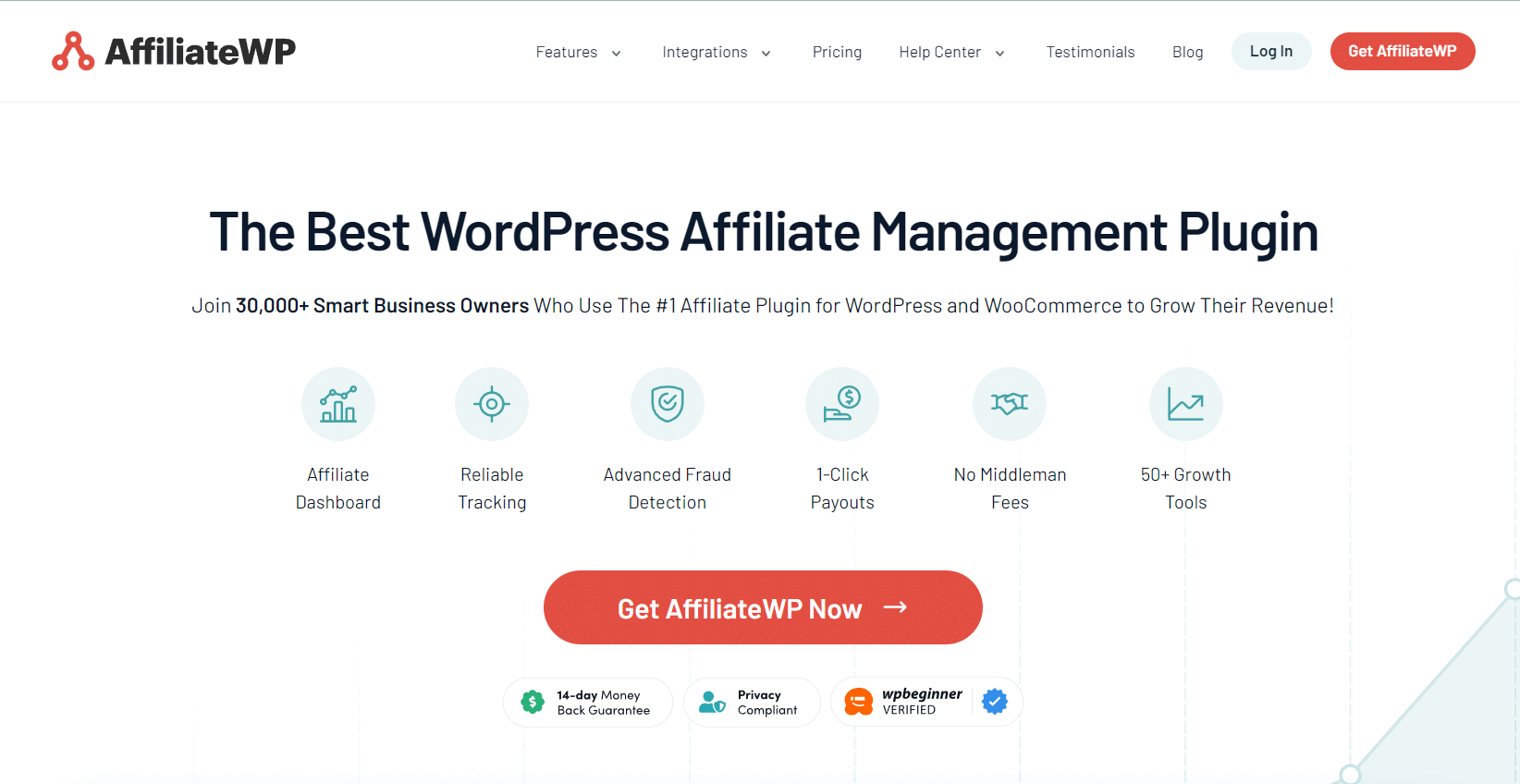 Pros: 
offers an extensive affiliate tracking system 

advanced reporting with built-in analytics 

integration with popular payment gateways 

includes a 30-day risk-free trial
Cons:
does not support multi-tier affiliate programs 

can require a good bit of setup time
AffiliateWP is a comprehensive tool for tracking affiliate links and optimizing campaigns in affiliate marketing. It is one of the top 10 affiliate link tracking platforms and offers a broad variety of features and functionalities. Both marketing experts and beginners may use it with ease. It offers real-time data and analytics to improve performance while manually and automatically monitoring campaigns. The effectiveness of affiliate programs is increased by features of AffiliateWP, including cookieless monitoring and automatic commission payments.
5. Affise
G2 Rating: 4.6/5
Price: 500$/ month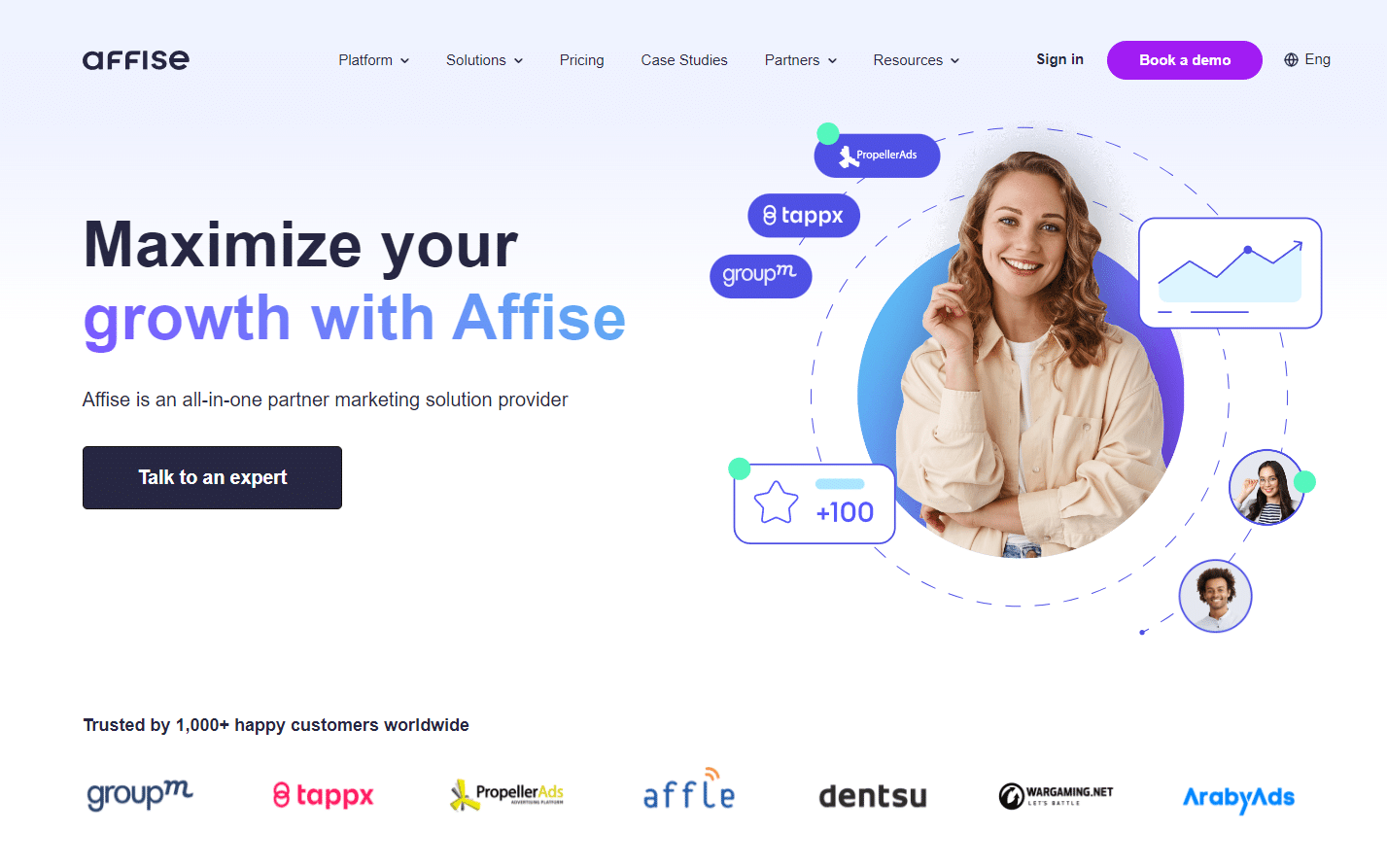 Pros: 
easy to set up and manage affiliate programs 

detailed analytics and reporting are available 

offers pay-per-click, pay-per-sale, and other transaction types 

includes a 12-month free trial
Cons:
it can be difficult to track sources of conversions 

fewer payment processing options available compared to other options
The dependable affiliate tracking platform Affise is used to quantify affiliate revenues and improve marketing campaigns. Just a few of the many crucial tools and features offered include real-time analytics, an advanced commission management system, automated payments, and straightforward connectivity with all of the leading payment gateways. 
The precise data tracking, reporting, and insights offered by this software enable a thorough evaluation and improvement of affiliate programs. Affise also provides cookieless monitoring choices for accurate conversion and conversion rate evaluation without the usage of cookies.
6. Pepperjam
G2 Rating: 4.4/5
Price: no information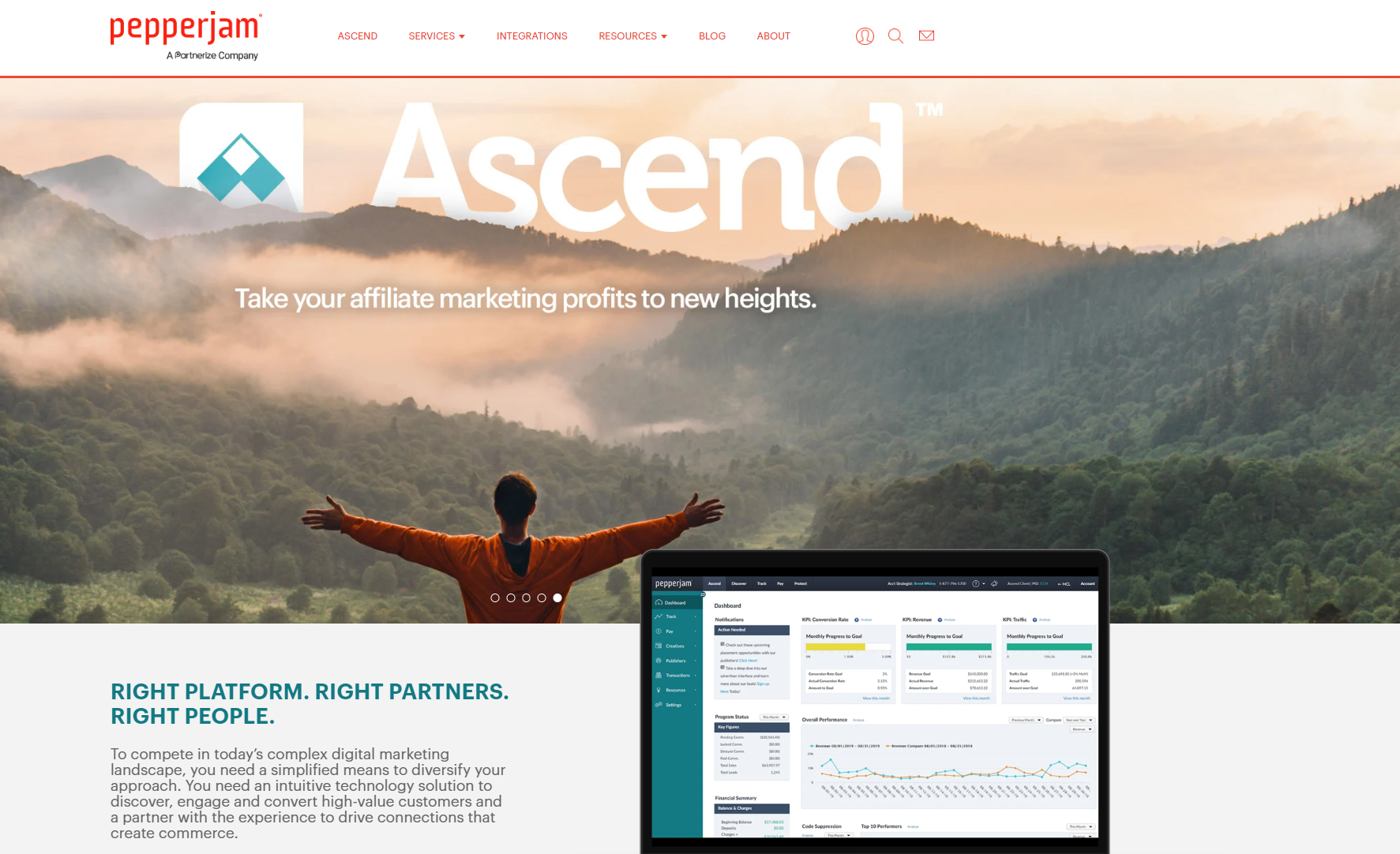 Pros: 
nearly two decades of experience in the industry 

comprehensive lobbyist management core 

a wide array of automation options 

complete tracking and reporting features
Cons:
price can be high for beginning and mid-size businesses

limited support for mobile tracking
Affiliates may monitor affiliate profits and enhance their campaigns by using the trustworthy and comprehensive affiliate tracking platform Pepperjam. With all the data and tools required to manage campaigns and boost ROI, it is one of the top 10 affiliate link tracking platforms. This software allows affiliates more control and power while also offering thorough data and statistics that help evaluate the efficacy of affiliate programs.
7. PartnerStack
G2 Rating: 4.7/5
Price: no information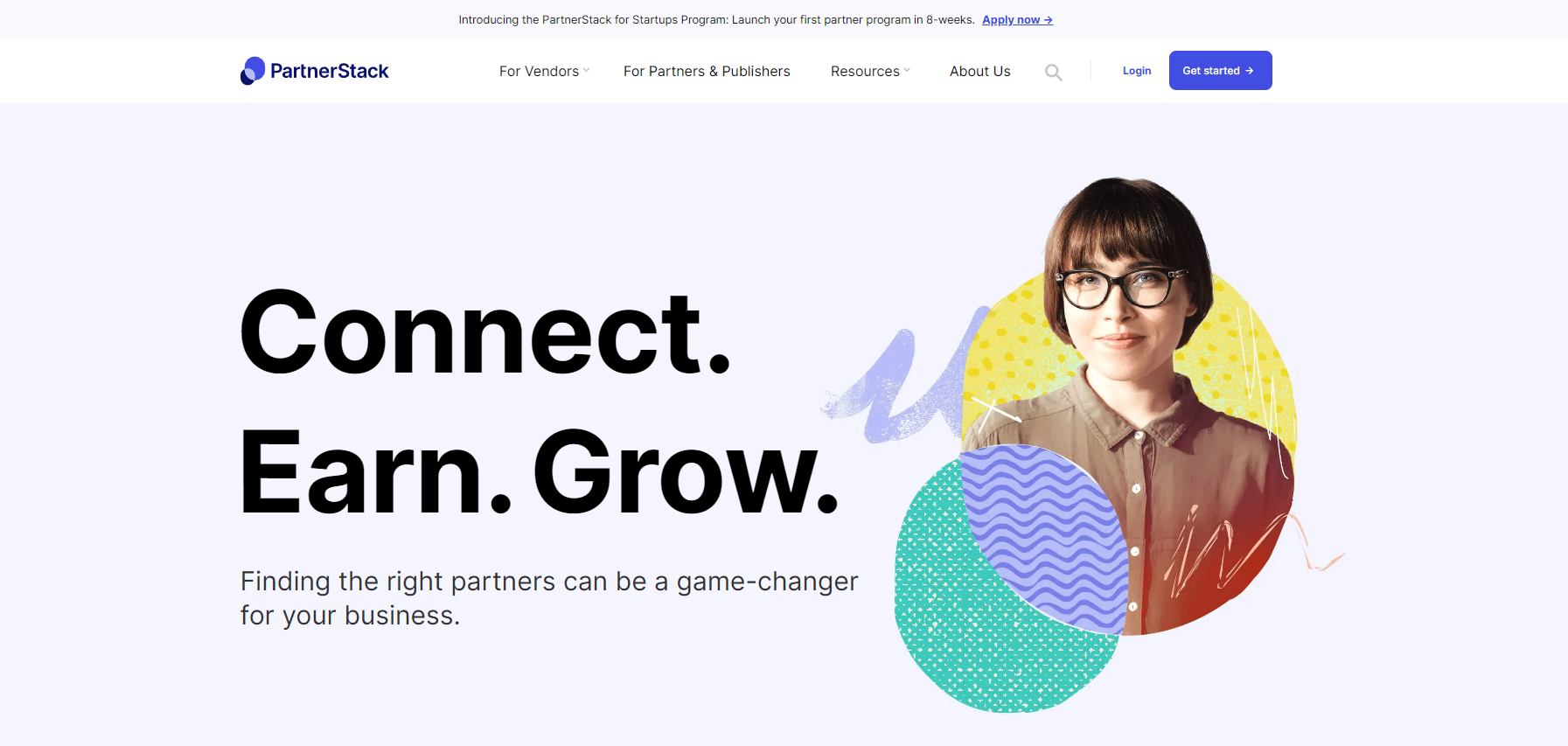 Pros: 
comprehensive tracking and reporting features 

easy-to-use affiliate dashboard 

multiple payment options are available 

easy-to-use API integration
Cons:
does not support multi-tier tracking
A user-friendly affiliate marketing monitoring tool called PartnerStack supports campaign optimization and affiliate income estimation. It has all the materials and equipment required for managing campaigns and achieving the best ROI. Due to its ease of use and widespread acceptance by well-known payment processors, this program is quite useful for both merchants and affiliates. To manage campaigns and improve effectiveness, PartnerStack employs precise monitoring techniques that provide in-depth data and insights.  
8. FMTC
G2 Rating: 4.5/5
Price: 500$/ month

Pros: 
gathers large amounts of affiliate and performance marketing data 

easily integrates into existing tracking platforms 

simple tracking solutions 

flexible & customizable tracking solution for any business
Cons:
no built-in analytics or reporting 

customer service can be slow 

limited integrations 
One of the top affiliate tracking platforms for organizing and keeping track of affiliate marketing operations is FMTC. All the capabilities and resources required to manage affiliate links and improve campaigns are available on this friendly platform. The use of the real-time performance information and optimization insights provided by this program might improve the efficacy of campaigns. A further service provided by FMTC is automatic commission payments, which improve the general effectiveness and efficiency of affiliate programs.
9. ShareASale
G2 Rating: 3.5/5
Price: no information

Pros: 
well-established tracking platform

easy-to-use interface for both affiliates and merchants 

comprehensive A/B testing capabilities 

easy PayPal integration
Cons:
low options for customizing links

a large number of support emails are required to resolve problems 

limited customer support
ShareASale, a trustworthy and thorough affiliate marketing monitoring tool, was created to track affiliate links and improve marketing efforts. One of the top ten affiliate link tracking platforms, it offers a variety of features and functionality. Both small and big enterprises may use this program, which is compatible with mobile devices. It offers comprehensive analytics, data, automated and manual monitoring capabilities, and allows for accurate campaign tracking and profit optimization.
10. Scaleo
G2 Rating: 4.8/5
Price: 299$/ month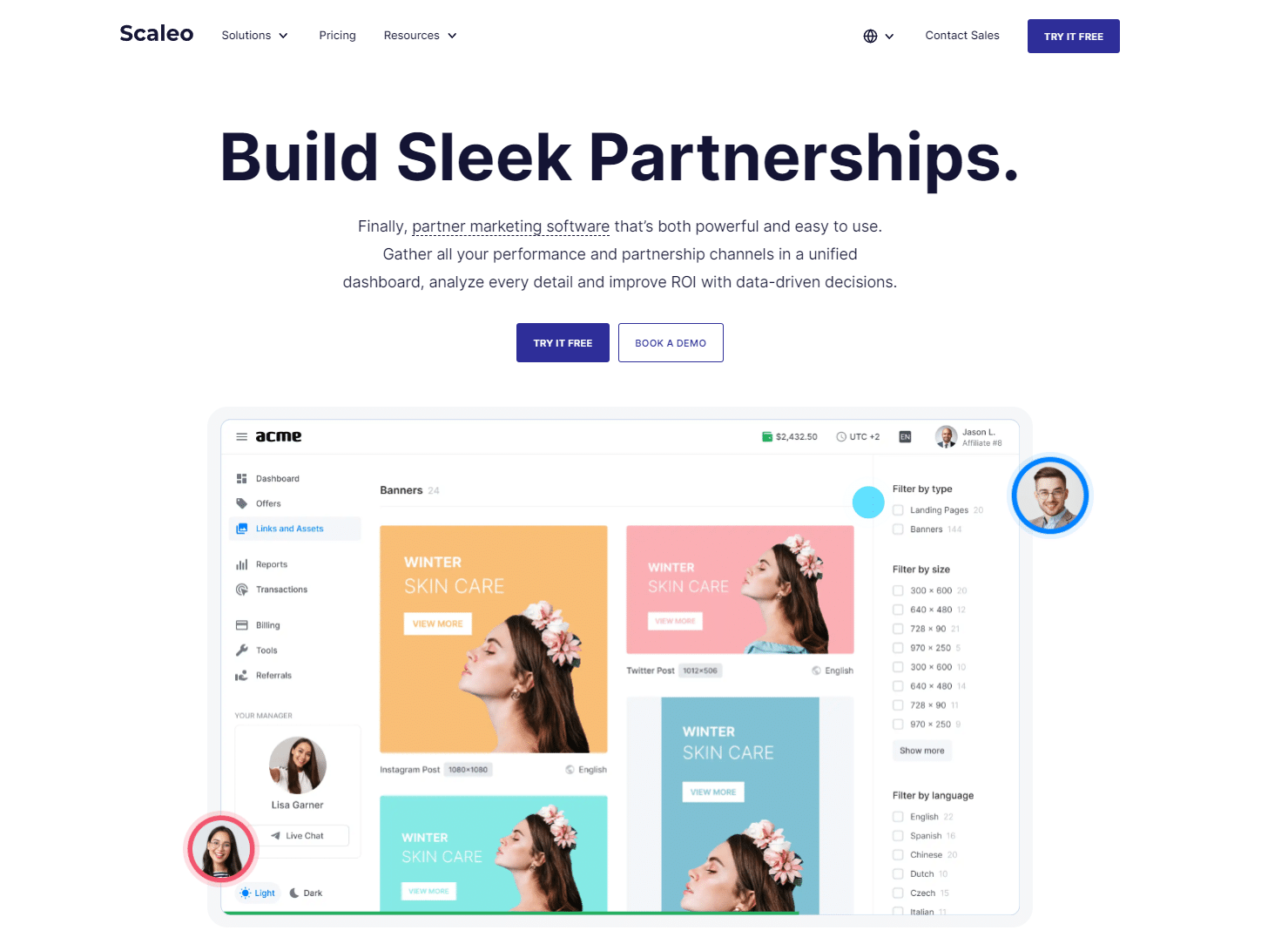 Pros: 
flexible, multi-faceted, and user-friendly 

comprehensive and easy-to-use analytics

multiple payment options are available 

ability to track various affiliates 
Cons:
expensive customization options 

lack of scalability for large enterprises

limited support for other tracking services
Scaleo is a reliable affiliate tracking platform that can be used to monitor affiliate revenues and strengthen marketing initiatives. Just a few of the critical features and capabilities include real-time data, dynamic commissions for each affiliate link, a comprehensive commission management system, automated payments, and straightforward integration with all of the leading payment processors. 
Because of the precise data tracking, reporting, and insights offered by this software, affiliate programs may be thoroughly examined and improved. Scaleo also provides cookieless tracking options that enable accurate conversion monitoring without the usage of cookies.
Selection of the Best Option
Affiliate marketing is a potent technique for boosting sales for both organizations and individuals. The use of dependable affiliate tracking software is necessary for this method to be successful, however. The top 10 affiliate link tracking platforms on our list give excellent solutions for anybody wishing to enhance their affiliate marketing initiatives and maximize the potential of their website traffic. 
Customers may get better visibility, keep track of more information, and achieve the greatest outcomes with the help of these systems' particular features and services. These monitoring tools provide the data and statistics required to maximize one's performance, regardless of one's degree of expertise in the area of web development. Since you'll have access to comprehensive marketing and tracking data, your investment in an affiliate tracking platform will pay off in more success and more money.