Eurobank's relationship-oriented culture extends from its approach in ship lending to the full spectrum of its services, placing the development of comprehensive relationships with its clients in key focus
"Having obtained a BA in Mathematics & Philosophy from King's College London (University of London) and a MSc in Shipping, Trade and Finance from Bayes Business School (London), I followed a career in several areas within the finance profession: consulting (KPMG, Financial Advisory Services), project finance (Societe Generale) and investment banking (Laiki Group).
"I joined Eurobank Cyprus in 2009, initially in the Large Corporate Banking department, and since 2017 I have been heading the local Shipping Finance Unit. Our unit's primary purpose is to manage a portfolio of shipping loans, in close collaboration with the Shipping Unit of our parent bank, Eurobank S.A., in Greece, while further promoting the relationship and co-operation with clients in the maritime sector across the full spectrum of our Bank's services."
Eurobank Cyprus
"Eurobank Cyprus Ltd belongs to Eurobank S.A. Group, whose presence in shipping dates back to 1994, and which is today a leading Greek ship lender, and one of the largest lenders globally to Greek and Cypriot shipowners.
"Eurobank Cyprus commenced operations in 2007 with a banking centre in Nicosia, and now operates a network of banking centres in all major cities of the island. It is a Cyprus-registered company and a locally licensed bank, operating independently and adhering to the laws and regulations of the Republic of Cyprus. Our Bank successfully implements a five-pillar strategy, focusing on:
• Corporate Banking, including Shipping Finance
• International Business Banking
• Wealth Management for High Net Worth Individuals, offering clients flexibility and synergies given its presence in Cyprus, Greece, London and Luxembourg
• Affluent Banking
• Global Markets
"Since its establishment, Eurobank Cyprus has grown at an impressive pace, demonstrating over the years a healthy profitability, solid capital base and strong liquidity. The cornerstone of our success is our firm commitment to relationship management, by offering high quality services and innovative products within a culture of professionalism, proactiveness, trustworthiness and discretion.
"The Bank places particular focus in the ongoing development of high-quality specialised services, supported by an increasing digitalisation of its systems, in order to maximise user-friendliness, efficiency and speed.
"Being the only banking institution in Cyprus which belongs to a foreign banking group with a tradition in shipping, we constantly aim to offer our clients in the maritime industry the benefits arising from our Group's long expertise in the sector, in conjunction with our local know-how and quality of service, at corporate and individual level."
How does your organisation plan to serve the Cypriot and Greek shipping community, and what banking solutions do you offer to your shipping partners?
Eurobank Cyprus believes that understanding clients' needs and offering tailor-made solutions, in-depth knowledge and courteous service are of paramount importance. The Bank has been servicing clients since its establishment, and the integrated spectrum of services it offers to its discerning clientele includes the following:
• Shipping Finance and other credit facilities
• Deposit products – Current accounts in all major currencies, fixed deposits, fiduciary deposits
• Payment services – SWIFT and SEPA transfers, direct debits, payroll services
• e-Banking – Fully fledged service, including multiple payments
• Credit and debit cards – in EUR and USD
• Treasury products – wide range of solutions including FX products, structured products, hedging instruments
• Custodian services
• Escrow services
• Trade Finance Facilities – Letters of credit, letters of guarantee, bills for collection
Cyprus has successfully built a diversified and robust maritime industry, which offers a unique set of competitive advantages. Why should international shipping companies and investors consider Cyprus as a shipping hub?
"The shipping sector has traditionally constituted one of the most important pillars of Cyprus' economy, representing today approximately 7 per cent of the country's GDP, and employing more than 4,500 shore-based professionals. Despite Cyprus' small size, the Cypriot ship registry is the third largest in Europe and the 11th largest internationally, while its further enhancement is a key priority for the Government, which since 2019 has announced a series of incentives to attract additional vessels for registration. Cyprus is also a major international ship management hub, being the largest in Europe and one of the five largest globally.
"Finally, a notable recent development is the establishment of a new ship owning legal entity, the Shipping Limited Liability Company, whose exclusive business purpose is the ownership and operation of vessels under the Cyprus flag. The Shipping Deputy Ministry has been designated as the competent authority for the registration of such companies, thus further enhancing its function as a 'one-stop shop' for companies owning Cyprus-flag ships.
"Cyprus' attractiveness and competitiveness as an international maritime hub is further complemented by its favourable regulatory and tax framework, including its competitive tonnage tax system, by tax incentives for the relocation of foreign professionals in Cyprus, as well as its international business culture and the high quality of advisory, accounting, legal and other professional services offered on the island."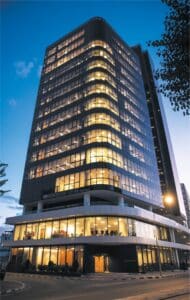 Eurobank offers relationship-oriented finance through its specialised local and Group Shipping Divisions. What are the other benefits of dealing with your financial institution?
"Eurobank's relationship-oriented culture extends from its approach in ship lending to the full spectrum of its services, placing the development of comprehensive relationships with its clients in key focus.
"Thus, dealing with the only bank in Cyprus which belongs to a banking group with an international presence (in Greece, Cyprus, Luxembourg, United Kingdom, and Bulgaria), our clients also benefit from substantial expertise at Eurobank Group level, not only in shipping, but also in other banking products, services and specialised areas of finance. Eurobank's presence in Greece, Cyprus and Luxembourg also provides substantial synergies and flexible solutions for our clients' private banking and wealth management needs."
How do you see the future of shipping in Cyprus, and what role will your organisation play in the future, especially with increasing environmental, social and governance (ESG) requirements?
"Shipping is undergoing a significant environmental transformation, and the new rules being introduced aim to gradually reduce carbon emissions, with the ultimate aim of eventually achieving full decarbonisation. During this transitional period, stakeholders in this fragmented sector (including, but not limited to, owners, charterers, bunker suppliers, shippers and commodity traders) are gradually becoming educated, accustomed and aligned to the new framework.
"In general terms, ESG is a complex landscape, characterised by rules, regulations but also opportunities. ESG compliance and adoption of practices is to a large extent voluntary, but it is on track to become mandatory in the future, in the sense that those who are not aligned will face increasing difficulty, among else, in raising capital. This applies not only to the larger players, but to any average shipping company. What is certain is that a good ESG performance will, in one way or another, lead to value creation, an expectation which concerns shipping both in Cyprus and internationally.
"In alignment with ESG trends, Eurobank Group has already been engaging in sustainability-linked loans in shipping, which are subject to agreed Key Performance Indicators (KPIs) of a clearly defined, measurable and attainable nature."