By Ella Walker
Food has always punctuated our days – the need to eat is central to being human, but the need to cook? For many of us, that's felt absolutely relentless over the last year.
Anna Jones puts pandemic cooking more charmingly. She calls it the "rhythm we have been building our days around", suggesting it's been less punctuation, more necessary anchor.
Her new cookbook One features easily tweakable noodles and pasta dishes galore (like her lime and double ginger soba noodles), as well as simple traybakes (leek and potato with romesco sauce), salads (roast carrot and grain) and grown-up desserts (chocolate, olive oil and rosemary cake), while the '10 simple ideas' section (e.g. for ways with peas, broccoli, peppers) rattles off swift dinner ideas. It's also packed with recipes inspired by other cultures and food traditions.
The core of One though is "to knit two things together". First, "the cooking I find myself doing now" – by which Jones means the kind of cooking you do with a small child around (her son is five), as opposed to the cooking you do pre-parenthood. "I'm a cook and a chef, I can chop things and cook things a bit quicker – so I'd make more complicated recipes and people would be like, 'But that would take me an hour-and-a-half!'"
Now, quick and simple notches higher on the priority list.
"That's the cooking I do for my family… It's those weeknight dinners, the things we eat on a Monday, Tuesday, Wednesday, Thursday, that actually are the most important to make delicious and be interesting, and make sure they're full of vegetables and things that are going to make our bodies feel good," Jones adds.
The second factor she was keen to weave in was sustainability and climate change. "We all know that eating vegetables is really the most impactful thing you can do for the planet. The second most impactful thing is making sure that the food you buy and cook, you don't waste," Jones – who's been vegetarian for around 12 years – explains matter-of-factly.
Orecchiette with Sweetcorn and Green Chilli
Serves 4
A bunch of rainbow or Swiss chard (about 250g), stalks and leaves separated
2 green chillies, finely chopped
The kernels from 2-3 corn on the cob or 350g frozen kernels
400g orecchiette or other small dried pasta
Extra virgin olive oil
Smoked salt or flaky sea salt
250g ricotta
Zest and juice of an unwaxed lemon
Large bunch of basil, leaves picked
Bring a large pan of well-salted water to the boil. Finely chop the stalks and shred the leaves of the chard and finely chop your chillies. If you are using frozen corn, put it into a heatproof bowl and cover with boiling water. Add the pasta to the boiling water and cook.
While the pasta is cooking, heat a tablespoon of oil in a large frying pan over a medium heat, then add the corn (drained if using frozen) and a good pinch of smoked salt or sea salt and black pepper. Cook for four to five minutes (a few minutes longer if you are using frozen) until the kernels are tender and beginning to brown.
Next, add the chard stalks and cook for a few minutes more, before adding the leaves and the chillies. Cook for a further four to five minutes, until the leaves have wilted.
Drain the pasta once it is cooked, reserving a large mugful of the cooking water. Add the pasta to the frying pan with half the ricotta and half the reserved pasta water and mix well. Turn off the heat, then add the lemon zest and juice. Toss, then, if need be, add more cooking water, so you end up with a silky sauce that coats each piece of pasta. Toss through most of the basil. Spoon the pasta into bowls, spoon the rest of the ricotta on top and finish with the last of the basil leaves.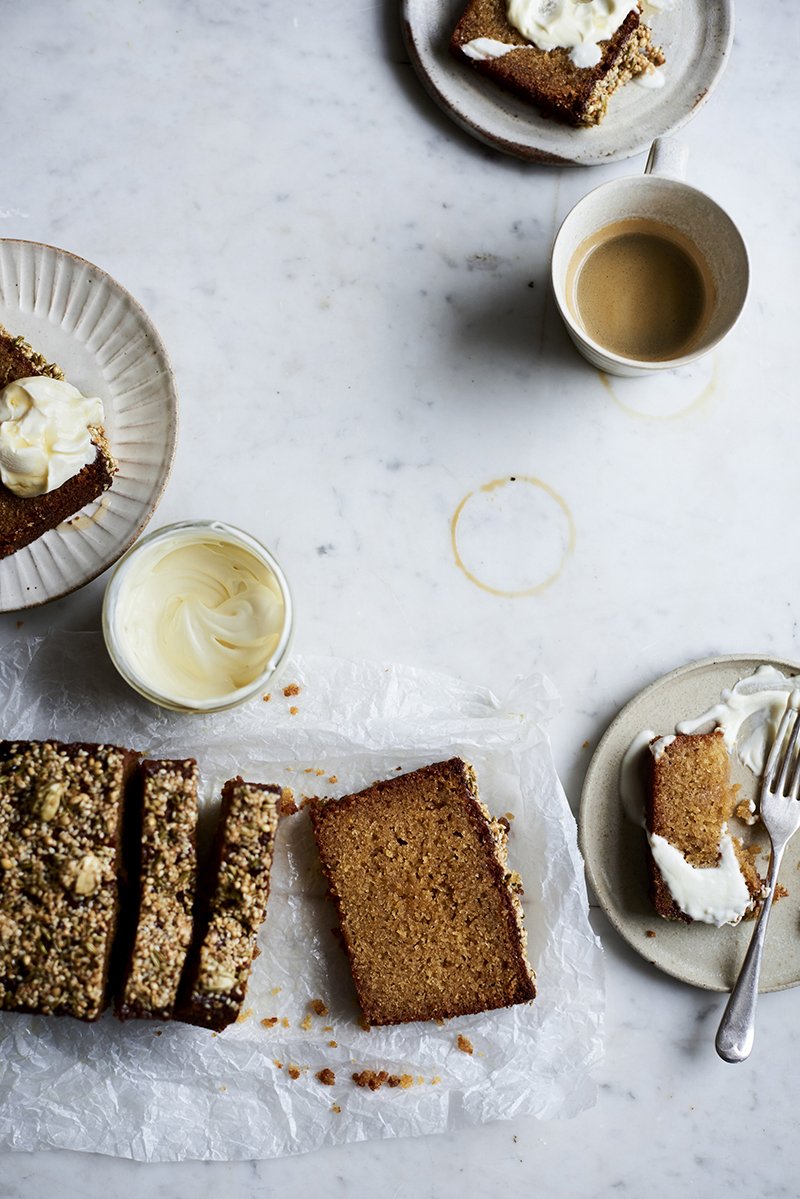 Honey, Almond and Cardamom Drizzle Cake
Makes one loaf
200g light spelt or plain flour
150g ground almonds
2tsp baking powder
250g unsalted butter, softened, plus extra for greasing
200g demerara sugar
150ml honey or maple syrup
Zest of an unwaxed orange
Zest of an unwaxed lemon
4 medium organic eggs
For the drizzle
4 cardamom pods
4tbsp honey or maple syrup
1tsp orange blossom water
2tsp toasted sesame seeds
1tsp fennel seeds
1tsp coriander seeds
Heat the oven to 170C/150C fan/gas 3.
Grease a 900g loaf tin and line with baking paper. Put the flour, almonds, baking powder and a good pinch of sea salt into a large mixing bowl and whisk until there are no lumps of baking powder. Beat the butter, sugar and honey until creamy and combined.
Add both orange and lemon zests, then the eggs one by one, mixing well between additions.
Add the dry ingredients a large spoonful at a time, again mixing between additions. Tip the mixture into the prepared tin and smooth out the top with the back of a spoon. Bake for 55 minutes to one hour, until the cake is dark golden on top. It will sink a little in the middle.
Take the cake out of the oven and leave in the tin. Bash the cardamom pods in a pestle and mortar to release the seeds, then put the seeds into a small saucepan with all the remaining drizzle ingredients. Bring to a simmer and reduce to a thin syrup – it will thicken a little more as it cools.
Prick the cake a few times with a skewer and pour over the syrup, then leave the cake in the tin until cooled completely. Serve in thick slices, with yoghurt mixed with honey.
One: Pot, Pan, Planet by Anna Jones is available now