Limnes migrant detention centre in Menoyia on Wednesday received a donation of 80 housing units from the Polish embassy to help speed up processing asylum applications.
Polish ambassador Irena Lichnerowicz Augustyn presented the units to Interior Minister Nicos Nouris in what she described as a gesture of solidarity from the Polish government.
The housing units will be able to host up to 240 people at a time and will help ease the recurring problem of overcrowding at the detention centre.
Nouris explained that this donation will help facilitate the expedited processing of applications for asylum seekers by hosting them while a decision is made.
A separate pre-removal detention centre will be built next to Limnes to temporarily host asylum seekers whose applications were rejected before they are deported.
"In the past four years Cyprus received the most asylum applications in Europe in relation to its population," Nouris said, adding that asylum seekers and beneficiaries correspond to about four per cent of the population.
A main issue the minister pointed out was the steady numbers of irregular migrants arriving by land or sea during the first few months of 2021. A basic challenge for Cyprus, he said, is that over 70 per cent of these migrants come directly from Turkey, entering the Republic through non-government-controlled areas.
Despite Cypriot authorities' enormous efforts to manage the island's disproportionate migratory pressures, "we are still in a very tough spot due to the peculiarities we are faced with, namely 180 kilometres of buffer zone, which create unique conditions for irregular migration," he continued.
Creating effective removal policies is important.
"This is why we insist that the European Commission should proceed with agreements with third countries, and that other member states must help those of us on the front lines acting like Europe's border guards," he said.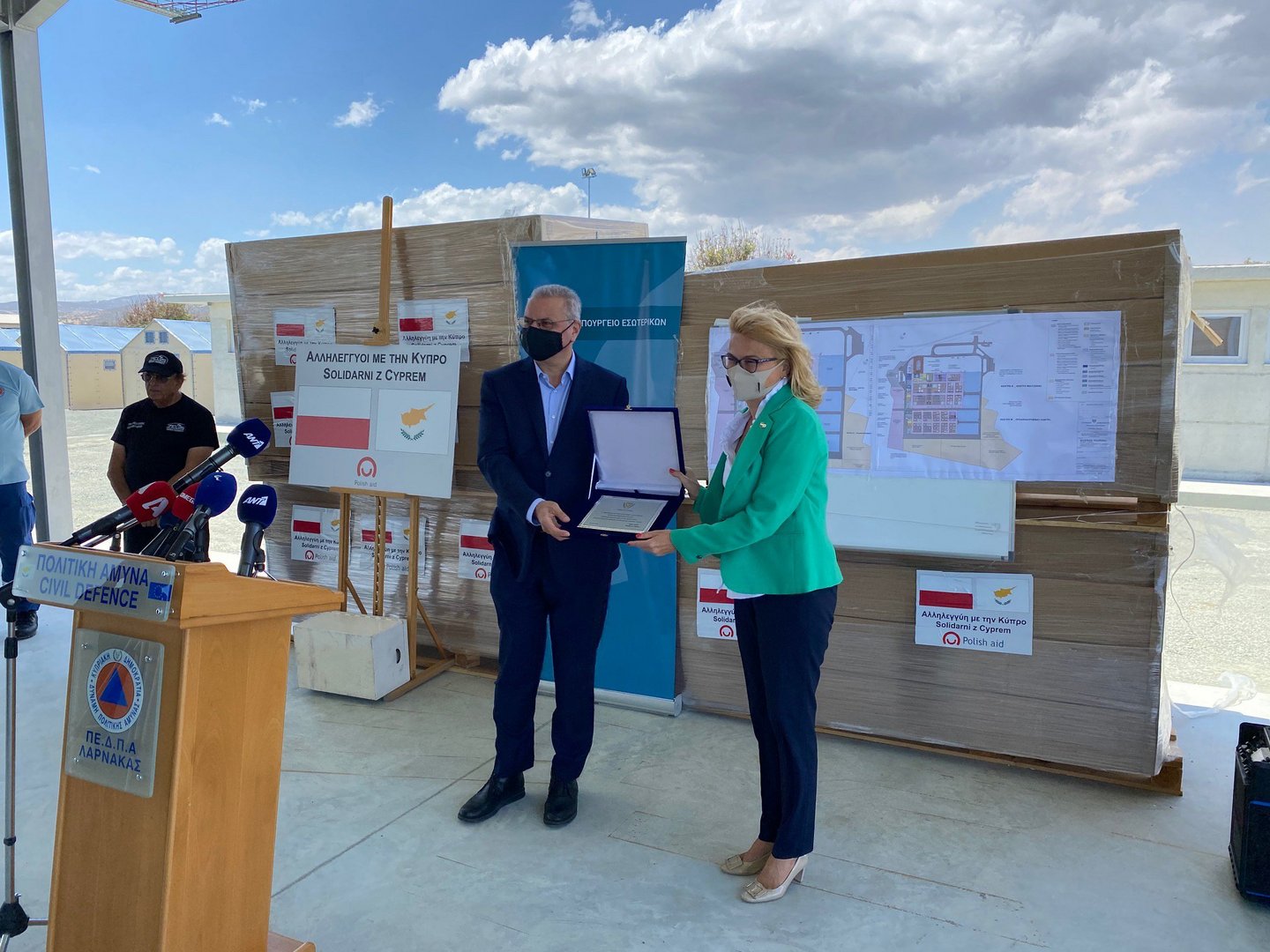 The Polish ambassador said that the donation is a gesture of solidarity towards the Republic but also a contribution towards building an effective, humane and secure European immigration policy.
Poland is for creating mechanisms to limit tragedies in the Mediterranean and ease migratory pressures on front-line countries such as Cyprus, she said.
"Together in Cyprus, we share views on the importance of cooperating with third countries, border surveillance, removals and prevention of secondary migration."
This donation is an initiative of the Polish Centre for International Aid which also coincides with the 60th anniversary of diplomatic relations between Cyprus and Poland.