By Ella Walker
If ever you find yourself caught in the gnarled pincers of a crab, you will wish you had food writer and supper club host Vanessa Bolosier by your side. "I know how to escape," she explains sagely. "You have to press their eyes and they'll release you; growing up I had all the training, good home training."
Bolosier grew up on French Caribbean islands Guadeloupe and Martinique, and it was her father who taught her crustacean husbandry. "We'd feed them not only chillies, but spring onions, garlic, thyme, and the flesh is different. It's slightly softer. It's tasty," says Bolosier.
Having been based in London for the last 16 years, her cookbook – Sunshine Kitchen – came from her experience of not finding the regional variety of Caribbean food in Britain that she was raised eating. "There's a myriad cookery books, where you can learn about food from the north or south of Italy, and that's just one country," says Bolosier, 37, but when it comes to Caribbean food, "generally everything is lumped together", she adds, and often the assumption is that it's "food that actually originates from Jamaica".
Sunshine Kitchen shares her version of Creole Caribbean food; one that draws on the way her parents and grandparents cooked, traditional dishes from Guadeloupe and Martinique, with a few contemporary angles and tweaks that reflect her own style. Ask Bolosier to describe Guadeloupe and Martinique, and she can do it in one gleeful word: "Paradise!" Defining Caribbean Creole is trickier though. "That's a problem because it's Creole Caribbean, but you've got Creole from Louisiana, you've got African Creole. So it's all about fusion," she notes. "These cultures will be beautiful; they collapse into something that makes it even more beautiful. To me, Creole is the collision of histories and migrations into a plate, with a French touch."
Throughout Sunshine Kitchen – a reformatted issue of her 2015 cookbook Creole Kitchen – Bolosier happily admits the dishes are "not sexy on the plate".
Her food just doesn't lend itself to looking artful on a sparse white plate. "I try, but it's big bowls! And a lot of it is brown, a lot of it is red and a lot of it is yellow," she says wryly. "It's not sexy food, but it is delicious food and it's food that people just dig in and get at together."
Green Banana and Saltfish
(Serves 4)
4 thick salted cod cutlets
2 green bananas per person
6tbsp sunflower oil
2–3 garlic cloves, crushed
1 bay leaf
4 sprigs thyme
2 sprigs parsley, chopped
Juice of 1.5 limes
1 habanero chilli, deseeded and finely chopped
2 onions, sliced
Salt and freshly ground black pepper
1 large cucumber, peeled, grated
1 large avocado
Put the salted cod in a saucepan, add cold water to cover, bring to the boil and boil for five minutes. Drain off the water and repeat the process. Drain.
Wash the green bananas thoroughly. Cut off both ends and make a 1cm-deep slit lengthwise; once boiled, the skin will drop off easily. Boil the green bananas for 30 minutes.
Meanwhile, heat two tablespoons of oil in a wide, shallow pot over a medium heat. Add the cod and cook for about two minutes on each side. Add the garlic, bay leaf, thyme sprigs, chopped parsley, juice of one lime and half the chilli and cook for five minutes. Reduce the heat and add four tablespoons of water. Cook for five minutes over a low heat, then set aside.
In a frying pan (skillet), heat four tablespoons of oil over a medium heat, add the onions and cook for about 10 minutes, until they become translucent. Add a little salt to taste, a pinch of pepper and the remaining chilli. Tip the onions over the cod.
Squeeze the juice of half a lime over the cucumbers. Peel the avocado and cut into small cubes.
Drain the green bananas and serve on a plate with the cod, cucumber and avocado.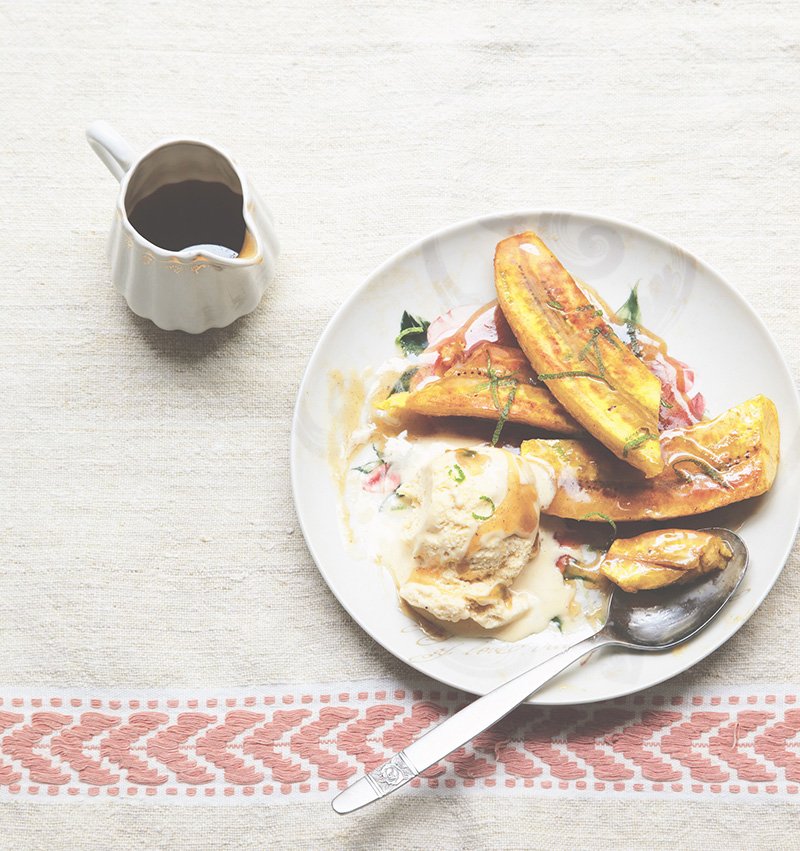 Flambé Bananas
(Serves 4)
2 very ripe plantains
50g/4tbsp butter
1 pinch grated cinnamon
1 pinch grated nutmeg
150g golden granulated sugar
Juice of 1 lime
3–4tbsp white rum
Peel the plantains and slice them in three lengthwise. Melt the butter in a frying pan (skillet) and fry the plantains on both sides, until golden.
Add the cinnamon, nutmeg, sugar and lime juice. Pour the rum into the pan and – standing well back as the flames leap up – immediately either tilt the pan slightly so it touches the flame (if you have a gas hob) or hold a match near to the pan (on an electric hob) to flambé the bananas. Serve immediately.
Sunshine Kitchen: Delicious Creole Recipes From The Heart Of The Caribbean by Vanessa Bolosier is available now