Cyprus star Vladimiros Tziortzis remains in the top three in the NASCAR Whelen Euro Series championship standings after the third round of racing in the Czech Republic.
Starting in 17th place on the grid, Tziortzis managed to climb to the podium, meaning he is now just just three points behind second-placed Martin Doubek.
The NASCAR Whelen Euro Series Championship is halfway through this year's calendar, with upcoming races in Croatia, Belgium, and Italy seeing points count as double.
"It was a difficult weekend. We showed that we could have been on the podium from Saturday, but we were unlucky. From that moment, I had no other option than to give my all on Sunday and whatever is to be done let it be done," Tziortzis said.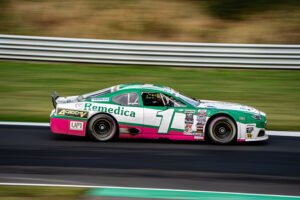 "Especially after the crash of Doubek and Deodhar, I was giving my best behind the wheel. As a result, i covered Doubek who is only three points away and I am 40 points behind the leader Dauenhauer. Next is the event in Croatia (17-19 September).
"If I learned a lesson from this race weekend, it is that an unlucky moment can make you even stronger," he added.
"Finally, I would like to say a big thank you to my sponsor, the Cypriot pharmaceutical company REMEDICA and to my supporters who are by my side for another year, in an extremely difficult year for all sports around the world.
"A big thank you also goes to my Academy Motorsports team in collaboration with Alex Caffi Motorsports and Race Art Technology, as they were working until midnight on Saturday to solve the problems we were facing with the car. I am sure that everything remains possible for claiming the title."