Popular Greek-American singer Evangelia has thrown her hat in the ring to represent the island at the Eurovision Song Contest in 2022
As temperatures begin to drop, the sounds of Mariah Carey or Despina Vandi (depending on where you are from) will begin to follow you around shopping malls, while Christmas campaigns prepare consumers for the upcoming holidays.
However, Cyprus may have more reason to celebrate. Ever since renowned Greek-American pop singer-songwriter Evangelia announced she submitted a few of her songs to the CyBC, with the hope of representing the island at the upcoming Eurovision song contest, the rumour mill has started to spin in earnest.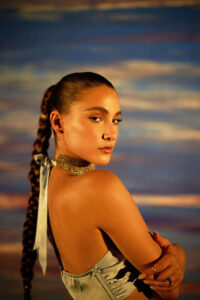 Eurovision chat rooms and forums are abuzz with discussion over Cyprus' possible entry for the 66th edition of the popular contest, which will take place in Italy next May. The event, which introduced the world to the likes of ABBA, Celine Dion, and Eleni Foureira, whose fiery performance almost brought the trophy home in 2018, spreads a global message of unity, acceptance, and diversity.
"I share the same sentiment," Evangelia told the Sunday Mail. "Cyprus is known for its cultural diversity, but there is one common denominator, and that is music." As an artist whose debut track has more than five million streams, Evangelia is very knowledgeable about music. Her creative process is deeply personal, driven by her passion to create emotional sounds. By combining traditional Greek sounds and modern pop melodies with sensual vocals, Evangelia's music is set to make a splash at the upcoming Eurovision song contest, if the CyBC board selects her.
A powerful and confident artist, Evangelia (a name whose etymology refers to good news), fell in love with Cyprus when she first visited in 2012. "The American Hellenic Institute Foundation organised a travel abroad programme to Cyprus, which was aimed at helping Greek and Cypriot American college students better understand the importance of US-Greece-Cyprus relations and foreign policy issues relevant to the Greek American community," Evangelia said. "My father's side of the family is from Paleochora, Crete, and I felt a sense of connection to Cyprus' culture, its people, the art and cuisine. It was the beginning of a love affair that continues to this day."
From a young age, Evangelia would travel back and forth between her grandmother's farm in Crete and her parents' home in New Jersey on America's East coast. Her family and culture in Greece, and her Italian-American heritage from her mother's side, as well as her love for pop music and song writing shaped her childhood memories. "Together with my 'yiayia', we would cook traditionally inspired recipes with vegetables sourced from her own garden," Evangelia recalled. "I enjoyed dancing to Cretan folk music at the various festivals, connecting with my cultural roots."
But music was not seen as a career choice. "I started out as a primary school teacher, and would work on my music at night," Evangelia said. "I recorded my music at various studios in New York, and before I knew it, I had established myself as a prominent newcomer on the music scene."
Drawing inspiration from a Greek summer, Evangelia's debut single, Páme, Páme (Let's Go) represents the Greek way of life. "Páme Páme is a true empowerment anthem, focusing on living life to the full and pursuing one's dreams," she explains. Filmed on location at her grandmother's farm, and in her hometown surrounded by family and friends, a core value of Greek society, Evangelia's music video became an instant hit.
With her second music video, based on the track, Fotiá, a number that incorporates Greek belly dancing and Zeibekiko Greek dancing, Evangelia gained further exposure and followers for her blend of the English and Greek singing.
Her latest release, Diving, which she performs with British-Zimbabwean singer-songwriter Kelvin Jones is a chart-topping, bouzouki-filled number that sticks in the head.
Although Evangelia has defined success in her own terms, her partner, executive producer and songwriter Jay Stolar has played a part. "At first, we avoided working together, as we did not want our relationship to affect our careers," Jay said. "However, it was impossible to put a barrier between the chemistry we have with each other, and the creativity for making art together."
Stolar is renowned for developing signature sounds for artists across multiple genres. A soul singer in his own right, he has written and produced songs that have amassed over 300 million streams for artists such as Selena Gomez, John Legend, Demi Lovato, G-Eazy, David Guetta, Carly Rae Jepson and Aloe Blacc. Through his production company, Raw Emotions, Jay has developed ten additional singles for Evangelia, lined up for release in 2022.
Evangelia certainly has the formula for creating a winning song for Eurovision: sensual vocals, a sonic blend of music developed by an accomplished producer, fluency in English, Greek and Italian (another bonus if she gets to represent us in Italy, as she could easily win the support of the host nation) and the support of her record labels, Sony Music and Panik Records.
If you believe our names are intertwined with our destinies, selecting Evangelia to represent us at Eurovision will undoubtedly bring 'good news' for Cyprus.
To find out more about Evangelia and her music, visit www.evangeliamusic.com