Which is the most beautiful island in the world? Well, not Cyprus, according to Travel + Leisure magazine! Instead, readers have plumped for Palawan – a little-known isle in the Philippines, which topped the ranks in a recent study. Conde Nast Traveller also ranked the island first, citing unspoilt seas, pristine rainforest, and immaculate beaches; Palawan has yet to be 'discovered' by the tourists. Mostly, the way of life remains traditional.
It's also a culinary heaven, especially when it comes to marine cuisine. The local tuna, shrimp, blue marlin, crab, lobster, seabass and squid appear in all sorts of dishes. But there's plenty of slightly stranger seafood to be enjoyed…
A popular breakfast, danggit lamayo consists of sun-dried rabbitfish marinated in vinegar, garlic, and pepper, and often served with fried egg and rice. Lato seaweed (also known as sea grapes or green caviar) is another unusual concoction: soft and succulent, it's generally sprinkled with salt and vinegar and served alongside fried fish.
For those who prefer something completely different, there's tamilok (a mollusc harvested from the coastal mangrove swamps that apparently tastes better than oysters!), or crocodile sisig – crocodile meat marinated in vinegar, seasoned with spices, and lightly fried.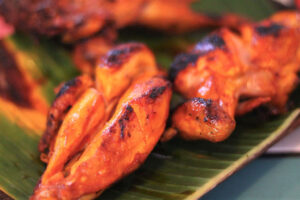 If that's a little too exotic, the island's unofficial dish is a tangy twist on the traditional roast chicken. Known as inasal, it consists of chicken marinated in a unique blend of calamansi, pepper, coconut vinegar and annatto, which is then grilled over hot coals and served alongside rice, soy sauce, and vinegar.
Authentic Palawan cuisine also includes the turo turo, more a method of dining than an actual food. In Tagalog, the name means 'point point', and refers to the way you choose your fare from a huge spread. A boon for foreign travellers, it's a method much employed at roadside stalls where seller and eater don't share a language – simply point to the food that looks most appetising and enjoy!
And lastly, the drink of choice in Palawan is always the halo halo (or 'mix mix'). Served everywhere on the island, this refreshing beverage contains sweetened preserved fruit, evaporated milk, and crushed ice topped with a thick layer of either ice cream or crème caramel.