This is the island of forests – an arboreal paradise that inspired the scenery in Studio Ghibli's Princess Mononoke. Moss-coated rocks dot tumbling streams; stone paths wriggle between ancient cedars; wooden bridges hang precariously over shadowed gorges… Here, in Japan's rainiest island, there's magic in the air.
The main attraction is, of course, the forests, and Yakushima boasts an abundance of nature trails and parks. But this being an island, the ocean also plays a large part in local life – especially when it comes to the cuisine…
Yakushima is known for its unique fish dishes, especially tobio or flying fish. Freshly caught and served with rice, tobio can be eaten raw or cooked, though it most commonly appears fried, with wings still intact. Even the local ramen comes with a complete tobio, placed atop the noodles and eaten whole!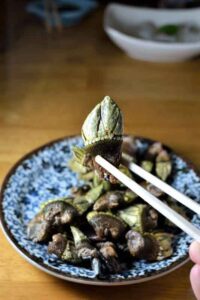 Mackerel is also a local favourite, especially in the north of the island, where it's smoked, dried and encouraged to grow a natural mould that lends an earthy taste! And Kame no te is another unusual local offering. The name translates as 'turtle hands', and many a visitor has been forgiven for believing they're eating a chelonian appendage! But despite the dish's uncanny appearance, this fare is actually a type of barnacle: boiled and added to broth, it has a meaty taste akin to lobster or crab.
It's not all fishy foods, however. Yakushima is famed for its tankan (a sweet citrus fruit believed to be a hybrid of a tangerine and a naval orange that originated in Taiwan) and its ponkan (a winter tangerine, harvested in December and January). And also for its tea – especially the green variety. At the edge of the forests, you'll come across fields of beautifully manicured tea bushes; sencha (green) tea is the most popular, but wakocha (black tea), genmaicha (green tea mixed with roasted brown rice), and matcha are also enjoyed locally and shipped worldwide. So if you really want to enjoy your Ghibli, order a packet of Yakushima tea and settle down to drink in the true inspiration behind the ethereal settings!