By Prudence Wade
Shaun and Craig McAnuff – the brothers behind food sensation Original Flava, with nearly 160k followers on Instagram – admit vegan dishes weren't a huge part of their childhood dinners.
Growing up in a Caribbean household in South London, meat was very much the main event, but that's shifted now, with the duo experimenting more with plant-based foods – and their mum has even been a vegan since 2017.
Their new book is called Natural Flava, and Shaun dubs it "the first step into trying to draw people into a healthier, happier diet – because most of the Afro-Caribbean community [are] predominantly meat [eating]". He wants to show people how to strike a balance, saying: "We're not trying to tell people to be vegans. We're not militant, because I don't think that's the best way to introduce things to people. Only two or three times a week – change your diet, that's the best way to start."
The Caribbean diet might be meat-heavy, but the McAnuffs found it easy to put together plant-based recipes from their culture. Growing up, "Vegetables were used in the sides – but they were very flavourful sides", explains Craig. "It was always an eclectic range of different vegetables."
A big inspiration for many of the recipes is the Rastafari movement, with one section of the book dubbed 'Ital inspired' (a belief that food should be grown locally and unmodified). Shaun calls them one of "the pioneers of vegan, plant-based foods". Food is spiritual for Rastas, with Shaun saying: "It's all about eating from the earth and looking after your body."
The 'F' word – flavour – is something both the McAnuffs return to time and time again, but they also can't ignore the benefits they've both felt from eating more plant-based meals.
Craig says they're now, "Happier in ourselves – mentally, and energised as well."
Rasta Pumpkin Pasta
Serves 6-8
500g pumpkin or butternut squash, peeled, deseeded and diced
1 whole garlic bulb
1 scotch bonnet or chilli pepper, deseeded and chopped
Olive oil, for cooking
200g coconut yoghurt
Leaves of 2 rosemary sprigs
6 fresh thyme sprigs or 1tsp dried thyme
1 vegan stock cube
1 x 400ml can coconut milk
1tbsp golden syrup
500g dried penne pasta
1 onion, sliced
1 red bell pepper, deseeded and sliced
1 green bell pepper, deseeded and sliced
1 yellow bell pepper, deseeded and sliced
1tbsp jerk paste
Salt and freshly ground black pepper
Handful of parsley, chopped, to serve
Preheat the oven to 170C. Place a sheet of baking parchment on a baking tray. Add the diced pumpkin or squash, garlic bulb and scotch bonnet or chilli, then sprinkle two tablespoons of olive oil and one teaspoon each of salt and black pepper on it and mix together. Roast in the oven for 25 minutes until cooked through and starting to caramelise.
Leave to cool for five minutes, then dash into a blender, squeezing the soft garlic cloves out of their papery skins. Add the yoghurt, rosemary and thyme and crumble in the stock cube. Add half the coconut milk, the syrup, salt to taste and a splash of water. Blend together until smooth.
Bring a large saucepan of salted water to the boil. Add the pasta and cook according to the packet instructions, then drain.
Meanwhile, in a large saucepan, heat two tablespoons of olive oil until hot. Add the onion and bell peppers and sauté for five minutes until soft, then add in the blended pumpkin sauce, remaining coconut milk and jerk paste. Stir, then simmer, uncovered, for five minutes until thickened.
Add the drained pasta to the sauce and combine well to coat. Add a sprinkling of parsley and enjoy.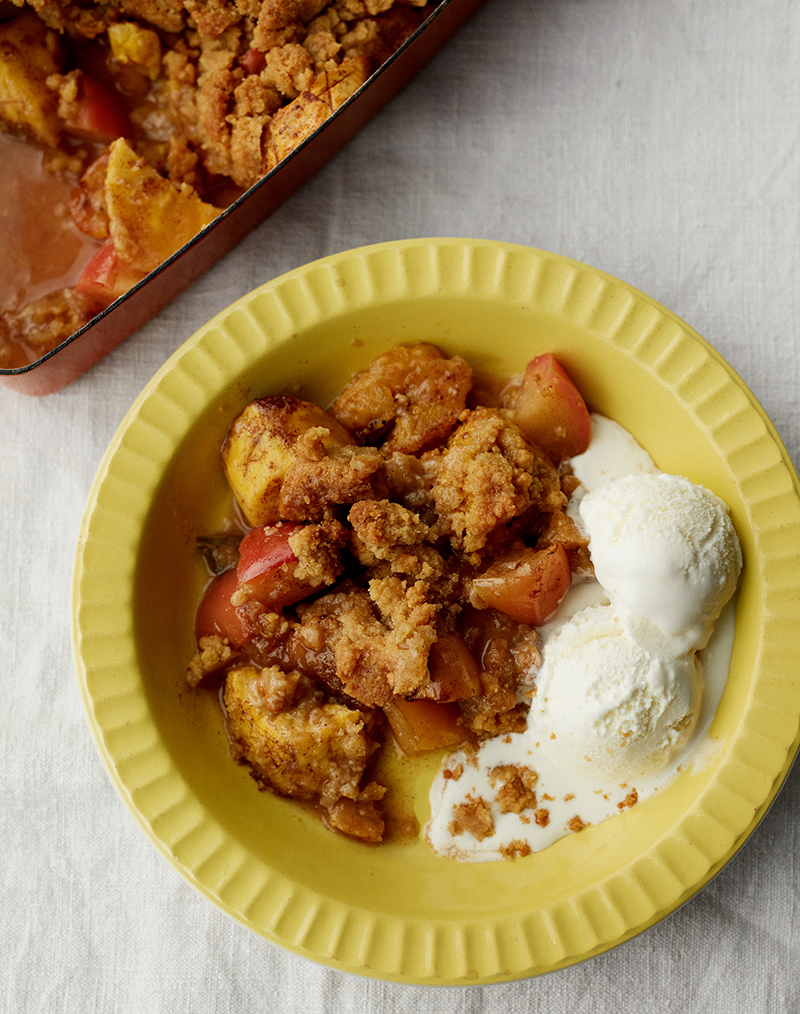 Plantain and Apple Crumble
Serves 4-6
1tbsp vegan butter
3 apples, cored and cut into 2cm chunks
3 ripe plantain, peeled and cut into 2cm chunks
1tbsp vanilla extract
1tsp ground cinnamon
1/2 tsp freshly grated nutmeg
1 bay leaf
A little salt
300ml apple juice
For the crumble:
225g plain flour
125g soft light brown sugar
125g vegan butter, cubed
Preheat the oven to 180C.
First, make the crumble. In a mixing bowl, combine the flour and sugar. Add the butter and rub it into the dry ingredients with your fingertips until you have a crumbly, even mixture. Set aside.
For the filling, melt the butter in a large pan over a low-medium heat, add the apples and toss around to cook for two to three minutes, then add the plantain, stir and cook for two to three minutes until the edges of the fruit begin to get a bit of colour and soften. Add the vanilla, cinnamon, nutmeg, bay leaf and salt, and stir to combine. Finally, add 200ml apple juice, stir everything together and simmer for one to two minutes.
Tip into a large ovenproof dish, about 23 centimetres square, and remove the bay leaf. Add the rest of the apple juice to the mixture, sprinkle the crumble evenly on top and bake for 35–40 minutes until the crumble is cooked and golden brown.
Natural Flava: Quick And Easy Plant-Based Caribbean Recipes by Craig and Shaun McAnuff is available now