Deputy Minister of Tourism Savvas Perdios earlier this week said that small, local communities are at the heart of the national tourism strategy moving forward.
Perdios' comments were part of his address at the Desti Smart Interreg Europe conference, which was held by the Paphos tourism board (Etap) at the Annabelle Hotel in Paphos on Thursday.
The Desti-Smart initiative aims to address challenges for efficient sustainable tourism, while also promoting low-carbon economies through sustainable mobility and accessibility practices.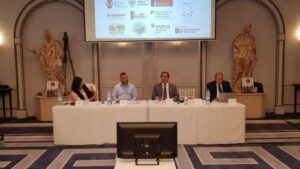 The minister, who delivered his address remotely, expressed satisfaction at how Cyprus' tourism sector is progressing in terms of becoming more sustainable and smart.
Perdios spoke about the crisis caused by the pandemic and how it was dealt with, as well as the recently launched National Tourism Strategy 2030, which aims to turn Cyprus into a true year-round destination.
Additionally, the strategy also seeks to make the sector more environmentally friendly and digitised, as well as being able to benefit all Cypriots, not just those specifically working in tourism.
"Regarding the final point, this means two things: we must not focus only on beach resorts, but we should also focus on promoting the entire island as a destination, and that we ensure that the locals and small local communities are at the heart of our tourism strategy," Perdios said.
"Thus, tourism will in fact become a focal point for our local communities, in this way we integrate the locals into what we do," he added.
Desti-Smart Interreg Europe project coordinator Manos Vougioukas that the initiative also aims to introduce sustainable and smart mobility solutions, low carbon transmission systems, intermodality improvements, cycling and hiking facilities for visitors, with relevant innovations and resilience, to tourist destinations.
"These are important additions to the concept and definition of smart destinations, especially due to the sustainable and smart tourism mobility aspects they introduce," Vougioukas said.
"The above results from interregional cooperation, the exchange of experiences, capacity building, policy development and policy change for sustainable tourism mobility towards smart destinations," he added.
Meanwhile, Paphos tourism board president Kyriakos Drousiotis praised the conference for bringing a wide range of industry stakeholders together for the purpose of improving tourist flows toward smart destinations.
"The latest trends in tourism are very closely linked to the theme of our conference, which includes automation, transformational travel, experience stories and more," Drousiotis said.
"We should all think about the needs of future generations, ensuring that they will inherit a safe and healthy planet to live and thrive, including in terms of the way we travel, what cars we buy, how we live, and how we spend," he added.