What started out as a brotherhood almost 100 years ago has become a vital tool for supporting the community in one area of Australia finds PAUL LAMBIS
The story of the Cyprus community of New South Wales started in the late 1830s when gold seekers from Cyprus flocked to Australia in search of a fortune. Originally setting up homes and businesses in Victoria's gold fields, particularly Ballarat and Daylesford, the Cypriots soon made their way to Melbourne, where they owned and ran what would later come to be known as 'mixed business' stores.
In 1878, Great Britain assumed the provisional administration of Cyprus. While the Greek Cypriots had at first welcomed British rule, hoping that they would gradually achieve prosperity, democracy and national liberation, they were soon disillusioned. The British imposed heavy taxes to cover the compensation they were paying to the Ottoman Empire for having ceded Cyprus to them.
Many Cypriots were eager to leave the island, making their way to Australia as seamen, cooks and helpers on British warships and trade ships. By 1880, it was customary for Cypriots to dock in Sydney or Melbourne where they marvelled at the freedom, independence and opportunities of the new world. They were not alone, other Greeks from Asia Minor, Africa, the Middle East, and Greece followed a similar path, embarking on ambitious endeavours to establish shops, factories, and warehouses, including the first Greek Orthodox Church and Greek school in the 1890s.
"The Greeks and Cypriots founded several coffee shops, which would double-up as meeting places that would encourage our heritage, culture, and traditions to be kept alive," President of the Cyprus Community of New South Wales Spiro Constantinou said.
By the early 1920s, Cypriot coffee shops were a common sight in inner Sydney where "they would soon evolve into thriving hubs of social activity, a place to meet people, form partnerships, find business opportunities, as well as a place to get advice on finance, jobs, temporary accommodation, real estate, medical, travel, and jobs," Constantinou added. "In the mid-1920s, coffee shops had expanded their offerings to include homemade delicacies, and some even went so far as to plan weddings, social gatherings, and excursions, while also offering classes in Greek and traditional dancing."
The Kytherian, Kastellorizian and Cypriot Brotherhoods, among many others, had their headquarters in coffee shops, and would offer support to members of the wider Greek community by helping keep their businesses afloat during the Great Depression of the 1930s.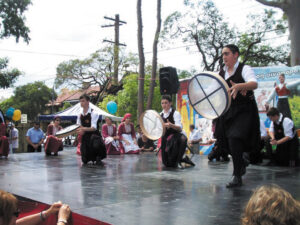 The Brotherhood was frequently the sole source of assistance available to Cypriots throughout the Great Depression due to discrimination and a lack of access to healthcare. "Greek immigration increased as a result of the flight of people from Asia Minor and Cyprus, and the Brotherhood quickly began scheduling dances at Paddington Town Hall to generate money for both the new settlers and the Greeks who were leaving their ancestral lands," Constantinou added.
The newly formed Ladies Auxiliary and numerous village-based sub-committees helped the Cyprus Brotherhood organise annual festivities with the goal of supporting their fellow countrymen in Australia. When World War II broke out and Greece was invaded, both Greeks and Cypriots from Australia joined the allied forces to defend the continent, in exchange for Britain granting independence to Cyprus after the war; however, that did not happen.
More Cypriots fled to Australia as tensions with the British occupiers on the island escalated, and as a result there were 10,000 Cypriots living in New South Wales by the 1950s. When Cyprus finally gained its independence, the exodus of immigrants from the island fell but Australia still encouraged many Cypriots to relocate to its shores by offering job opportunities in the industrial sector. "At the same time, the Cyprus Brotherhood continued to offer services in welfare, health, and English language teaching, among other things, and did so even after Turkey's invasion of Cyprus in 1974, which resulted in another exodus of Cypriots to Australia."
By the late 1970s, the brotherhood, which was now operating under its new name, Cyprus Community of New South Wales, had outgrown its original premises and purchased a new building opposite Sydney Town Hall. After undergoing major renovations and receiving a licence to operate as a club, the community rose to prominence and became the preferred venue among local officials, government employees, city workers and members of the larger Greek community.
With more than five generations of Australians of Cypriot descent and more than 90 years of service, the Cyprus Community of New South Wales continues to maintain an open-door policy and contributes to the preservation of the customs and cultural legacy of its ancestors from its current premises in Stanmore, a suburb in the Inner West of Sydney.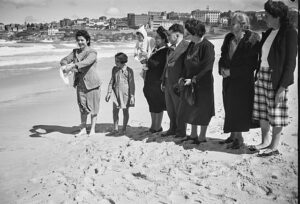 The New South Wales-based Cyprus community continues to make a difference to Australia's economy, society, politics, culture and social fabric. "Our community has entered a new era with plans that will make it one of the leading organisations in Australia and abroad," Constantinou continued.
"With multiple income streams, the redevelopment of our Stanmore site will focus on passive income rather than club trade, almost certainly foolproofing the community's future," he said. "This new stage in the Community's almost 100-year history will modernise facilities and services to meet cultural, social and other needs of members in a way that responds to our 21st century environment."
As home to the second largest Cypriot community outside Cyprus, the Cypriot community of Australia is an active, successful, and vibrant community that makes an important contribution to the social and cultural richness of the island.
As informal ambassadors, Australian Cypriots have played a key role in projecting the island's image abroad, raising awareness of the Cyprus issue by actively engaging with the Australian government, at the same time enhancing and accelerating the contribution of Cypriots in Australian society and institutions.