Fashion trends from the 80s and 90s fashion have been revived. NIKI CHARALAMBOUS takes a closer look
This season, the fashion world has been reflecting on trends from the past. Given how quickly the fashion industry evolves, it makes sense to go back in time and draw inspiration from previous fashion movements that ultimately influenced the advancement of the industry. And prime among those for the current season are the 1980s and 1990s.
When it comes to fashion, social and economic changes and high profile celebs have been a major factor. Lady Diana's famous wedding gown launched the meringue dress fad in the 1980s. As the glam of the decade got underway, the bridal business exploded back into life with all the frills, ruffled romance and outright theatrics that Diana's wedding gave free rein to.
Power dressing and 'strong' fashion trends, such as broad shoulders, emerged, especially after Margaret Thatcher was elected British Prime Minister. Contrary to 1970s fashion, which was characterised by flared jeans, wide-leg pants and fitted tops, the 1980s and 1990s favoured the loose-fitting top and slim bottom silhouette.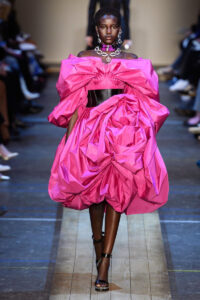 Neon and vivid colours, oversized bold-print Tshirts and skirts, sweaters tied at the waist, fitted leather and corduroy pants, and stonewashed jeans were also in style, and are set to make a comeback.
But while designers have drawn inspiration from the 1980s, they have also incorporated their own distinctive styles to create amazing wearable works of art. The colourful, voluminous dresses by Alexander McQueen and Roksanda are the ideal fusion of elegant and messy meringue pieces.
The emphasis on broad shoulders, and even shoulder pads, has also become a significant trend in the cold-weather fashion scene, enhancing edgy designs and appearances while conveying a sense of power.
Big shoulders appeared on dresses, blouses, jackets and coats, occasionally paired with mutton sleeves. Saint Laurent, Prada, Louis Vuitton, Fendi and Isabel Marant are just some of the fashion houses that successfully incorporated the style as part of their collections at Paris Fashion Week. This style is excellent for elongating the shoulders, and when worn with a belt to define the waist, it can give the appearance of an hourglass figure.
Sparkly jumpsuits, dresses, skirts, trousers and jackets were also prominently featured in the autumn/winter collections of Louis Vuitton, Saint Laurent, Versace, Michael Kors and Alberta Ferretti, who embraced the disco or nightclub movement. This is one of my favourite trends for the current fashion year, especially for the holiday and party seasons. Start simple; a white tank top – a very popular item this season – can be worn with a sequin skirt, and you can further enhance your appearance by layering or by adding the right accessories.
This season's runways also featured the 1980s neon style. Roksanda, Versace and Saint Laurent fashion presentations all featured neon coats, skirts and even shoes. Pink and red are other prominent hues for the season, and it is very fashionable to wear these complementary hues together. Violet and green are also highly popular, in addition to the traditional winter hues of brown, army green and black.
The main fashion shape of the 1980s and 1990s was the loose-fitting top and slim bottom silhouette. Given that they are both comfortable and flattering, loose-fitting and flared pants are a major trend this season.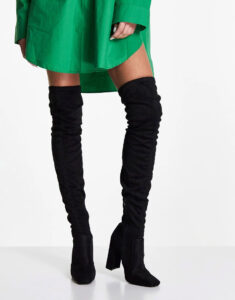 Last, but certainly not least, over-the-knee boots are once again fashionable, and are a major focal point of any outfit. They tend to make a dramatic statement to any ensemble, however, not everyone will enjoy wearing them. Platform shoes are equally popular as are fancy heels, boots, pumps and ballet flats.
These past decades are undoubtedly popular now as designers are often captivated by the attire that helped shape their aesthetics earlier in their careers. Despite the challenges of attempting to revive the past, 80s and 90s fashion trends are hanging on strong, and even the younger generations are enthusiastically embracing them.