Key historic buildings in Nicosia's old town are being put to new use as part of what the state hopes will be an urban transformation
Nicosia's historic city centre is set for its biggest shake-up in decades, with millions of euros being invested in infrastructure projects aimed at boosting businesses – and crucially – convincing younger people that it's a place for them to live, not just to visit on the weekends.
The story of old Nicosia has long been one of just-around-the-corner revitalisation, with many now weary of getting their hopes up – again, but this time officials say, it is different.
Just this week, Finance Minister Constantinos Petrides laid out a three-year blueprint for regenerating and upgrading parts of old Nicosia, with the around €5 million flagship project being the relocation of the University of Cyprus' architecture school to the premises currently hosting the historic Phaneromeni school.
Another aspect of the plan involves building dorms for the university students – the idea being to populate the area with young people and attract investors, primarily shopkeepers.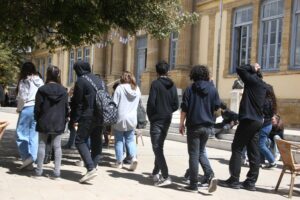 The plans have been broadly welcomed by shopkeepers and other businesses in the area.
"With the younger generation we believe that the area will be brought back to life, will be renewed and will lead to investment," the Nicosia municipality spokeswoman, Marina Koumasta, told the Sunday Mail.
In the same vein, the old municipal market within the walls is also set for a major overhaul, at a cost of €4.92m, to house part of the research and innovation centre Rise which will see Cyprus' three state universities gain a greater footing in the area.
Works are also underway at the talismanic Laiki Yitonia nearby, with the municipality's refurbishment along four of its key streets set to cost 800,000 euros.
For those not from Nicosia, or without much interest in the old town itself, it's hard to overstate the rate of change for a place which has not altered much since the invasion of 1974 divided the capital – which contributed to its depopulation and consequent state of disrepair.
Hot on the heels of the controversial Eleftheria Square revamp, a string of further works are well under way or already completed – part of what the municipality sees as a holistic approach to regenerating the old city.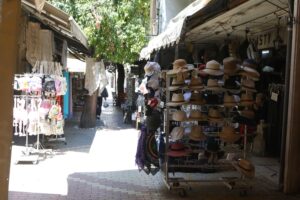 From the new Solomou bus station, the Makariou, Stasikratous, Omirou upgrades and refurbishing long-neglected streets such as Rigenis are all part of that approach.
And at the heart of it all is Laiki Yitonia, which can be loosely translated as 'The People's Neighbourhood' or the 'The Popular Neighbourhood' – the latter being more of an anachronism than an accurate description of how it is nowadays, amongst locals at least.
To be sure, there's the popular nargile cafes that have been frequented since the beginning of the downtown's popularity boom over the past decade but the wider Laiki Yitonia neighbourhood has largely missed out.
"The aim of the Laiki Yitonia renovation works is to attract both locals and tourists, of course because of its character it has typically been more popular with visitors from abroad, but the wider scope of the municipality is to bring businesses and investment into the old town," Koumasta told the Sunday Mail.
Laiki Yitonia has long been seen as a showcase of the walled city's distinct character, with an intricate network of stairs and balconies overhanging cobbled streets in one of the best-preserved historic neighbourhoods.
Towering wooden doors, cream-coloured walls and bold sandstone structures house souvenir and traditional craft shops as well as restaurants.
In fact, Laiki Yitonia as a distinct showcase area was set up just nine years after the invasion of 1974 with its grand opening in 1983.
And as Koumasta told the Cyprus Mail, the goal of that renovation project 38 years ago was to preserve the traditional character of the old town while creating a space in which folk art and goods – traditional foods, lace, and so on – could be sold.
But for decades, the neighbourhood has been heavily dependent on tourism, and was largely ignored by locals, which places it in stark contrast to the rest of downtown, and much of Nicosia in general.
Roulla Spyrou, who runs a family jewellery shop and has worked in the area since 1989 said that about 85 per cent of her customers are tourists – if not more.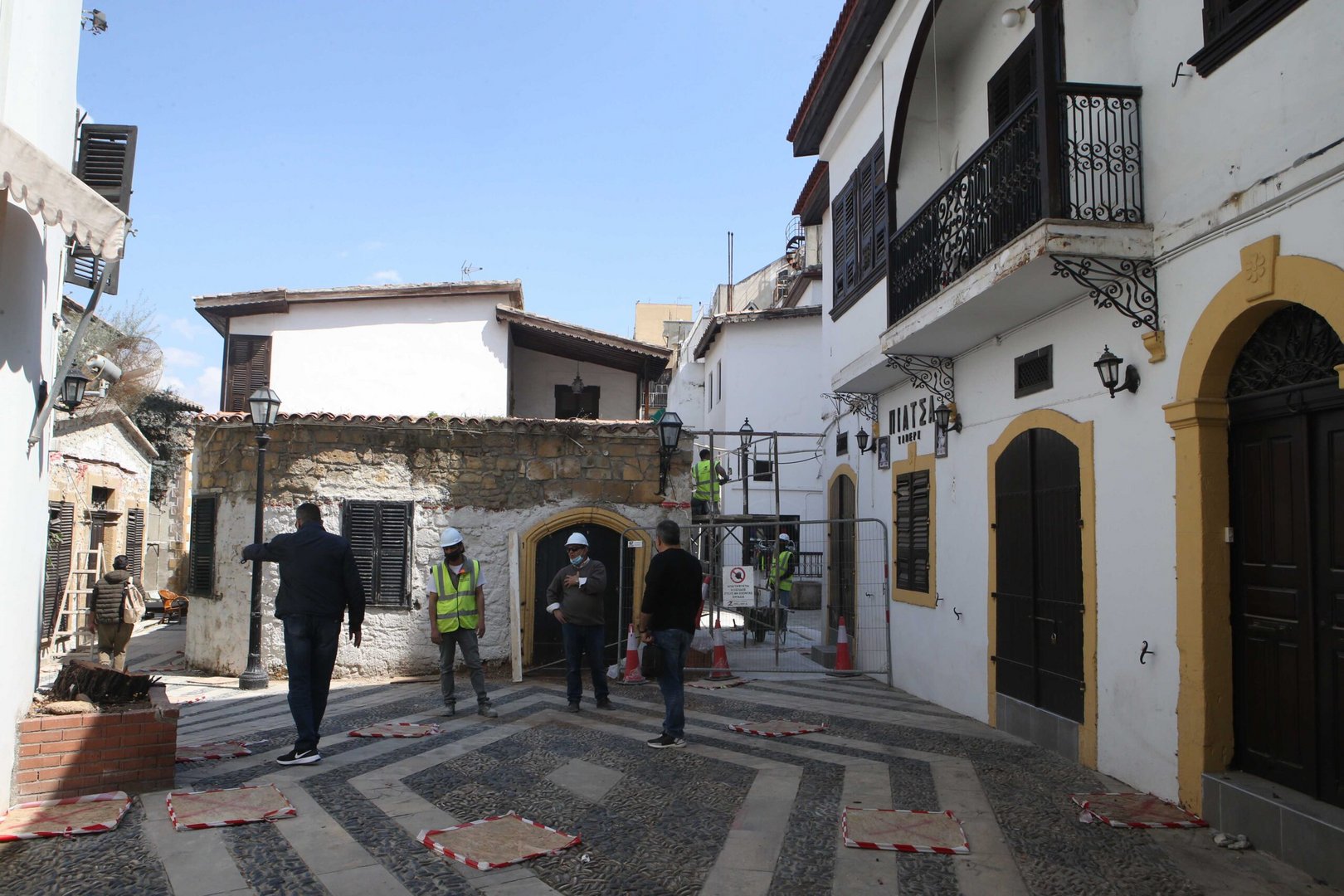 And why does she think the Phaneromeni area, which is bursting with cafes and bars, is more popular with young locals?
"Well, at Phaneromeni it's all the young people at the cafes and they can sit for two to three hours by spending just five euros but here there's restaurants and tavernas – so Laiki Yitonia never attracted the younger crowd as there's nothing here for them," she said.
"Cypriots would come but mainly families, it's a different type of customer."
Her shop, which she rents out from the municipality, is on the main Laiki Yitonia road which is currently being upgraded and set for completion by September.
Spyrou's assistant was enthusiastic about the work. "It's very, very good as it's been quite some time since works were last done in this area – they're going to add pergolas and benches which will make it so people can walk freely and relax as well."
But Pavlos Papadakis, who has run a souvenir shop in the area for 25 years, is more sceptical of the ongoing projects – directly in Laiki Yitonia and in the wider area.
"For us it's nothing, they're not doing any work here on this street – they're only taking care of their own stuff, the buildings that the municipality runs," Papadakis told the Sunday Mail.
"It's like shining just one of your shoes, or shaving your beard on only one side of your face," he said. "I don't think we'll notice much of a difference."
Old concerns arose, too: "Something isn't quite right, they put benches in Eleftheria Square and explicitly stated that they don't want people to sit there for too long and so the benches are designed not to be too comfortable – is that the kind of thinking that's going to bring people into the area?"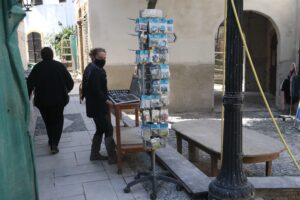 Papadakis reasons that simple steps such as keeping the streets clean could be just as effective in making the area more attractive.
But the success of Phaneromeni's cafe-square defies much of that logic, as with little to no state intervention cafes sprung up to service an increasing flow of young people who didn't seem to care much about downtown's grunginess – and even found it part of its attraction.
Even so, that success since the mid-2000s has had a knock-on effect within the wider area from everything to trendy cocktail bars, family restaurants, artsy craft shops and even offices.
And seeking to build on that success, Koumasta told the Cyprus Mail that upgrading the sidestreets and key arteries will make the old town more accessible to cyclists, pedestrians and people with disabilities – hopefully spurring further growth.
Those visiting from further afield are also being catered to, as new and upgraded car parks will help to decongest the often narrow side-streets from haphazard parking, which can turn a Sunday stroll into a elaborate obstacle course.
A slew of incentive schemes by the government for businesses and property owners in the old town – most recently €40,000 for some 20 businesses – is another prong in the revitalisation project.
But as the authorities seek to shake-off the old city's grungy reputation, there are fears that it risks doing so at the cost of what made it so special in the first place.
On the topic of Eleftheria Square, archaeologist, art historian and former mayoral candidate, Anna Marangou has previously told the Sunday Mail that: "The only feature of this city was its historical fortifications, we managed to find a way to hide that away and produce something that has nothing to do with this island, its history, its character, physiognomy."
But others have heralded the changes as a necessary step in reimagining the city centre.
"[Eleftheria Square] is a real jewel, which connects old Nicosia with new Nicosia in a modern way," President Nicos Anastasiades said on location last week.
But the long-running controversy over the fitness of the modernistic Eleftheria square in the historic centre is not the issue here. The revamp of Laiki Yitonia and Phaneromeni is about renovation, not a complete redesign.
Concerns have been raised, however, that the gentrification of the old town may price or push out migrants who, particularly in the last two decades, have created communities in the area – setting up shops, opened businesses and have made it their home.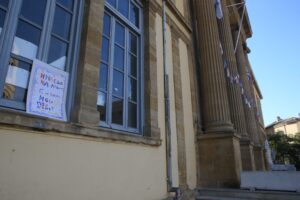 Protests have already been held to oppose the repurposing of the undersubscribed Phaneromeni school which these days mainly caters for the children of migrants who live in the area. The Education Minister Prodromos Prodromou said on Friday that other schools in the area, also undersubscribed, can easily absorb these students which number 120 primary school and gymnasium pupils.
Petrides himself sought to allay these concerns, saying this week that: "What we want is harmonious cohabitation with the immigrants in an upgraded area… I happen to be a resident in old Nicosia, a conscious choice I have made, and I live among immigrants."