In the creation myths of Japan, Shōdoshima was among the first islands born to and blessed by the gods. And its pristine beaches, unspoiled mountains and virgin forests are indeed a testament to a divine idyll with a balmy Mediterranean climate.
This small island (a mere 153 square kilometres in area) is also called Shōdo Island (a name which means small bean, thanks to its abundance of azuki bean), as well as Olive Island. One of the first places to grow olives in the country, the isle has been producing a unique Japanese olive oil since 1908, along with an olive-infused beef that makes for the world's rarest and most expensive steak…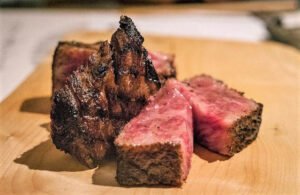 While Japan is renowned for its beef (there are over 300 types of 'wagyu', including miyozaki, kagoshima, and kobe), olive wagyu is considered far and away the best. Derived from cows raised on Shōdoshima, the beef originated with a local cattle farmer intent on using the by-product of olive oil production as cow feed.
According to steak aficionados, olive wagyu is a melt-in-the-mouth experience packed with subtle tastes (umami, olive oil, and pepper to name just three), and as tender as foie gras! But you'd be hard-pressed to get your hands on a cut: just 70 producers on Shōdoshima raise roughly 2,000 head of olive wagyu each year, most of which remains in Japan, and a 16-ounce A5 Olive Wagyu rib-eye steak might set you back $500!
But back to the local diet, because residents are unlikely to partake of an expensive olive wagyu come Sunday! Instead, it's probably somen for tea – a type of thin, almost vermicelli-like noodle that's especially popular during summer. Made using the 400-year-old tenobe (or hand-stretching) method, these noodles are dried in the sun before being boiled, firmed in ice water, and enjoyed cold with the island's wooden barrel-aged soy sauce and a dollop of tsukudani (a delectable mix of seafood simmered in seasoning).