A dog sanctuary under development hopes to provide love and rehabilitation for only the sickest, most sorry pups. Alix Norman finds out more
"Luke was pure skin and bone when he came to us," says Keith Newman. "An emaciated little hunting dog, almost dead."
Shaking with fear and disease, Luke was found under a tree in the mountains. "I immediately rushed him straight to the vet, who said 'to be perfectly honest, it might be better to put him down'… "'Hang the cost,' I replied. 'We're going to get him better!' And we did."
Luke went home with Keith, back to the house he already shared with five other dogs. And with 24-hour care – "I fed him by hand, and carried him out into the sunshine each day" – Luke did indeed recover. "And now," smiles Keith, "he's just the most beautiful dog. He runs and plays, and he's enjoying his life to the max!"
Luke isn't the only sick dog to benefit from Keith's care. Already, the animal lover is looking after 19 rescues. And there will be many more. Because Keith is the founder of AIRS: Cyprus' first sanctuary for rescue dogs that are old, infirm, or ailing.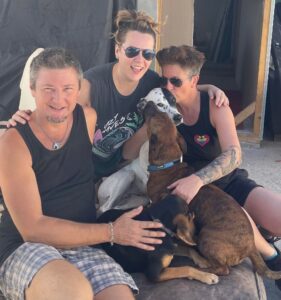 "Often, it's the dogs who most need help who are least likely to get the care they need," explains Keith, who has volunteered at many local sanctuaries. "And they're certainly not going to get adopted in a hurry. But with AIRS" – which stands for Animal Infinite Rescue Sanctuary – "we're hoping to change all that, by providing care and recuperation for the neediest strays: those that are ill, old, or pregnant."
The idea for AIRS began two years ago, when the 48-year-old sold his bistro in Paphos in 2017 and poured the money into buying a large piece of land on which to build the sanctuary.
"We already have the land, just outside Nata, on which to build the shelter. And we're a recognised local charity with a designated number. Our mission," Keith reveals, "is to rehome and help old dogs that haven't got long to go, to help them spend their last few years feeling – possibly for the first time ever – safe and loved. We'll also be taking in bitches who are pregnant and have been thrown out by their owners, as well as strays like Luke who have health issues."
Until the sanctuary is complete – which Keith envisages will happen in early 2023 – he's taking care of the dogs at the home he's built on the land. "We have 19 dogs at the moment!" he says. "The majority were fairly old or infirm when they came to us. Monty the Cyprus poodle, for example, was 16 when he was abandoned by his owner – that's over 80 in dog years! He was blind and deaf and riddled with arthritis. But we treated him, nursed him, and gave him a loving home."
Thanks to expert medical attention and huge amounts of love, Keith's rescues (including little Monty) are now all happy and healthy. "They wake me up at six in the morning," he laughs. "I let them out into the yard, clean and feed them while they run around and play with all their toys. Then they'll chill out in the sunshine during the afternoon, before they have their tea around four. And after that, especially when it's cold, they come and lie on their cushions by the fire!"
Looking after his pack is, says Keith, a full-time job. "The dogs are never left alone: there's always someone with them; usually me. I'll only leave the house if they're with a person I can really trust. And that gives me a chance to do vet runs, buy food and so on. Honestly, it's a 24/7 job – but one that I love!"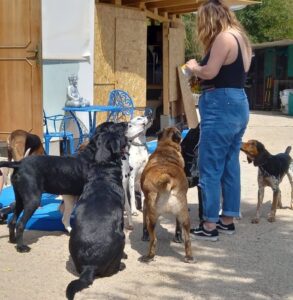 Keith, who has always owned dogs – "I brought my own Dalmatian, Lola, to Cyprus when I moved to the island six years ago" – reveals that, since launching, he's already spent over €10,000 on the venture. "I've virtually exhausted my finances: food bills alone are in excess of €600 per month, and every new dog is an instant vet's bill of at least €300 for bloodwork, deworming, de-fleaing, vaccinations, neutering and microchipping. And though we have been lucky enough to have a major sponsor over the last few years, that can't last forever."
It will take another €150,000 – which Keith hopes to raise through sponsorship and events – to get AIRS fully up and running.
"The plan is to house about 30 to 40 dogs. Each will have its own closed area for sleeping, and then there'll be a huge communal play area complete with plenty of shade, rubber tyres and splash pools. Once the dogs are healthy and happy, it will be a lot easier to find them new homes," he adds. "We already have quite a few dogs that have required major surgery or medication, or dogs that were horribly abused and are only just learning how to play. But with plenty of love, care and attention, they're all finding new life – and that's really what AIRS will be about: helping elderly or sick dogs learn to trust humans again; to know what it is to have food and a warm place to sleep and regular attention. And then, of course, we can work on adoption…"
While bouncy puppies and winsome strays are quick to find a forever home, dogs that are old or ill are far less likely to be adopted, Keith acknowledges. "But actually, dogs that aren't in their first flush of youth are often great companions for more elderly owners. And dogs that have been nursed back to health or shown care for the first time in their lives are often the most loving pets you can imagine.
"Granted, we have a long way to go, and a lot of money to raise before AIRS is fully functioning," he concludes. "But we will do it. There are a lot of Lukes and Montys out there who, with our help, can live out their years in happiness."
As of last week, Keith acquired a new puppy, who was abandoned outside the sanctuary, taking his total number of rescues to 20. When found, the puppy was starving; riddled with ticks and fleas. He's since been to the vet and is well on the road to recovery. "He's a lovely boy," says Keith, "and so happy, with such a waggy tail! He still drops to the floor when a human approaches, but he'll learn in time that he is safe now."
For more information on AIRS Sanctuary, contact Keith Newman on [email protected]