Around 300 school children from Nicosia have gifted a stunning quilt they made to Paphos as part of a workshop which aims to pass Cypriot culture and traditions on to a new generation.
Some of the students who had taken part in the project, which is part of 'schools in action' section of Pafos2017, accompanied the quilt, along with teachers and parents, to an event held at Paphos ethnographical museum over the weekend.
The quilt will soon go on public display.
According to Dia Germanou, one of the three teachers involved in the Pafos2017 'schools in action programme,' the initiative was started by a group of school teachers in Nicosia months ago.
"Quilt making is one of the traditional professions that is dying out. The inspiration came from a traditional story called 'The present of the quilt maker'," she said on Monday.
"This story highlights the joy that an individual gets from offering things to people."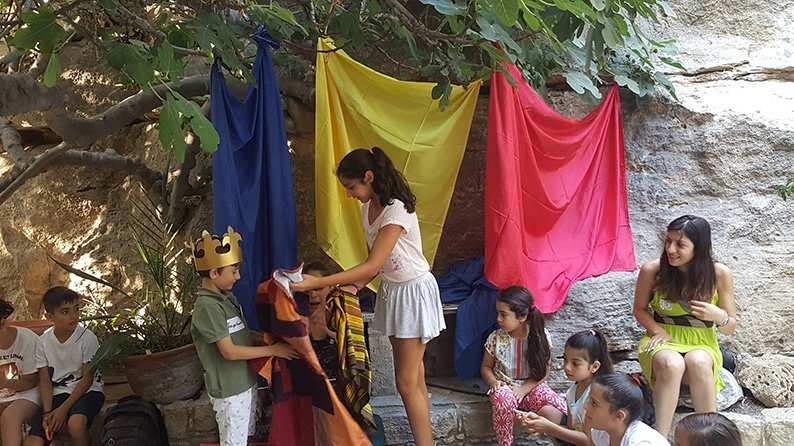 The teachers received training from quilt makers and then took what they had learnt back to their elementary schools and taught the students their newly acquired skills. The children then chose different subjects relating to Cyprus culture and tradition as well as Pafos2017 to make up individual squares which are all personal, she said.
These squares were then sewn together to form a large quilt measuring around 3 x 3m.
The quilt then formed the basis for 'The journey to culture,' which saw it visit dozens of venues in different towns, including, galleries, schools and village community boards.
"Theatrical and artistic workshops took place in many locations, centring on the quilt. More children learnt this skill and other activities also took place," she said.
Eighty-five-year-old Chryso Iliades, owner of the ethnographical museum in Paphos, said she was delighted with the gift which will be displayed as soon as a suitable wall space is cleared.
"This is like a beautiful painting, it gives beauty to the whole museum. The colours and subjects are wonderful and it's an amazing creation," she said.
Germanou said that 'schools in action' presented the gift to Paphos, as it is the European capital of culture 2017, an honour it shares with Aarhus in Denmark.