The sight of a woman in Nicosia a few days ago grabbing her baby from its pram to run away from a pack of stray dogs has prompted a local action group to step up its long-standing demands for a more concerted municipal response.
"People are afraid of these dogs. Another lady walking two small dogs saw the strays and picked them both up and ran into the middle of the road to get away from the strays. How dangerous is that?" said George Evangelides, a member of the Local Action Group for Markos Drakos Avenue & Kinyras Streets, near the Ledra Palace hotel in Nicosia, who observed both incidents.
"What if a woman with a pram is strolling by, and the baby cries, there's a big possibility that the dogs will attack it. They won't step back and consider whether it's a baby or a cat, they'll pounce," he continued.
Cyprus is of course no stranger to stray dogs. Some animal welfare groups estimate the number islandwide at between 200,000 and 250,000.
Just over a year ago, the former interior minister, Socrates Hasikos, described the number of strays as an issue that had been "plaguing" communities for decades.
Each municipality is responsible for dealing with their own stray animal populations, but for municipalities bordering the buffer zone the problem is particularly acute as stray dogs defy ceasefire lines, barbed wire and barrels and come and go through gaps in the green line.
The area near the Ledra Palace crossing point in Nicosia has proved particularly attractive to packs of stray dogs and was a major reason why residents formed a pressure group.
"We began making complaints to the Nicosia municipality in 2012, and are still doing so today," said Evangelides.
"Man landed on the moon, yet we don't seem to be able to catch a few stray dogs!"
Evangelides, from the vantage point of his apartment overlooking the Nicosia municipal gardens, has collected visual evidence of the packs of strays over the years, which at one point reached a membership of 13 dogs.
For a time in 2016, the dogs would go into his yard and so they were caught on his CCTV camera. Most often, however, they run along the road to the municipal gardens where no CCTV is installed but have been captured in photos.
This evidence has been attached to the numerous formal reports he's sent to the Nicosia municipality over the years, protesting the free roaming of dogs, some of which he claims are sick with canine distemper, and which scout the neighbourhood hunting stray and house cats.
"In all our communications with the municipality, their answer is 'we're doing our best'.
"And the truth is, when we call in after a sighting of a pack of stray dogs, they do react – it's just that we're not seeing any results," Evangelides said.
"Last time I called in, a guy showed up on a moped. He started going after them, and the moped did help him reach them but how was he going to catch them? With a lasso? Like some sort of cowboy?"
The municipality is faced with a double problem. Stray animal populations islandwide are continuing to thrive despite attempts to decrease numbers through stricter laws, which are, however, enduringly difficult to enforce.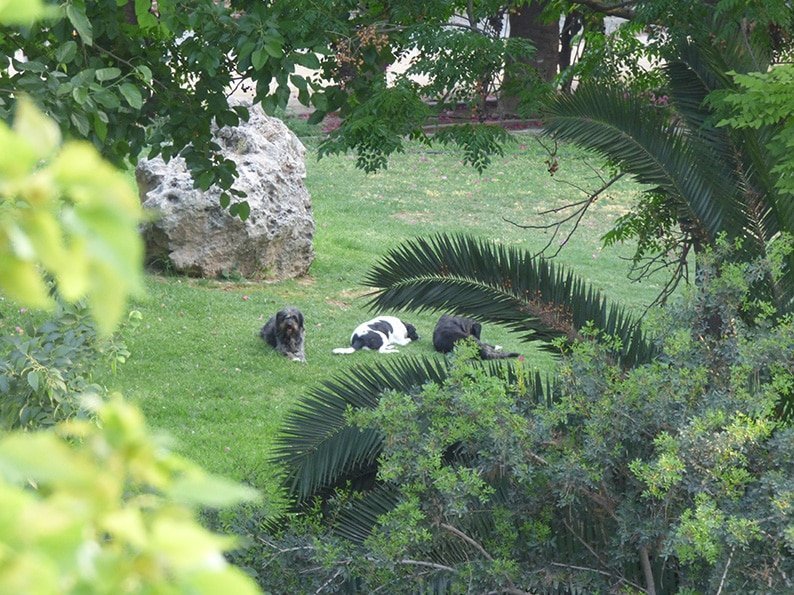 Microchipping legislation has been around since 2002, while amendments in 2017 stepped up punitive measures in the form of fines for failing to microchip a dog, as well as for not registering it with local authorities, not keeping medical records and not strapping on a collar with contact information.
But for Nicosia there is the added issue of the dog-porous green line.
Both Michalis Papadakis – the municipality's man in charge of dealing with strays – and a spokesperson from the Nicosia Dog Shelter claim that the stray dog issue for the municipalities in close proximity to the buffer zone is somewhat under control.
They say that in recent months many dogs have been captured, and from the pack of 13 dogs Evangelides spoke of, Papadakis said that "only two are left to be caught".
The biggest issue, they say, is that packs continue to reproduce in the buffer zone, which is beyond the control of the municipalities and animal organisations of both sides, while Unficyp argue that stray dogs are beyond their peacekeeping mission on the island.
Municipalities in the south are in contact with animal organisations in the north, but cooperation between the local authorities on both sides seems to be out of the question, leaving the dogs to top up their membership with strays from both sides in no-man's land.
"We capture the dogs quite easily most of the time, and we sometimes might lace food with anaesthetic, in cooperation with a specialised vet of course, but above all, in terms of effectiveness of method and results, there's not much we can do as long as the green line remains," Papadakis said.
While the fears of the potential dangers these dogs pose are understandable, the government's policy of dealing with strays by putting the captured dog to sleep after 15 days is deeply upsetting to many. So each report of stray dog sightings essentially sets off what many consider a cruel practice.
Other places, including northern Cyprus, have found effective and kinder ways of dealing with stray dogs, which involves neutering and releasing them back into the community.
The Republic has also adopted this method, known as TNR (Trap Neuter Return) or CNVR (Catch Neuter Vaccinate and Release), with regards to managing stray cats. The policy on stray dogs, however, involves outdated and lethal population control methods, although some overpopulated municipality and community dog pounds choose not to euthanise.
While the amended dog laws seek to tackle the issue by attempting to decrease the factors that lead to dogs becoming stray in the first place, the catch-and-kill policy for dogs which do end up stray result in punishing the animals for their owners' mistakes, disregarding that strays are strays by circumstance and not by choice.
TNR, which emerged in Great Britain in the 1950s and later in Denmark during the 1970s, has proved an effective way of dealing with stray dog populations.
Essentially, the method involves neutering and vaccinating stray dogs before releasing them in the places where they were picked up. Neutering tackles the root problem of the over-population and reproduction of stray dogs, while it also decreases nuisance and threatening behaviours which is a main source of frustration for residents like Evangelides.
Vaccinations ensure that they are protected from disease, and releasing them back to where they were found takes advantage of dogs' territoriality in order to control an area's stray dog population, as dogs very rarely allow new members, especially unsterilised and unvaccinated ones, to join their ranks.
Animal Party leader Kyriakos Kyriakou told the Sunday Mail that "we are aware of TNR methods, but we need all the stakeholders concerned with making such a change in legislation to get together and discuss."
He said the current legislation which involves putting down stray dogs ws unacceptable. "But at the same time even though we have suggested the neutering of stray dogs, the main reason why this is not being done is because even if a dog is neutered, it is not guaranteed that the dog will then be adopted, and so it's a question of 'what's the point'," Kyriakou said.
"Our main task is to stop the culture of violence and break the vicious cycle by which mindlessness and cruelty towards dogs leads to their death, and create a more nurturing culture where dogs will not be made into strays, and where dogs which are strays are adopted more frequently."