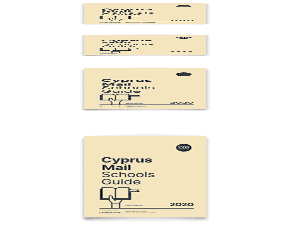 Paul Stewart is a lot of A's. And a pair of P's too. He's an academic, an author and an actor, as well as a poet and a Professor of Literature, at the University of Nicosia. But it's the N that concerns us today; N for novelist. Because, this coming week, Paul's second novel, Of People and Things, is set to launch…
Published by Armida, and available from Amazon and all good bookshops, Of People and Things is described as "a darkly comic mystery story filled with grotesque characters circling about a central narrator who is largely ignorant of the world around him."
"The narrator, Paul, is a 'kept man', living at the whim of his bullying patron," we're told. "This patron is having an affair, but what does his wife know about it? Paul is given a mission to find out and is forced to become an unwilling private detective. Not knowing what he is doing, nor why, he is plunged into a world filled with eccentrics: the extraordinarily ordinary private detective Mr Samuels; Cassandra, the patron's wife, who seems caught in a 1930s novel; the mistress whose odd-coloured eyes are perhaps the least disturbing thing about her. But the real mystery might be Paul himself: who is he really? Why is he a kept man? Why can't he cope with any of the people and things forced upon him?"
"In one sense, I write about what I know," says Paul – the author, not the character! "And it just happens that what I know is how hard it is to know what's going on. The narrator in the book is largely oblivious to what goes on around him, so reader and character – and author, for that matter – are all in the same boat; trying to figure out just what is happening and why…"
Sounds enigmatic, doesn't it? But then the everyday unfathomables are Paul's forte: his first novel, Now Then, was a compelling psychological drama in which the protagonist lacked the capacity to understand what was happening to him emotionally: "what it was in his past that kept bursting to the surface." And though Of People and Things takes a more comic approach to the commonplace inscrutable, there's still that element of "twisting the familiar which I'm drawn to," says Paul.
"In this new book, it is more about how someone interacts with the world around him – those people and events, or chance occurrences, that might be significant or might just be a trick of the light. Twisting things a bit hopefully makes us consider how off-kilter things really are," he muses. "Habit, the ballast that chains the dog to its vomit as someone once said, so often stops us from seeing just how odd the world is, how badly we fit into it, or how badly arranged it all is. Given that the people are a bit bizarre and the events a bit odd, maybe it is understandable that the protagonist struggles a bit! Hopefully," he adds, "that is where the comedy of the book lies. A comedy based on not quite grasping things; of continually getting the wrong end of stick, even when it is the stick that is being used to beat you."
Told with great energy, urgency and real linguistic flair, this darkly humorous tale employs settings and places which will strike a chord with local readers – "Nicosia, although not named, is the backdrop to this book, and it draws heavily on Cyprus in terms of rural and urban landscapes," Paul explains – this strangely unsettling yet moving story sees our protagonist moving about a most familiar city!"
And those who attend Wednesday's launch at the Artos Cultural Foundation in Ayios Omologites will no doubt recognise much of their surroundings in the plot, for this is the neighbourhood which lent Paul much of his inspiration. "In the village area, half the buildings are falling down, or you think they are derelict until you see some old woman sitting on the step with a mask and oxygen tank. The main character inhabits that world of the 'run-down but getting by' that I see on a daily basis. That world of swarms of cats at the end of the street…"
But enough of the description; you can check out both the intrigue of the plot and the authenticity of the setting for yourself this Wednesday. Pop along to the launch meet the author, enjoy a few excerpts, and snap up your copy of Of People and Things hot off the press: a truly fascinating read from an absolutely capital author!
Of People and Things
Paul Stewart's latest novel launches at the Artos Cultural Foundation in Ayios Omolgites on May 22, at 7.30pm. The novel is available from www.armidabooks.com, online (Amazon, Barnes and Noble, etc), and from local bookshops from the end of May at a cost of €15. Also available as an e-book. For more information, call 22 358 028 or contact [email protected]