A new death and 40 new cases were confirmed on Friday, the health ministry announced.
This brings the total to 396 including 10 detected on the British Bases.
The latest fatality concerns a man aged 64. He had an underlying health condition.
Twenty-nine of the new cases were people who came into contact with confirmed cases, two had come back from abroad and the backgrounds of the remaining nine cases are being investigated.
According to Dr Marios Loizou, clinical director of Okypy, the total deaths in virus-positive patients is 13, of which nine are attributable to Covid-19 and four to other causes even though they had coronavirus. The average age of patients who died from Covid-19 was 66, he said, 86 per cent men and 14 per cent women.
Eleven people are on ventilators, two at the Limassol general hospital's intensive care unit, and nine at the Nicosia hospital's ICU. There is another person at the Limassol ICU who is not on a ventilator. Their condition is stable but critical.
There are also 37 people at the Famagusta hospital, five of whom are in the increased care unit.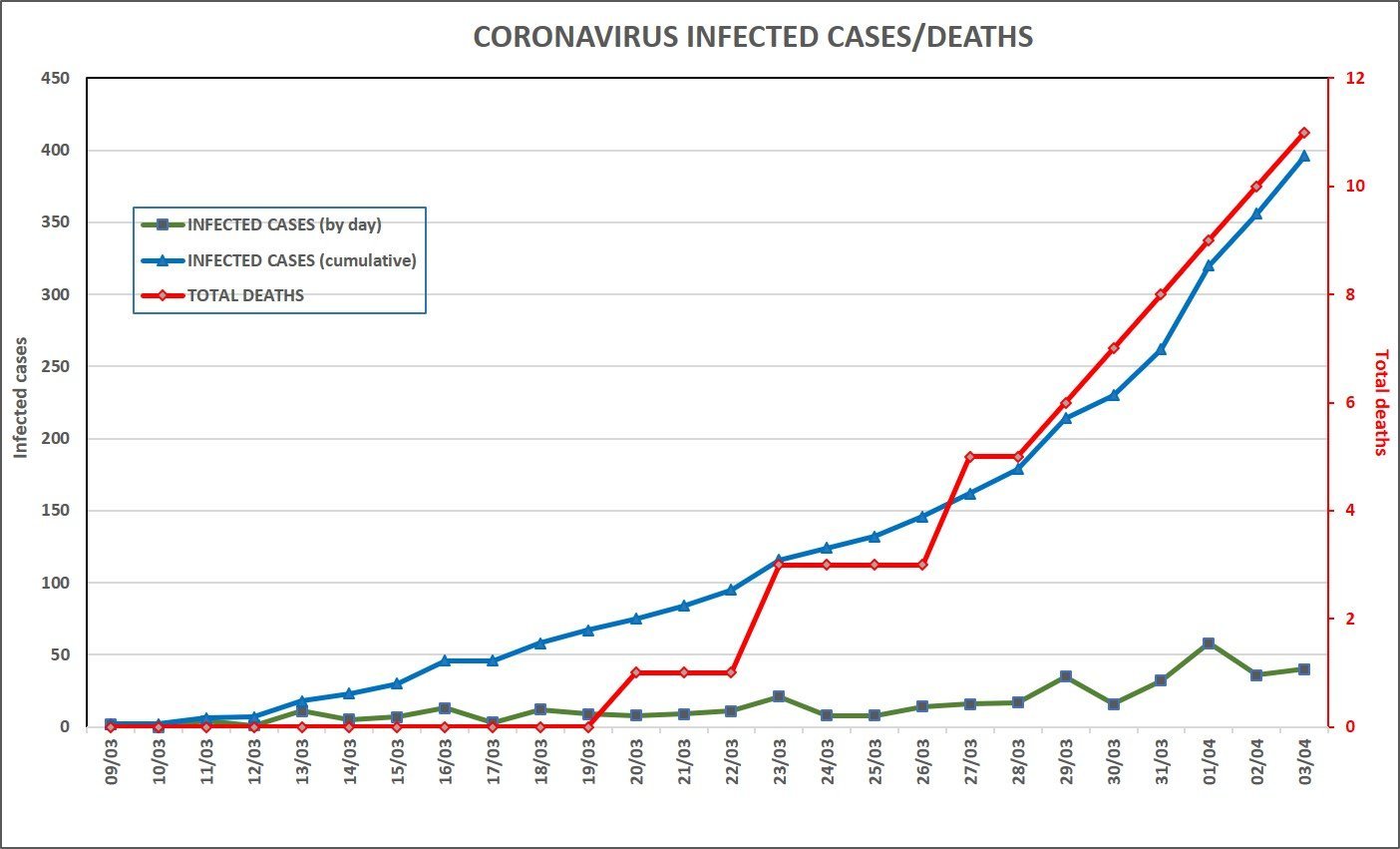 According to virologist Leontios Kostrikis, Friday's results were no surprise since they were linked to those of the previous days.
He added that 268 of the 396 cases were from contacts.
"It is obvious that there was a spread of the virus to the population," Kostrikis said after announcing the results.
He reiterated the call for people to closely follow instructions in self-isolation and the personal hygiene rules.
Kostrikis said that a connection was found with other confirmed cases for 11 of the people found positive for the virus in the previous days whose contacts were under investigation.
He also said that 27 of those treated in hospitals were discharged.
Loizou said that they introduced a process of coding the final cause of death of patients using the IRIS software.
"Its use was decided in an attempt to determine as accurately as possible the real cause of death of SARS-CoV-2 virus-positive patients, given the fact that many of these patients have a burdensome medical history to which the death could be attributed," Dr Loizou said.
Appealing to Cypriots' love for the sea and the fact they cannot visit beaches at the moment, Loizou said that if people do what they are supposed to now, they will be able to enjoy the sun and sea they so much love, sooner than later.