The 1994 World Cup was held in the United States, with fans and pundits skeptical of the decision to hold FIFA's flagship event in a country with no real football heritage.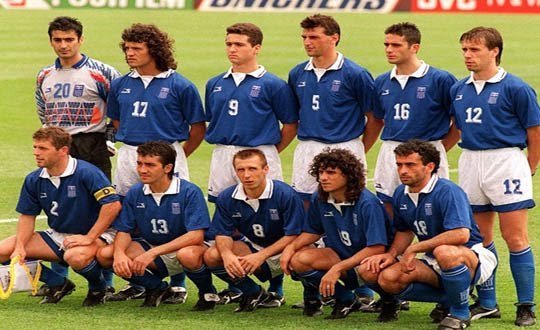 Despite initial reservations over empty seats, the tournament saw a record average attendance of 70,000 per game.
The new back pass rule was an instant success and forced defenders to look for forward movement on the ball instead of knocking it between one to other and then back to the goalkeeper who could safely pick it up and waste time.
The change in the rules contributed a great deal in making USA '94 a much more entertaining tournament than Italia '90.
Bulgaria's Hristo Stoitchkov shared the top scorer's title with Oleg Salenko of Russia, who made history by scoring five of his six goals in one match against Cameroon.
Another man who made history in that game was Roger Milla. The 42-year old super sub became the oldest player and scorer when he netted Cameroon's consolation goal in their 6-1 defeat. A few days earlier Rigobert Song, only 17, was sent off for a reckless tackle on Brazil's Bebeto and became the youngest ever player to receive a red card.
Greece, Nigeria and Saudi Arabia all competed for the first time while the former Soviet Union entered the finals as Russia while it was also a first for unified Germany.
Yugoslavia were suspended from international competition in 1992 as part of United Nations sanctions and unable to compete.
Seven out of the eight quarter-finalists were European, which was especially impressive given the fact that England, France and European Champions Denmark didn't even qualify.
Colombia were the big disappointment of the tournament. They were hyped up but couldn't deliver.
The hosts had their big day when playing eventual winners Brazil on the 4th of July. Team USA had already achieved their main goal of advancing from the group stage, avoiding being the first host nation to be eliminated in the first round.
VITAL STATISTICS
| | |
| --- | --- |
| Host country: | USA |
| Dates: | June 17 – July 17 |
| Teams: | 24 (from 5 confederations) |
| Venues: | 9 |
| Champions: | Brazil |
| Runners-up: | Italy |
| Third place: | Sweden |
| Fourth place: | Bulgaria |
| Matches played: | 52 |
| Goals scored: | 141 (2.71/game) |
| Attendance: | 3,587,538 (68,991/game) |
| Top scorer: | Stoichkov BUL, Salenko RUS (6 goals) |
[mp_ads_system ads_system_select="48205″]
THE FINAL Brazil 0 - Italy 0 (pens 3-2)
The 1994 final was between Brazil and Italy and was held at the Rose Bowl in Pasadena, California. It was the first final to be both scoreless in regular and extra time and was decided by a penalty shoot-out.
Brazil had beaten Italy in the 1970 final, marking the 1994 final as the second time that the same teams had met in two different World Cup finals, after Argentina and Germany met in 1986 and 1990.
After 120 scoreless minutes, Italian captain Franco Baresi took the first penalty, which he skied over the bar.
Brazilian defender Marcio Santos went next, but his shot was saved by Gianluca Pagliuca. Next up was Demetrio Albertini of Italy, who finally put the ball in the net.
Brazil superstar Romario also hit the target, tying the score at 1-1.
Alberigo Evani went third for Italy and scored, as did Branco of Brazil.
Daniele Massaro, who had scored twice in the Champions League final less than two months previously, went next for Italy, but Brazilian keeper Taffarel saved to his left.
Brazilian captain Dunga was next, and he made no mistake, meaning Italy had to score to keep their dreams alive.
Talisman Roberto Baggio stepped up but incredibly blazed his penalty over the bar, giving Brazil their fourth title, surpassing  Italy and Germany as the tournament's most successful nation.
The trophy was presented to Dunga by then-Vice President of the United States Al Gore.
The Selecao dedicated their win to the late triple Formula One world champion Ayrton Senna, who was killed in an accident at that year's San Marino Grand Prix in Italy two and a half months earlier.
https://youtu.be/eo7NQy2Ez9s
THE ROAD TO THE FINAL
Brazil
Group stage
Russia 2-0
Cameroon 3-0
Sweden 1-1
Round of 16
USA 1-0
Quarterfinal
Netherlands 3-2
 Semifinal
 Sweden 1-0
Italy
Group stage
Ireland 0-1
 Norway 1-0
 Mexico 1-1
Round of 16
Nigeria 2-1 (aet)
 Quarterfinals
Spain 2-1
 Semifinal
Bulgaria 2-1