With her future stretching before her THEO PANAYIDES meets a fashion designer determined to find love on her own terms and do her bit to save the Earth in addition to working at a job she loves
I don't often talk to the under-30s, at least for interview purposes. The reason is obvious: they're just starting out in life, especially these days when a large chunk of one's 20s goes on studying. I wouldn't say Marianna Ladreyt is an exception, exactly (she only graduated two summers ago), but she's certainly unusual, a half-Cypriot fashion designer in Paris – and besides, it's nice to be reminded of that life once in a while, a life of flatmates and late nights and working random jobs to make ends meet. A life, above all, of making plans, and thinking about what comes next.
I catch her at the best possible moment – on a week's holiday, sitting in the front room of her grandfather's house in Nicosia, just back from a few days in Polis. Not only is this her first holiday in ages, it's the first time since May that her life hasn't been completely insane. Marianna's busy, even by the standards of ambitious 28-year-olds: she hand-crafts her own brand of bags, on a sewing machine in her flat in Paris – she has around 50 orders to complete, at a wholesale price of €145 each – and also freelances as design and studio assistant at Hyun Mi Nielsen, the Paris studio of Korean-Danish designer Christine Nielsen. The studio was closed during August (she was working on the bags instead) but it's now about to re-open, with a show coming up in late September.
So what happens when she goes back to Paris next week?
"It's gonna be intense," she replies in a frightened whisper, looking momentarily younger than her years.
How intense?
"I think it's gonna be, like, at least 12 hours a day. For a month, seven days a week."
Really? Every day?
"Maybe. I mean, it has to be done, you know?" 'It' includes administrative duties, like organising fittings with models, but also unglamorous work like making prototypes and cutting fabrics. Fashion – i.e. high-end fashion, not the likes of H&M – is a rather paradoxical industry: very serious, and a bit self-important, full of people working long hours in joyless environments – yet also with an in-built sense of irony, simply because the clothes aren't real clothes. They're not functional, generally speaking, the designs in collections and fashion weeks. You're meant to admire them, not wear them.
That's also true of her own big collection, which was one of 10 finalists at last year's edition of the Hyères Festival, the oldest fashion festival in the world (incidentally taking place just down the road from her home town, the small town of Six-Fours-les-Plages on the outskirts of Toulon) – but was also a slightly expanded version of her graduation collection, from her days as a student. She looks a bit like a student now, to be honest, a languid, unaffected young woman with big green eyes and a thin, noncommittal mouth, decked out in pink T-shirt and faded white beach shorts. How does she usually dress when in Paris? I ask – and get a very French "Phfft!" in response. "Super-chilled. Completely normal, I think. Most of the time a shirt and jeans."
Doesn't she want to look impressive?
Another shrug. "No, I don't care… All the designers I know, we all dress super-casual."
Marianna is no bimbo, despite all the stereotypes that may come to mind about working in fashion. She was always a child who "read a lot", and her CV includes a course in Art History and Philosophy at the Sorbonne. Her collection – the one that did so well at Hyères – works conceptually as well as sartorially, being a modern take on the Greco-Roman toga, a garment that continues to fascinate her.
"There are so many ways of notching a toga, of wearing a toga, the way to make the knot… It looks simple, but it's not that simple – which is fascinating, I feel, and I'm not over it, and I'll probably never be over it". It wasn't just a question of parading a bunch of togas, though, "it was really research on the pleat, on the drape – because the pleat is like, you know, when Deleuze talks about the pleat…" That's Gilles Deleuze, the celebrated French philosopher who did indeed write a book called Le pli: Leibniz et le Baroque ('The Fold: Leibniz and the Baroque') – and Marianna duly launches into a long intellectual explanation of what she had in mind with her collection: "When you see a drape, it's about infinity, because it's 3D and 2D at the same time… And you know, a toga can be flat, then it's 3D, then you unknot it and it's just a piece of fabric". She blended the togas with eight different archetypes, characters like the old-fashioned aviator with his bomber jacket and silk scarf, or the colonial administrator in safari gear, beige clothes and pith helmet ("a really romanticised and cliché view") – making, for instance, a Safari Toga, in beige with pockets, or a Bomber Toga over silk overalls.
"It's a bit like in Mary Poppins, when they jump into the picture and discover this new world which is completely 2D," she explains, citing also Disneyland-style "hyper-realism" and the trompe-l'oeil dioramas at the Museum of Natural History in New York (another case of 3D objects blending with 2D backgrounds), which also inspired her. "And then I was like, 'But what's 4D, then?'," recalls Marianna, beginning to talk of how this frontier between dimensions might perhaps spawn a new, fourth dimension, starting to explain how she also tried to incorporate Baudelaire's figure of the flâneur, or wanderer – then she laughs, conscious perhaps that she's giving me more than strictly necessary. "Ah, f**k," she shrugs good-humouredly. "It's really a long time ago that I talked about all this…"
That's the way it goes in your 20s: you spend years in student mode, working with academic concepts – then find yourself thrust in the wider world, where jobs are scarce and the discourse is much more prosaic. Fortunately, Marianna can work both sides of the fence, having grown up as the oldest of three in a nicely bifurcated family: her dad's side are teachers and engineers, her mum's are mostly artists. (Mum is a musician, as is Marianna's uncle Alex – he's actually Alex Panayi, the singer and composer who's represented Cyprus at Eurovision, among other things – while her other uncle Nicholas is a noted painter.) She's creative but also "super-rational," she assures me – and extremely focused on work, like so many millennials forced to survive in a very competitive workplace.
Sure, but she's only 28, I point out, trying not to sound condescending. Isn't she looking for love as well?
"I guess…" replies Marianna dubiously. "But until now, not at all. I was like 'This is not interesting at all. I need to sort out my professional life, I think it's much more important'. Because for me, if you're not happy in your professional life, you cannot be happy – at least, in my case. Because it's really something that makes me [feel] bigger and stronger… But now, why not?" she adds playfully, thinking of her slightly more settled – if still precarious – existence. "We see."
It's a new world, with Tinder and so on.
"I don't know," she shrugs. "But I find it quite difficult, though – to meet people, new people, and stuff like this. I don't know, maybe it has to do with women's position as well. I mean, like, we are super-independent now. I feel like one of my old relationships ended partly because I was super-independent, and I love my job – or I know where I'm going, at least – and he didn't, or not in the same way, you know?"
So her ex resented the fact that she had a better job?
"No, it wasn't like that. But I had, like, a more intense way of life – so we didn't have the same lifestyle," explains Marianna. "You know what I mean? And I think it ended, a bit, because of that. Because I'm more épanouie – I don't know how to say it in English," she adds, meaning 'fulfilled' or 'contented'.
The path to becoming épanouie seems to be a defining motif in the life of this industrious young woman. She's always hustled, even when she was out of work for almost a year after college; "I was always doing something". It helps, I suppose, that she's confident. I mention the new law in France against sexual harassment, making it a crime even to wolf-whistle at girls in the street, and Marianna admits (even though she's in favour of the law) that she's unlikely ever to seek its protection: "If I have a guy who's starting to be f**king annoying, I'm going to turn around and – do something about it, you know?". Her half-and-half status helps too, giving her an edge over her all-French comrades (unlike most of them, she doesn't mind the thought of living in a foreign country); her relationship with Cyprus is strong and she even speaks Greek quite fluently, albeit with an accent. Above all, however, it seems to be work that motivates her – though work as a form of independence, not working for others but working "on my stuff, for my ideas".
Is it the money?
"Oh no!" she replies, sounding almost disappointed that I brought it up.
Well, money isn't so bad.
"No, no," she agrees, "money is super-important, and I want to earn enough money to live correctly and well – but no, I never think about money. I'm super-bad with money!"
So what does she want out of life?
"I want to be happy. That's it."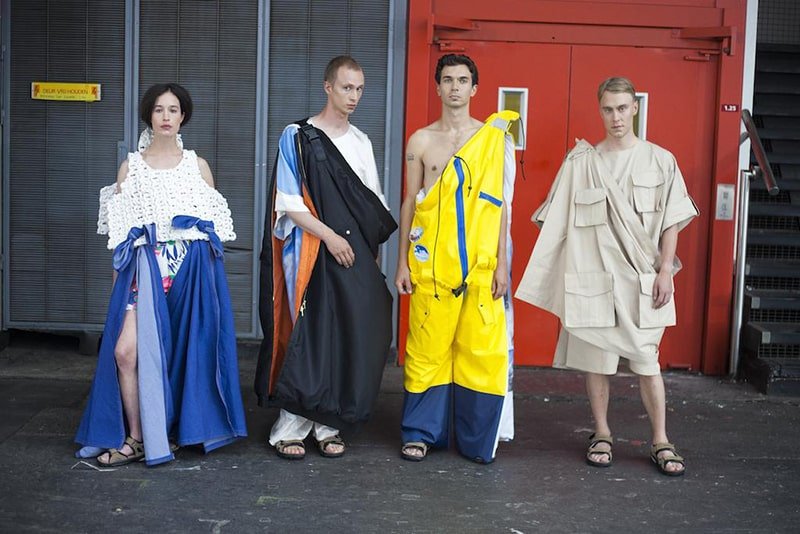 I don't often talk to the under-30s, but Marianna seems a plausible poster child: so focused, so grounded – a child of crisis and recession – yet also serious when it comes to self-fulfilment. The difference between her generation and previous ones, she claims, "is that your job needs to be something you really like. It's not like you'd work just for money… People aren't afraid to go back to studies, even at 28".
And there's also another millennial trait, an angry idealism seething below the surface. "I'm going to say something really lame, maybe…" she mumbles, embarrassed, when I ask about politics – but she is "a bit angry all the time", especially about the environment. "You have the impression that everybody's working just for money," she complains. "It's money, money, money, and then the Earth is, like, getting f**ked and nobody cares, and you can't do anything about it". For a fashion designer, even the question of materials is an eco-quandary. Polyester is a nightmare because it dissolves into micro-fibres when you wash it, which end up in the sea from your washing machine and kill all the fish – but cotton, and natural fibres generally, require so much water to cultivate that they're even less green. "This really depresses me," says Marianna, shaking her head glumly. "We should all be like Gandhi, knitting our own."
Finding a job that fulfils you. Finding love on your own terms. Trying to save the Earth, or at least not mess it up even further. It sounds rather stressful being Marianna Ladreyt – but the lady herself doesn't mind, maybe because she also understands the saving grace provided by youth: the blessed future, stretching out endlessly. Her life is insane at the moment, she admits, but we'll see what happens after the show – as a freelancer, she might not even stay at Hyun Mi Nielsen – "then I think my next step is to make a new collection", the better to burnish her brand. One way or another, she's going places.
"I feel like I'm more independent now," she says optimistically, "because I really know what I'm doing. And when you like what you do, you're so much better and everything seems – not easy, of course, it's a lot, a lot, a lot of work, but it's completely logical and everything works well… I feel lucky now, to have found what I really want to do". It's no small thing, to be feeling épanouie at 28. I shake hands quickly, aware that I'm eating up her holiday time, then leave her to go to the beach and enjoy herself, like a young person.