When Cypriot students go to the UK to study, they tend to go tribal.
The Greek Cypriots seek comfort in Greek and Hellenic societies; the Turkish Cypriots cuddle up to Turkish ones. By themselves for the first time and thousands of kilometres away from home, the students inevitably seek the safety of familiarity.
But Cypriots at Durham University have been rather more daring. They formed a Cypriot Society – for Greek and Turkish Cypriots – that promotes the culture common to the communities on both sides of the divide.
Like other students, members of Durham university's Cypriot Society have built a home away from home, but theirs imagines a life rather different from the one on the island they've left behind: a bicommunal home undivided by barriers, both physical and conceptual.
Founded by Ismail Cufoglu and a number of like-minded peers in 2013, the society, which was the first of its kind in a UK university, now boasts around 50 members.
"We wanted this to be a cultural society that fosters understanding and communication by going back to our core values and to the island's culture which is very similar, if not identical, between the two communities," Cufoglu said.
The society aims to promote friendship, peace, communication and understanding between the two communities by focusing on a shared Cypriot identity in a way that overcomes political divisions and prejudices.
While the society promotes a common Cypriot identity, membership reflects the multi-cultural demographic of Durham University, as it includes in their Zorba-dancing and souvla-eating activities students from Turkey, Greece, the UK, Italy, and elsewhere.
As a truly Cypriot society, one of the group's main annual event centres on food. Their annual Cypriot food festival is called Ziyafetti – a blend of the Cypriot Greek ziafetti and the Cypriot Turkish word ziyafet, both meaning 'feast'. Other activities include Cypriot dancing lessons, Greek and Turkish language lessons, backgammon (tavli/tavla) tournaments and trips.
"I didn't grow up with hate," Cufoglu said, "but I know that history is taught differently in the educational systems of either side and so this society was rooted in listening to one another, empathy and a common Cypriotism."  A sort of rehab society for washing off ethnocentric residue.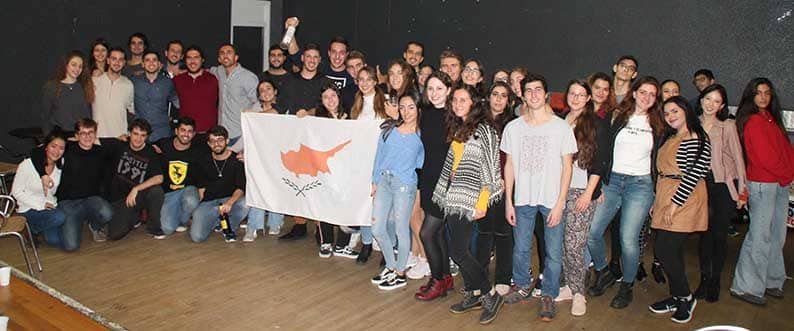 Beyond the political climate on the island, or perhaps despite it, proponents of a common Cypriot identity, of Cypriotism, envision a life of co-existence between the island's communities. For the Cypriots of Durham University, this imaginary world could become a reality only once they left the island where they lived side by side, but separate.
The irony is not lost on members of the society.
"Fighting against the division at home, the society managed to unite the two communities abroad," said Angelos Sofokleous, former president of the society and the person responsible, along with former vice-president, Desiree Birinci, of reviving the society in 2015 after it became inactive for a period that year.
As long as each community remains confined to its own bubble, Sofokleous added, prejudices and false beliefs will thrive.
"Student societies abroad have the ability to export bicommunal initiatives to a neutral environment, foster inter-communal friendships and become structural tools for peace-building among Cypriot youth," said Birinci. "The Cypriot Society of Durham successfully achieves this and provides young Cypriots, mostly away from home for the first time, with a heartfelt sense of the familiar."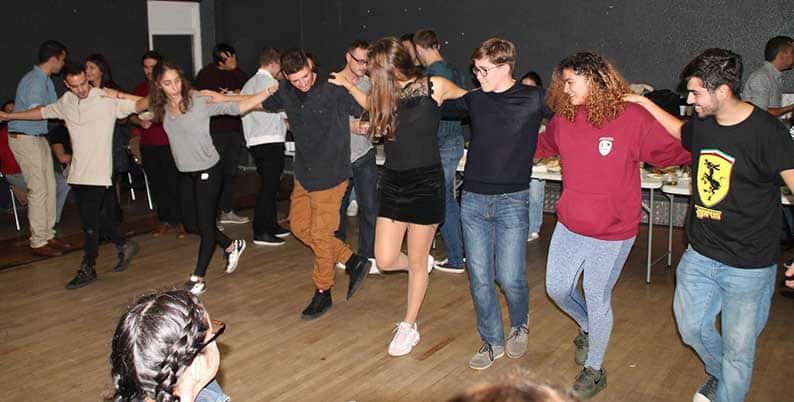 This was also true for Cheyenne Keana Yucelen, member of the society and former secretary: "It felt like a new home far away from home; our cultural similarities were so prominent that our differences paled in comparison."
A common Cypriot identity does not mean that the two separate ethnic identities of Greek and Turkish Cypriots are glossed over or that they are merged into one, but that through the identification of common characteristics in history, culture, society and tradition, the two are elevated to an equal footing.
"It can sometimes be difficult for both communities to forgive the mistakes of the past," said the society's executive committee. "What we wish, is not to forget these events, but to instead acknowledge that as the younger generation, we are not responsible for the misdeeds of the older generations, and realise that we are able to form true friendships between us."
"The society is active in organising events and socials which facilitate bringing people closer together and has been incredibly successful in doing so, to the extent that the only barrier that exists between members of the society from the two communities is that of language," said Sofokleous.
At a time when the Cyprus problem continues to witness a political stalemate, bicommunal initiatives and partnerships continue to sprout up regardless. just one example is nearly 700 Greek and Turkish Cypriots that collaborated and submitted their applications for the Stelios Bicommunal Awards 2018.
However, back in 2013, Durham's Cypriot Society was the first across UK universities to promote a common Cypriotism instead of its exclusively Greek or Turkish manifestations.
Today, according to Cufoglu, a Cyprus Friendship group has formed in Sussex, and the Greek Cypriot and Turkish Cypriot societies are merging into one in Essex.
"I hope more will come," Cufoglu said.
However, these initiatives continue to be exceptions to the rule, as they are not encouraged, especially for the young.
"Before coming to Durham University, I had only met and talked to a Turkish Cypriot once or twice… It is saddening that, throughout my whole life in Cyprus, there was minimal effort by my school, family, or government to persuade me to get to know the other community and interact with it," Sofokleous said.
"My first interaction with Turkish Cypriots felt like I was discovering a room in my house that I never knew existed. A room which not only felt like home; it was home. I got to know people whose traditions, behaviour, way of thinking, way of expression, and manners, were not only similar to mine, or what I wrongly considered to be mine – i.e. solely belonging to my own community – it was identical. We shared a mutual identity: the Cypriot identity."