By Rally Papageorgiou
Every August 14, for the past 43 years, Suat Kafadar wakes up with an itch at the back of his head, where a bullet grazed him in 1974 when Greek Cypriot paramilitaries executed 84 Turkish Cypriot men and boys from the village of Tochni.
Kafadar, 62, was the sole survivor of the massacre perpetrated by the notorious Eoka B near Palodhia, Limassol when he was 19 years old. In the massacre, he lost his father, 50, brother, 17, uncle, and cousin.
In an interview with the Cyprus News Agency, Kafadar said he was in Tochni with his family when the coup to overthrow Archbishop Makarios took place on July 15, 1974.
"Relations with our fellow villagers in Tochni were good. After Makarios was overthrown, members of Eoka B from surrounding villages started coming to ours," he said.
Kafadar said Eoka B members lived in Tochni too.
On July 20, when Turkey invaded the island, landing troops in Kyrenia, in the north, Kafadar was still in Tochni.
"We didn't have firearms or other weapons, only hunting shotguns, maybe some smaller arms," he said.
By July 1974 a lot of Turkish Cypriots gradually moved into enclaves across the island following intercommunal fighting that broke out in 1963.
A ceasefire was agreed after the invasion, which lasted until August 15, when Turkey launched the second round of its operation, occupying more territory.
During that time, Greek Cypriots from surrounding areas went to Tochni and asked Turkish Cypriots to surrender any weapons they had, something which they did.
On August 13, Eoka B members from Tochni, and other Greek Cypriots, rounded up all males over 13 in the Greek Cypriot primary school.
Kafadar named two Greek Cypriots (CNA did not provide the names) who have since died, as being present. He also named the leader of Eoka B in Tochni.
"They made all of us sit in a room and Eoka B men were outside, with beards and long hair, wielding guns. We remained there until lunchtime of the next day," he said.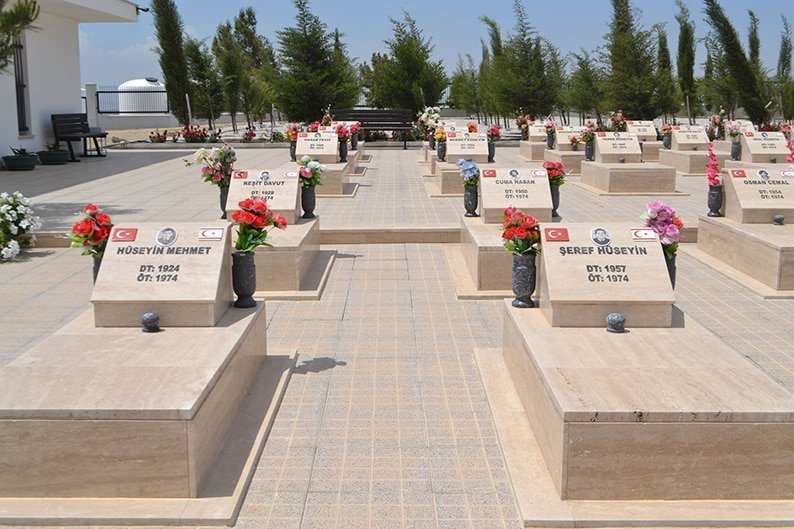 United Nations soldiers visited the village that night, but the Turkish Cypriots were told to remain silent until the UN left.
A Greek officer then appeared, telling them not to be afraid.
"You are hostages today, tomorrow it could be us."
On August 14, the Turkish Cypriots were loaded onto a bus, which headed to Limassol.
"We filled the bus. Four armed men also boarded it, one sat behind the driver, pointing his gun at us. They told us we would be taken to an army camp in Limassol."
Greek Cypriot police officers stopped the bus at a checkpoint in Yermasoyia. When asked who the passengers were, one of the paramilitaries responded sarcastically: "tourists."
The men were taken to Palodhia. The bus drove off the tarmacked road and stopped some 100 metres later.
They were ordered to get off and made to walk 100 metres farther.
"We were high up, it was a place like a small square with a natural wall. From there you could see thousands of tents in the distance," he said.
They were told to sit down and have a smoke or eat something, if they had food with them.
They stood in front of them, together with the bus driver who was also armed. The Turkish Cypriots were told that they would be taken to where the tents were, which was a prison camp.
They were shown a spot where they were asked to leave any papers they had on them.
"One of the four said he was leaving to go and sort out the tents. He went down the wall and before a few minutes passed we heard a shot … and those left behind started to spray us with bullets."
"They were firing for ten minutes, emptying their weapons and reloading," Kafadar said. "I couldn't see their faces. We were 45 individuals."
Kafadar was injured and he felt cold. Something warm dripping on his face turned out to be blood from the head of a man who fell on top of him.
"I heard one say, 'if anyone moves shoot him on the head.'"
He stayed there holding his breath, while the executioners apparently finished someone off.
Someone suggested stealing their watches but he was told to leave them and get out of there before anyone saw them.
"This means that they had no order to do this," Kafadar said.
One of the men said they should go get an excavator to bury them.
Another Turkish Cypriot, Niazi Cavus, who was also alive suggested they left. He was never found.
Kafadar spent the night next to a tree near the execution site.
"The ants crept on me, on my wounds, I was scratching all night."
On the second night, he decided to walk towards a high tower with a red light – the Moni power station, which he helped build.
On day eight he reached Moutayiaka where he was accommodated by the Turkish Cypriot mukhtar of the village.
He left the village hidden in a Red Cross ambulance and was taken to the British military base in Episkopi where a lot of Turkish Cypriots from Limassol and Paphos had assembled.
Kafadar told other Turkish Cypriots the story but he was too scared to take them to the spot.
When the UN sought to investigate the case a few months later, the murderers dug up the victims and buried them in the village of Gerasa.
The passengers from a second bus from Tochni were also executed and buried near the village of Pareklishia.
Kafadar's mother and two sisters, left behind in Tochni, were moved after news of the crime reached the village. All Turkish Cypriots moved to the village of Vouno in the north.
He remained at the British bases for almost five months before he was taken to the Dhekelia base with a helicopter and from then on to Vouno.
"I had no father, I had no brother, I couldn't find a man, there were only small boys," he said. their village was name the "village of widows."
Kafadar said he returned to Tochni once; it was July 20, 2003, the year crossing points opened. His home no longer exists in Tochni, nor the Turkish Cypriot neighbourhood. It felt bad, he said, adding that Greek Cypriots too had also left the village after 1974.
Despite his suffering in the hands of Greek Cypriots, Kafadar said he wanted a solution to the division.
"So that we never live through such things again. Unfortunately, however I can't see it."
To those who ask why he wanted a solution, Kafadar replies that it was not the entire community's fault.
"One did it, why should I consider them all evil," he said.
He said he had no hatred for Greek Cypriots, only those who perpetrated the crime.
"I don't know them, maybe I won't recognise them if I see them, but if someone says its them, I could, I don't know, I could grab them from the throat."