Thanos Hotels and Resorts' stylish Almyra Hotel was fully renovated over the winter with work overseen by famous interior designer Joelle Pleot, who has worked with the group for a number of years.
The new rooms and suites were upgraded with specially created furniture designed with slim lines and in various hues of blue, inspired by the Meditteranean.
Staying true to the local community, Thanos Hotels and Resorts instructed the designer to have the wooden furniture made by local craftsmen who produced tables from oak and olive wood as well as other items from silk and leather.
All rooms have been decorated with works of art by photographer Michalis Kouloumos. These depict scenery from the Paphos coastline. In addition, high definition television sets have been installed in all rooms while bathrooms have been fitted with luxurious shower stalls made from Italian Carrara marble.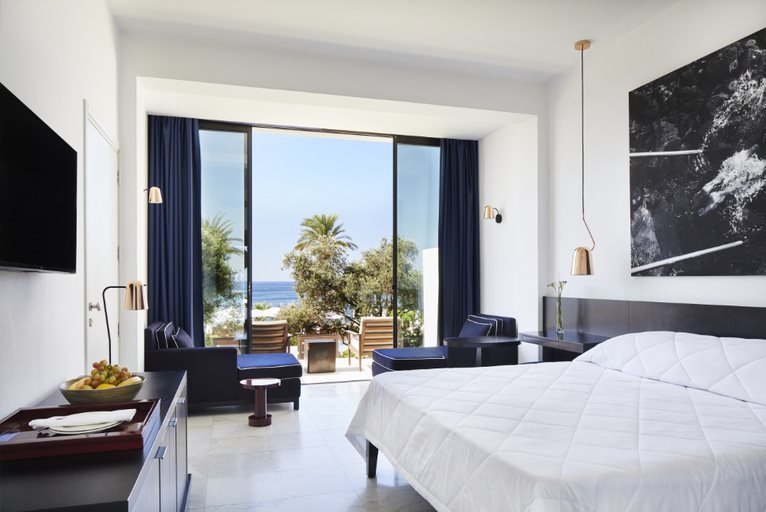 The hotel's reception has also been refurbished with the instalment of new furniture and lighting. New carpeting has been laid in all hallways throughout the hotel. The sea-facing Aeras restaurant has also been upgraded with new dark blue furniture and ambient lighting.
The hotel is comprised of 187 stylish and spacious rooms and five restaurants including Notios restaurant (Asian-Mediterranean fusion) which was awarded the Top Notch award in the 2019 iteration of Chrysoi Skoufoi Kyprou, as well as Almyraspa, which was voted as Best Spa at the Madame Figaro Beauty Awards of 2019.