A 95-year-old British World War II veteran, Ray Woolley, broke his own record on Saturday as the world's oldest scuba diver after taking the plunge to explore the famous Zenobia shipwreck off Larnaca.
Dozens of divers accompanied Ray as he dived down to 40.6 metres for 44 minutes and the entire process was filmed, photographed and documented in line with guidelines approved by Guinness World Records.
"It was a wonderful experience diving on the Zenobia with so many divers, I think there were around 35, but it was really difficult to count them, as there were three dive boats," Woolley told the Sunday Mail after his dive. "This was the highlight for me and a dive I will remember for a long time."
The nonagenarian, who lives in Limassol, already held the Guinness record title following a similar successful dive on his 94th birthday last year, where he dived to a depth of 38.1 metres for 41 minutes.
Ray's main dive buddy, David Turner, the diving officer at WSBA (Western Sovereign Bases Area) Sub Aqua Club at RAF Akrotiri, organised the record attempt.
"It was a brilliant day and a pleasure diving with Ray and the other divers," he said. "He is an inspirational and skilled diver, who at 95 years of age puts many younger people to shame."
Ray, who turned 95 on August 28, said that a reception was also put on for him after the dive, where the mayor of Larnaca gave him gifts and both spoke to the throng of press.
"Everyone clapped and cheered as I came to the surface, and they also sang Happy Birthday to me as I cut a cake supplied by the Larnaca Tourism Board."
Ray is a World War II veteran who served in the Royal Navy and 'SBS Special Force 281' in the Dodecanese. After the war, he trained as radio engineer and whilst working for the British foreign office was posted to Cyprus in 1964.
He is originally from Port Sunlight on the Wirral Peninsula in the UK, and started swimming at his local swimming baths aged five. In Cyprus he dives with the British sub aqua club- BSAC-at RAF Akrotiri and began diving with the Portland and Weymouth British Sub Aqua Club in 1960.
"I shall celebrate later with a glass of wine with my family who flew out to Cyprus for my dive and my Birthday. If I can keep fit and my dive buddies will still dive with me, I hope I will be able to repeat this again at 96 years of age."
The 95-year-old is now featuring in a documentary film about his life. 'Life Begins at 90', which was filmed in Cyprus and highlights Ray's life, his passion for diving and the water, and his healthy approach to ageing.
He will find out if he officially held on to his Guinness world title as the world's oldest scuba diver in a few weeks' time.
Zenobia, which now lies on its side with its 90-odd trucks still chained to the vessel, is extremely popular with divers and about 60,000 visit the site each year.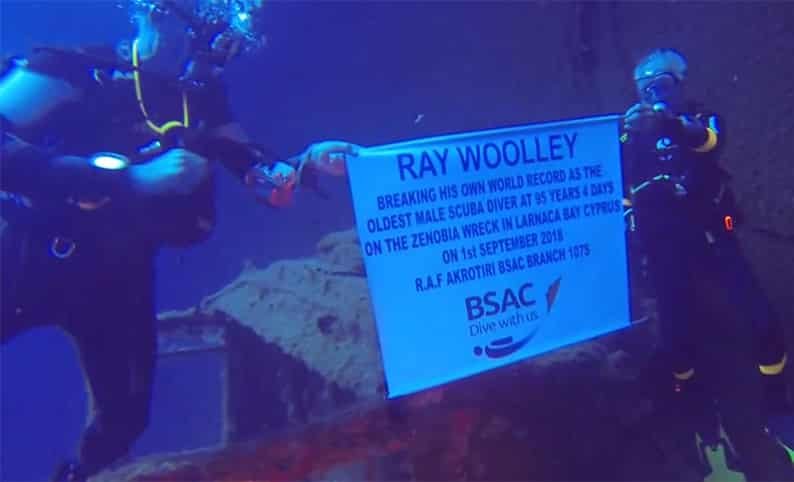 Film trailer: https://www.facebook.com/documentaryfilm90/videos/443791259383879/