IT HAS BECOME very boring hearing negotiator Andreas Mavroyiannis passionately arguing for a federal settlement. Every weekend he gives an interview to someone in order to repeat his new tune – maintaining the status quo is not possible and only re-unification will secure the future of the Greek Cypriots.
Last weekend, in an interview with the Athens News Agency, he also ruled out any "velvet divorce", saying this was not an option for Cyprus. Has his boss abandoned this idea, which he had toyed with in the past – even mentioning it as a possibility to the Turks – or is Mavroyiannis being a naughty boy and defying him?
Perhaps his pro-solution tirades would have been less irritating had he not been a typical foreign ministry hawk until a few months ago and not got the job of negotiator at Diko insistence, because of his impeccable rejectionist credentials. He had loyally served as one of Ethnarch Tassos' leading anti-settlement enforcers.
We can only speculate about what has caused his sudden transformation into a peacenik and zealot of re-unification. During a recent visit to our establishment, a former colleague of his at the foreign ministry rather cynically said that for Mavoryiannis to support something it must first serve his well-plotted career plans.
Mavroyiannis, who has not got any stick from the patriotic press for his defeatist views, may have just been covering his backside. Having sat in on the meeting of Prez Nik and the UN Secretary-General's representative Jane Holl Lute, Mavroyiannis probably concluded that there is not much life left in the Cyprob as we know it.
The era of never-ending UN-sponsored talks, held so our politicians can show off their uncompromising patriotism and high principles, are drawing to an end. This was the message of Lute who also informed Nik that the withdrawal of Unficyp was on the agenda. If and when this happens, and Greek Cypriots are shitting themselves because there will be no UN to protect us from the Turkish army, Mavroyiannis can say, "I warned you."
Another explanation, less credible, is that there will be a settlement and Mavroyiannis will be entitled to a top position in the federal republic of Kyproulla, as one of its architects. The rotating presidency would offer great opportunities for ambitious public employees who have given their lives to serving of the public to carry on their commendable work.
MAVROYIANNIS is not the only former hawk that is giving pro-settlement sermons. Last weekend our smooth-talking, foreign minister, Nicos Christodoulides, a closet rejectionist, gave two interviews in which he also warned that the status quo "cannot be the solution of the Cyprus problem", as this "poses risks to both the Greek Cypriot and Turkish Cypriots".
Like his former superior at the ministry who is now his subordinate, the Paphite diplomat, warned that it was counter-productive to talk of a Plan B at a time when the objective was a "reunited motherland". He also warned that the status quo was a "dangerous state of affairs" that could not be left to continue.
Does Mrs Christodoulides, a hard-line hawk of the foreign ministry, approve of her hubby's defection to the peacenik camp, or is this just a career move that has her full backing? Christodoulides has proved a consummately calculating careerist as his meteoric rise has shown. He offends nobody, he is a darling of the media and knows who to butter up.
You do not become foreign minister and arrange for your wife to be put in charge of the president's diplomatic office, all without provoking any negative comment, if you are not an operator. And when political ambition is served by re-unification rhetoric, it is more than justified.
HOW MUCH higher could the irrepressible Christodoulides climb? Well there is still the presidency and with Nik claiming he will not seek a third term (I am betting he will change his mind) there is an opportunity for the final mountain climb.
This may explain the embracing of a federal settlement by both Christodoulides and Mavroyiannis. There is a rule that all presidential candidates have to pledge commitment to a settlement if they are to have a credible chance of election. Even Tassos obeyed this rule, vowing to work for a settlement based on the Annan plan. The fact is that the pro-solution candidates always take more than half the votes.
Once elected, the anti-settlement instincts reappear and there is always the fall-back position of Turkish intransigence, as the excuse for not keeping the election promise. Comrade Tof did it and so did Prez Nik, both bailed out by Turkish intransigence, when they had to make the big choice.
It is entirely possible that the pro-settlement sermons by Mavroyiannis and Christodoulides have the presidential elections in mind even if there are still four-and-a-half years to go. The former could be the Akel candidate and the latter could stand as Nik's successor.
The only problem is that the pro-settlement card may be a busted flush by then, in which case they could promise to liberate the occupied areas by military means. That would be a vote-winner.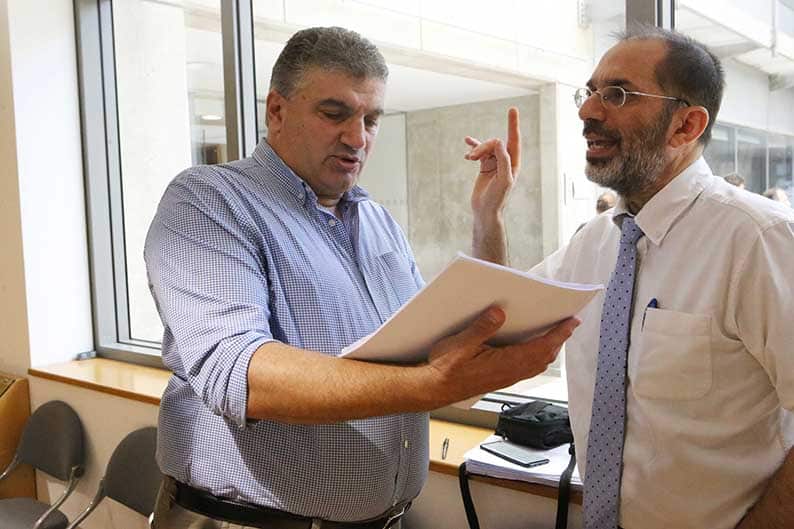 I HAD INTENDED to keep today's Coffeeshop a teacher-free zone, but I am obliged to respond to certain accusations made by the boss of Poed, Filios Fylaktou, about an item we published two weeks ago. On one of his battle-cries posted on his Facebook account, Fylaktou accused us of printing "blatant lies even about our children".
We had reported that he used to take his kids to Highgate private school, commenting that this did not show a commitment to the public schools he was defending. "My children go to public schools!!!! But what have my children to do with this???" he wrote, saying the matter would follow the course of justice. He also took a heroic stand declaring, "we are not afraid of you whatever you say and whatever you do."
He also posted an item saying "I hope the Cyprus Mail does not demand that they hang us." I can assure him that we are against the death sentence, but we would fully support the spanking of the teachers' bottoms for their naughtiness and their ridiculously spoiled behaviour.
FILIOS also called up the paper to air his complaint, assuring the paper that his kids had attended public schools throughout, but he avoided denying they had been going to Highgate because this was a private matter and none of our business.
I am sure the Poed boss was not lying, but neither was our establishment because Filios was regularly seen at Highgate picking up kids from there back in the days when the school was in the Ayios Andreas area of Nicosia. Perhaps he only sent them to the kindergarten.
It was a bit strange that after accusing us of lying, Filios also posted what could be described as a blatant lie on his Facebook account about the source of our information. "Unfortunately, I have learnt from different sources that behind this attempt is (education minister) Mr Hambiaouris who contacted several news media and gave them this information!!!"
Hambiaouris never contacted me or anyone else at our establishment, but I will not accuse Filios of lying – union bosses never lie – he was misinformed.
MORE than 10 thousand teachers and their kids attended the demonstration outside the presidential palace last Tuesday, and we were bombarded with nonsensical, high-sounding slogans about their dignity and their disregard for money. "Dignity cannot be bought," read one slogan.
What dignity is there in demanding to do less work while your wage rises? After 16 years of service while a teacher's salary keeps rising their weekly teaching periods are reduced by six. Call me a reactionary, neo-liberal, but I cannot see any dignity in defending this institutionalised aversion to doing a full day's work, which some would call laziness.
It seems even laziness can be performed with dignity, if you are given a free period in exchange.
THE CYPRUS Co-operative Bank finally closed on Friday at 2.30pm bringing to an end a hundred-year history. You have to applaud finance minister, Harris Georgiades, for following Monty Python's advice and always looking on the bright side of life. The bank may have collapsed under Harris' watch, at €7billion loss, but he saw only positives, as he told Phil:
"What is confirmed is that through the recent, politically difficult decisions, very positive prospects emerge. It is no coincidence that in the aftermath of these decisions our country secured three successive upgrades by international rating agencies, while domestically we see that confidence and growth prospects have been safeguarded."
He said nothing about the very positive prospects created by adding another €7 billion to the national debt – thanks to the government's incompetence – which the taxpayer will be repaying for many years to come. Was €7 billion a price worth paying for three successive upgrades? Harris would probably tell us it was a bargain.
SPEAKING of money, the CEO of the Bank of Cyprus, John Hourican was on an annual salary of €2.1m, it was reported at the bank's AGM last week. His pay was increased this year in order to dissuade him from accepting another job offer and will run to the end of 2020. He might be a banker in Kyproulla but he is on a premiership footballer's pay (playing for Brighton), and I bet he cannot even take a half-decent corner kick.