When the first crossings opened in 2003, Antonis Emmanuel thought long and hard about the options he might now have. Despite the surge of hope that greeted the announcement, it was by no means clear where the decision to open the crossings might lead.
Born in 1956 in the Maronite village of Ayia Marina, what Antonis did know was that he wanted to go back there while his mother, 90-year-old Vasilou Solomi Ahmeti, was still alive.
But the village, located 24 kilometres north-west of Nicosia, had been occupied by the Turkish army and no Maronite had had access to it since 1974.
Antonis had been forced to take early retirement because of health issues. Now, determined to fulfil a heart-felt dream, he took matters into his own hands and set about renting a small caravan on the northern coast.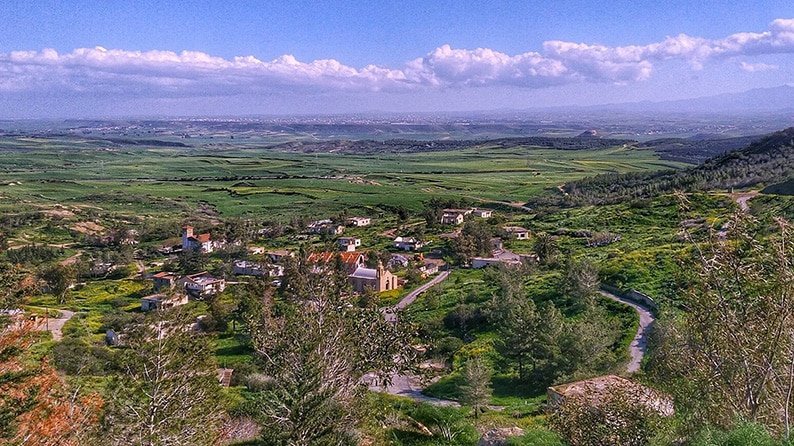 This became his base, as he began spending more and more time in the Ayia Marina area, exploring the village surroundings and familiarising himself anew with the flora and fauna of the area.
An expert on Cyprus plants, he would wander in the fields gathering wild asparagus, artichokes, mushrooms, leeks and many other edible plants, carrying them back to his home on wheels where he cooked up countless savoury traditional meals. It wasn't long before word of his culinary skills and his hospitality spread.
"What Antonis did was a great example of so-called gastronomic diplomacy," says Mete Hatay, a Prio consultant who often participated in Antonis' gatherings.
"He cooked well and opened his doors to everybody, Turkish Cypriot politicians, Turkish generals, international diplomats, UN officials, they all came and ate in his place. And Antonis kept on talking… not about politics but about his love for his land, his mother and her wish to be buried there, his dream to go rebuild his house there. He talked and people listened."
Among Cyprus' four Maronite villages, Aya Marina was unique. Pre-1963, its population had been mixed. Then the intercommunal troubles forced the Turkish Cypriot community to abandon their houses. Like Antonis, Ayia Marina's Turkish Cypriots also harboured hopes of returning home. Time and again, members of the ousted community would raise the matter of their eventual return with Turkish Cypriot officialdom. Some years back, the Turkish military informed them it would rebuild the village mosque that had been destroyed by an earthquake in 1953.
The Turkish Cypriots of Ayia Marina welcomed the offer but, according to Turkish Cypriot journalist Raif Hizal whose family originates from Ayia Marina, they made clear that the village's Maronite church should be restored too.
"Of course, we had to say it," he explains. "I think it is very important – having the mosque and church together in our village. It has nothing to do with the religion. It is part of our culture."
The Maronites and Turkish Cypriots of Ayia Marina share deep roots that go back at least five generations. Intermarriage and mixed families were not uncommon.
Now 104 years old, Antonis' mother Vasilou is the grand-daughter of Ahmeti, a Turkish Cypriot who married a Maronite. He and his wife had five children, two being raised Turkish Cypriot and three Maronite.
Ahmeti's great granddaughter Lella Ioannou recalls for the Sunday Mail the old man's Solomon-like pronouncement when, old and sick, the question of his burial became a matter of dispute within the family.
"He called his Maronite children and told them: 'I will give you my soul but please let my Muslim children have my body'," she says.
Once the troubles started in 1963, she points out how Turkish Cypriots had to flee from threatened actions by Greek Cypriot paramilitaries from neighbouring villages. "Brothers and sisters were separated – some never to see one another again."
Hizal's family – his newly married parents and his grandfather Mustafa, a Turkish Cypriot muhtar of Ayia Marina who was related to the Ahmetis – were among those forced to flee.
Hizal himself was born several years later while his parents lived in a Turkish Cypriot enclave in Phota. Later, the family moved to Skylloura, not far from Ayia Marina, linking up with many other Turkish Cypriots from the village.
Hizal hopes to rebuild his grandfather's house in the village, which was burnt down in the 1963. However, his biggest dream is to see Antonis and his mother re-installed in Ayia Marina in keeping with their wishes. Acknowledging their frailty, he says
"I really want to see them there."
Last month's announcement by the Turkish Cypriot authorities that discussions have opened about facilitating the Maronites return to their villages Asomatos, Karpasha and Ayia Marina, has brought such dreams and wishes a huge step closer.
Despite raised hopes and expectations, Hizal is realistic about the many problems to be surmounted if the village-return initiative is to be fully realised. Foremost is the lack of funds for rebuilding and revitalising all three Maronite villages, designated to be re-opened by the Turkish army to their original inhabitants.
"We all know that Turkish Cypriot authorities don't have money. So who is going to fund it? I hope that the EU will offer some money and Turkey as well," he speculates.
The how and the when as much as the "if" are the dominant topics at Maronite gatherings nowadays.
"We are all discussing what to do," says a member of the community who wants to remain incognito. "People are worried. The government [RoC] puts a lot of pressure on our leaders to say that we won't go back but how can they expect us not to go back? We had a meeting of the residents of our village a couple of days ago and some people are very scared but others say they will go no matter what.
"The truth is right now everything is still very fluid… we are stepping into the unknown," he continues. "We don't know what the Turkish Cypriots will offer us, what will the rules be for resettlement? Nor do we know what the Greek Cypriots will do? Will they support us when we go there? Will they keep in place the financial incentive scheme that helps Maronite families who opt to resettle in the north?"
The scheme that he refers to has been set up by the RoC government for both the Maronites and the Greek Cypriots from Rizokarpasso. It includes financial assistance provisions for those who decide to return. To date, more than 150 people, mostly from Kormakitis, the biggest Maronite village in the north and the only one without a Turkish military presence, have applied for this support,
"The scheme is very important for people who want to go back. There are no jobs in Kormakitis so this money helps them a lot," says Antonis Hadjiroussos, the former Maronite representative in parliament.
Hadjiroussos stresses that the Maronite community has been requesting that the Turkish army departs from the villages of Ayia Marina, Asomatos and Karpasha for a very long time.
"We have talked about it with everybody – the United Nations, the Turks, the friendly countries in the region, including Lebanon, and, of course, the Pope." Many promises were made "but nothing came of them – now suddenly it has happened."
He remains sanguine and pragmatic in face of the development.
"Whether it is a good timing for us or the Greek Cypriot community, I don't know. And whether it is to the political advantage of Turkey I am not in a position to analyse either. But it is a positive development for the demilitarisation of our villages. It is positive for our community.
"As for the fact that the villages will remain under the Turkish Cypriot administration. I take it as a temporary measure until the solution is found," he adds.
Hadjiroussos thinks the other Maronite villages in the north should be granted the same status as Kormakitis, his family's village. This model established by the Turkish Cypriot authorities in 2005 allows Kormakitians the right to inherit their land as well as use, rent or sell it, subject to certain conditions.
Hadjiroussos allows that the scheme, while not ideal and certainly improvable, goes some way towards meeting the needs of the Maronite community as a whole.
Others are less amenable and more vocal in their expectations of the authorities in the north.
At a recent community meeting which the Sunday Mail attended one participant said: "If we are to settle there we need the same rights we have in the south. We cannot be second-class citizens. Right now there are lots of things I cannot do in the north. Some are very simple. For example, I cannot go fishing or hunting. I will be arrested if I try. Other issues are more complex. In the Republic of Cyprus we have our MPs, our ministers. We are treated the same way as Greeks in every respect. My question, my concern is whether we will we get the same treatment in the north?"
The Turkish Cypriot authorities say they are aware of all these concerns and plan to address them.
When it first met at the office of Turkish Cypriot leader Mustafa Akinci, the specially convened board working on the subject discussed the return of Maronites from legal, financial, technical and social aspects and set up a sub-committee charged with working alongside Maronite representatives to define, review and try to resolve any and all existing problems.
"There is a lot to do and much to learn about the subject if we are to find the best solutions for all the problems," says Kudret Akay, one of the sub-committee members and undersecretary to 'Deputy Prime Minister' Serdar Denktash.
A case in point is the many Maronites married to Greek Cypriots.
"An immediate question arises as to how we are going to treat such cases. We need to look at all of it," Akay says.
"The main aim is to find such solutions that would not harm Maronites. We want them to come back home without creating problems for them."
The Maronites will get their land back regardless of whether they decide to settle permanently in their villages or stay in the south.
According to Akay, Ayia Marina would be the first village designated for return to its original Maronite and Turkish Cypriot inhabitants.
The village church has already been restored by the bicommunal Technical Committee for Culture Heritage and currently the Turkish army is rebuilding the mosque. This week, Ayia Marina's Maronites have also started looking into reconstructing their cemetery.
Members of the Ayia Marina community reckon the army will not depart the village area entirely. A hill nearby has such strategic importance that a complete withdrawal is out of the question, they believe.
But as one elderly Maronite told the Sunday Mail, that is a matter of indifference for many.  What counts is going back to Ayia Marina.
Their abiding concern, they forthrightly admit, is the survival of their unique culture in Cyprus.
"We are a small community and the only way we will survive and won't disappear is if we return to our villages. They are our strength. We have no choice," says Maro Emmanuel, who can't wait to return to Ayia Marina.