A fire in an area between Paphos and Limassol continued to rage out of control on several fronts Saturday with authorities saying they had indications it had been set deliberately.
Authorities had to evacuate homes in the village of Dora as a precaution after the fire, which broke out at around 2am, came very close to homes.
Police and civil defence personnel went door to door and asked people to assemble at the village square.
They were then taken to the entrance of the village but in the end they did not have to move the residents elsewhere after fire fighters prevented the flames from spreading among homes.
Over 30 fire trucks, assisted by earth moving equipment were fighting the flames across a 20-km front on difficult terrain in the area around the villages of Mousere, Archimandrita, and Dora.
The work was made harder by the strong winds fanning the fire.
As bulldozers tried to carve access roads for ground crews, around nine water-dropping aircraft sought to bring the flames under control from the air.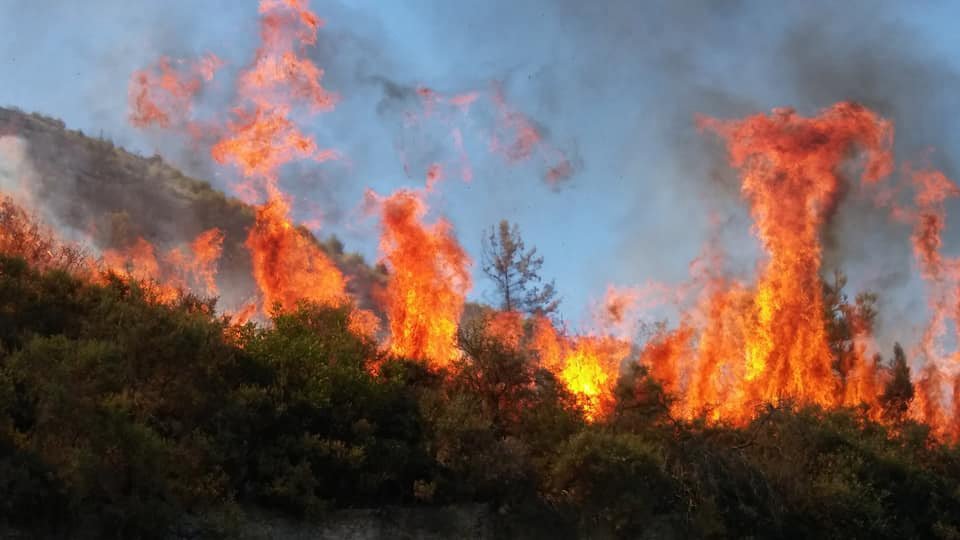 Police were already questioning people to determine the cause of the fire.
Authorities initially suspect the fire had been set deliberately after six points of origin were spotted at the start of the blaze.
Police said they had evidence that vehicles had passed through the area in the early hours and were trying to track down the drivers to determine whether they were linked.
The head of the forestry department, Charalambos Alexandrou, was shocked and outraged by the "criminal act perpetrated against our country."
"I am really shocked," he said, strongly condemning the "heinous act" perpetrated by "morons."
"What they do destroys our country. This act has threatened communities," he told the Cyprus News Agency.
Alexandrou described the fire as the battle of battles "and we will win it," he said, asking people for help.
In a related development, the agriculture ministry on Saturday banned private vehicles from being inside state forests without reason starting Saturday. The ban will remain in place until August 17.
Offenders face up to one year in jail or a fine that does not exceed €5,000 or both.