Enjoying the sun and the lapping up the waves on Ayia Varvara beach in Limassol, paddle boarding coach Costas Symeonides was resting on Sunday before taking on the biggest challenge of his life: stand up paddleboarding from Mykonos to Limassol.
Under the slogan Paddling for Life, Paddling for Children and the auspices of President Nicos Anastasiades, Symeonides said he took on the task because he loves the sea and he loves a challenge. All money raised through sponsors and from members of the public will be given to the Centre for Preventive Pediatrics at the Karaiskakeio foundation.
On Monday he will travel to Mykonos to start the 850km journey on Wednesday, which should take 10 days.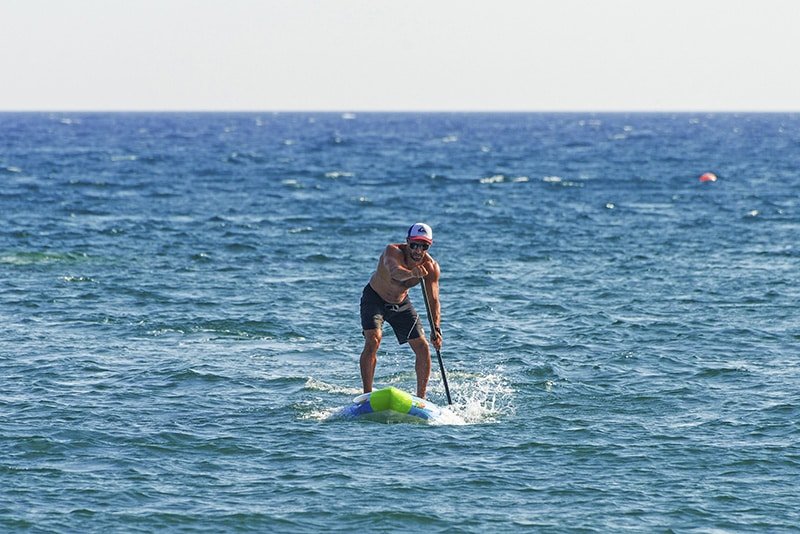 The 41-year-old is no stranger to paddle board challenges, having used one in 2013 with his friend Nicos Karali to get from Paphos to Limassol, again raising money for charity. During that attempt he raised €13,900 for the Cyprus Red Cross. He followed that up in 2014 with a paddle board marathon from Kastelorizo to Limassol, collecting €35,000 for the same centre as this week's challenge. He raised the same amount in 2016 with a 700km journey from Crete to Limassol.
Symeonides spoke to the Cyprus News Agency (CNA) from his stand up paddleboarding (SUP) and windsurfing school on Ayia Varvara beach, saying he is ready to see what the sea, the Aegean holds.
"It is the first time I am so impatient, because I want to see what will happen in the Aegean and from what I can tell there will be significant wind and waves," he said.
To get fit for the challenge, Symeonides spent 10 days putting himself through a nine-hour programme, seven and a half hours on his board and 90 minutes cycling.
At the same time he tried to build up his weight by two to three kilos before setting off for his latest challenge as he expects to lose seven to eight kilos by completing it.
For the first three days a rubber dinghy will accompany him with his crew but as there is no chance of sleep on board it they will overnight at the nearest island.
"I hope by the third night to be in Rhodes, from where I will be accompanied by a sail boat" for the 85km, 11-hours I will paddle each day. "Depending on the weather conditions, the sea, the wind, I will try to do more kilometres during the first days."
He is expected to arrive back in Cyprus on August 24 and he will be accompanied from Paphos to Ayia Varvara by his students and other SUPers.
Donations can be made to ΙΒΑΝ CPP Paddling for Life 2018 – Bank of Cyprus CY63 0020 0195 0000 3570 2801 4444