THEO PANAYIDES meets a journalist who has had a varied and exciting career covering 16 wars – the first of them in Cyprus, while an injury sustained on the island put an end to his parallel drumming career – as well as LiveAid and Mandela. A restless soul, he is now writing a book about his life
I'm a bit concerned about Christopher Morris. He's driving up from Paphos (where he's staying for a week, on his first visit to Cyprus in 44 years) and it's raining quite steadily, with more rain forecast. The roads can get slippery – and, after all, he'll be 81 in a few days. Then I remember that he's covered 16 wars in the course of a long career in broadcasting and journalism, and I'm not so worried. He can probably take care of himself.
That said, Cyprus looms large in his already-outsized life, being the war where he almost died – or perhaps we should say came closest to dying, since there have been other near-misses. He's been in a plane that was almost shot down by anti-aircraft fire while coming in to land at Entebbe, Uganda (the pilot fortunately decided to abort the landing at the last minute), and was captured by trigger-happy soldiers in late-1970s Benin after his car ran a checkpoint. "We were all dragged out the car, guns to the head, all this sort of thing," he recalls in his jolly way, grey eyes glinting with amusement in a round, slightly ruddy face. He and his TV crew finally managed to convince the officer in charge that they were guests of the Ghanaian government, but it was a risky ploy: "Apparently, two days earlier the Japanese had tried to do the same thing, in another part of the country, and they'd all been assassinated by the soldiers. The High Commissioner said, 'You're really lucky'."
Still, Cyprus in 1974 was a bit special: his first war – though he already had a decade's experience as a reporter – and a war he'd volunteered to cover for BBC Radio, wangling a seat on a charter plane that was coming to rescue stranded British tourists in the week between the coup and invasion. (It was one of the last-ever flights into Nicosia airport.) He covered everything, from a gun battle at the Ledra Palace to a solitary Englishwoman taking care of abandoned pets in a village where everyone else had fled. "That particular war had no control," recalls Christopher. "In most modern wars now, if you're with the Israelis or whoever, they'll give you a guide to go up to various locations – but this one, no. It was the Wild West. So you could go anywhere, do anything".
He has many stories from that time, but his life-changing story happened on August 8 – and it started right here, at the Cyprus Hilton in Nicosia where we're sitting on this blustery morning. This was the place where foreign journos "used to assemble in the bar every night, and pick each other's brains as to what was going on" – and a story emerged of British civilians who were stranded in Lapithos, near Kyrenia (the front line still fluctuated daily at that point), so a party of journalists decided to go check it out. Among them was Simon Dring of the BBC – and "Simon had a reputation for being a bit gung-ho", so his car, also including a cameraman named Martin Fletcher and a sound recordist named Ted Stoddard, shot to the front of the convoy and drove off. There were four cars in all: AP photographer Paul Roque was in the second car, "on his own with a puppy they'd picked up" (the puppy is the kind of detail that marks this out as a true story), two Cypriot stringers for the New York Times were in the fourth. In between was Christopher with three other journalists, "Iain Walker of the Sun, Frank Thompson of the Daily Mail, and Gareth Parry of the Guardian". He's currently writing a book, he explains, which is why he recalls all the details so precisely.
The convoy went north, towards Lapithos; the road soon became "pretty spooky". An armoured personnel carrier lay on its side, on fire, with two or three soldiers dead inside it (a list of all the horrible things Christopher has seen would fill a whole profile). Suddenly, Simon Dring in the first car realised he'd driven into an unmarked Turkish minefield. The mines were clearly visible, so-called 'Bouncing Betty' mines which threw up explosive in the air and spread out shrapnel over a 50-yard radius.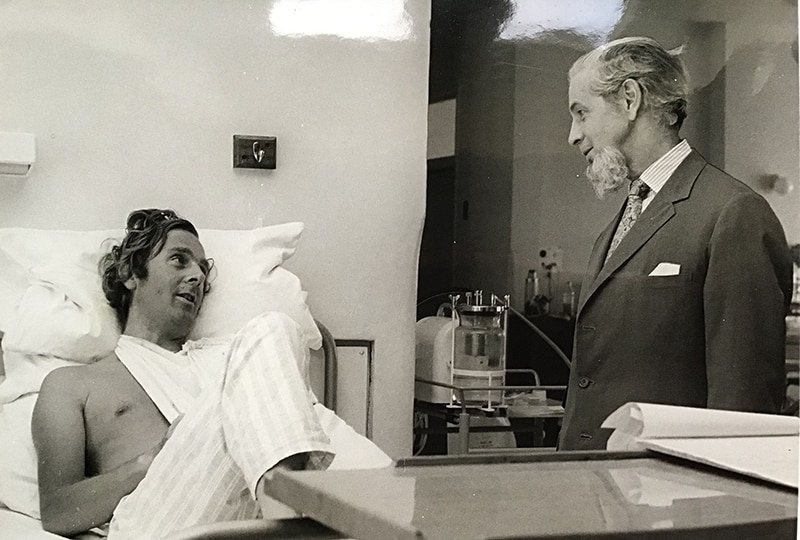 What happened next happened all at once, in about two minutes. Ted Stoddard, trying to warn the cars behind, gets out of the first car, recalls Christopher, "and immediately treads on a mine and kills himself – because the shrapnel went straight through his heart. But he didn't just drop dead, he started running around saying 'I'm dying, I'm dying, please remember my wife. Tell my wife I love her', and all that". Paul Roque, in the second car, got out to help, walking down the side of the road to avoid the mines – but instead activated a trip-wire mine, "so he disappears in a big explosion. He lost his right eye, and had eight fractures in his left arm". Fletcher, the cameraman, did what cameramen reflexively do: he "detached himself from what was going on", put the camera up to his eye, and filmed the whole thing. Meanwhile "I was sitting in the third car minding my own business, and a load of shrapnel came zooming in through the window of the car, caught me here" – he indicates his upper arm – "and I had a gusher [of blood] coming from my shoulder that was hitting the roof of the car. Must've hit an artery or something. So I thought 'This is it' – and everything started to go slow-motion… I lost all my strength, it just went".
How did it feel?
"What was going through my head was 'This is it'. You get flashbacks. You do get flashbacks". Not regret per se, "it's just a blur. It sort of goes through your head, then suddenly you get back to reality."
The reality of 2019, of course, is that Christopher is sitting right in front of me, so he obviously survived the experience – but it took a year to get back to work (one of his first assignments was coming back to Cyprus for the one-year anniversary in 1975), three years of physiotherapy to get his left arm moving again, and a permanent disability in that arm. He shows me his hands, the left one noticeably shrunken and atrophied; "Keith Graves, one of the BBC reporters, used to call me 'the one-armed bandit'!". The one unequivocal casualty was his parallel career as "a very proficient, semi-professional drummer"; Christopher was actually a well-known jazz drummer in his 20s, with his own jazz club in his hometown of Luton. All that had to go after the accident – but his life as a journalist flourished, covering most of the big events of the 80s and 90s from Live Aid to Nelson Mandela, working as foreign correspondent, news presenter (for the BBC and, later on, Sky News, for which he was headhunted personally by Rupert Murdoch), and TV reporter. Not to mention those 15 further wars, after being nearly killed in his first one.
Why did he do it? Why would anyone do it? Seeing so much horror, taking all those risks. After all, he had a family. He got married in 1962 and has a daughter by that marriage, now middle-aged and "in design," he says a little vaguely. (He's now with his second wife Mary, who waits with infinite patience in the lobby of the Hilton.) "I mean, you often get on a plane, going to some war zone, and you think: 'Oh God, what the hell am I doing this for?'," admits Christopher, and laughs in his jocular manner.
One reason was certainly boredom; he seems to get bored rather easily. That was the attraction of journalism to begin with, "something different every day". (He was quickly successful at the profession, becoming the youngest reporter on Fleet Street at the age of 21.) Later on, he got bored of being a newsreader and went "back on the road as a reporter, at my own request"; later still, he upped sticks at the age of 50 and moved to Australia, working for the Times and the Beeb. Christopher seems to have been born with a constant, low-level restlessness. (His dad may have been the same way, moving the family from Luton to Cumbria and then back to Luton.) Another reason was the lure of adventure, tying in with a certain machismo. He mentions a significant detail about that ill-fated trip to Lapithos: seeing the burning APC with the dead soldiers inside thoroughly spooked both himself and his colleagues, he admits – "but, being four men in a car together, none of us was going to say 'Let's go back'. So we carried on".
That's how it was, I suspect, a macho world where the wars a man had covered were like notches on his belt, or scalps he'd collected. Christopher's Wikipedia page dutifully mentions his 16 wars; Simon Dring, the 'gung-ho' guy from the first car, has 22. Being a war-zone reporter meant something more in those pre-internet days. "Today, a lot of journalism is just conducted on a computer, whereas in my day – which is a different generation – you did have to go out and check it all out. And to get pictures, you had to physically be there." (Most pictures from the current war in Syria are taken by locals.) This was a swashbuckling, pointedly reckless life, not least because being reckless – or lucky – was how you got the scoops in the days before digital omniscience: "All the best scoops are by accident". Again and again, muses Christopher, he'd stumble onto big stories just by venturing out and being pushy, or fearless, and happening to be in the right place at the right time.
Take Sabra and Shatila, for instance, the Palestinian camps in Beirut where a Phalangist militia massacred hundreds of people with the connivance of Israeli troops in 1982; "Yeah, I was the first journalist on that". He was actually showing John Simpson around, he tells me – it was Simpson's first day in Beirut; Christopher was leaving that evening – when "we were met by about 200 women who were coming up the road, screaming and shouting and in tears". The women told them of the attack, so they went down to Sabra and Shatila: "The camps had been flattened… and the road was covered in bits of bodies and all sorts of things. People that had been shot, or run over by tanks. Then we decided to get out, and of course" – he makes a whooshing sound – "a million flies take to the air, they'd been feasting on the bodies". He didn't find the story; it found him.
He and Simpson (now perhaps the best-known BBC reporter) filmed the carnage, but then "I did a stupid thing," he says, allowing Simpson to write the story. The reason why this was a mistake is because "John didn't know, at that stage, a great deal about the politics of Lebanon" – but I also suspect some professional rivalry, a suspicion later reinforced when Christopher gripes that his role in obtaining the scoop has been obscured. "I'm written out of that, I'm not even mentioned by Simpson in his book. Which I was quite annoyed about – so I'm going to put the record straight, in the one I'm doing". He pauses thoughtfully. "But that's the way it goes. I mean, I could be accused of the same thing. It's a parade of egos, in a way, in television. There's a lot of competition."
Is ego what ultimately drives Christopher Morris? Hard to say, of course – but I don't really think so. One of his most endearing early stories is of the time when, barely out of his teens, he convinced the Duke of Bedford to play the washboard in his skiffle band (this was at a debutante's ball, which he knew the Duke would be attending), having first phoned the BBC and ITN to invite them to cover it; he was always, he says, "propaganda-minded". One might say he's a showman with an eye for the big gesture, a roving jazzman who enjoys the daily drama of a journalist's life. Almost uniquely, he has none of the usual professional vices: "I'm an enigma – very boring, really. I don't drink, and I don't smoke. Never have". Maybe it's because most reporters need those things to unwind and forget what they've seen, whereas Christopher doesn't need to forget it; he thrives on it.
Not everyone could do what he did. I ask if it feels emotional for him, coming back to Cyprus after all these years, but he pauses uncertainly: "I've never had – emotion," he replies, "or get too excited about things". He doesn't get depressed (he's not the type), nor does he try to pin down the flaw in human nature that produces all those wartime atrocities. There's a slight coldness there, whether innate or deliberately cultivated to survive all the bad things he's seen. You have to be slightly emotionless to almost lose your life in one war, then go on to cover 15 more.
Cyprus, in the end, isn't that special: "It's just another place that I came to, in a fairly exciting career," shrugs Christopher with affable understatement. Still, there's a postscript of sorts: he calls me a few days later to report that an officer of the Scots Guards kindly let him into the Ledra Palace – probably the one place in Cyprus that's essentially unchanged since the invasion – and he did feel a surge of emotion at the sight of the old chandeliers, the patched-up damage from the shell that struck his old room, a copy of the hotel menu from the day of the invasion: 44 years and 16 wars, momentarily plucked out of time. "It's a mad life, but it's good fun," he tells me earlier at the Hilton, speaking of those busy years – then I say goodbye, silently hoping he'll be careful on the road back to Paphos.