Over the past several years, migrant support group Kisa and the Unhcr have put extensive pressure on the Cypriot authorities to raise the quality of life at the Kofinou reception centre for asylum seekers. Little seems to have improved however. Benjamin Rawlings left his comfort zone to check it out
By Benjamin Rawlings
On the day I visited Kofinou, a country road surrounded by sun-beaten hills and miles from civilisation took me through to a security gate. Once inside the first sight was that of tired-looking, solemn faces standing to the side of the metal buildings that line the pathways. As the windows rolled down the smell of sewage and fermenting garbage fed into the windows. Later, under the midday sun it would only worsen.
The Unhcr recommendations dating back over a year noted that long-standing problems with the sewage system "despite efforts of the asylum service", required attention, but it was obvious from the start that little if any progress had been made in this regard.
When we got out of the car, residents seemed keen to say hello and extend a hand. With them, we walked along rows of shack-like structures intended as houses, and through crowds of people sitting idly and smoking cigarettes. The sides of the houses were covered with children's writing in Arabic and games of tic-tac-toe.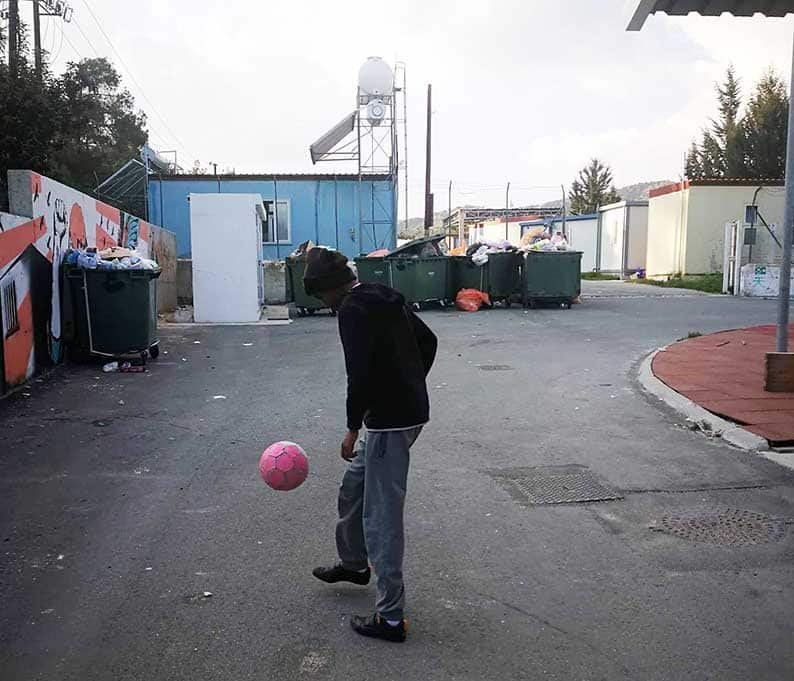 The Unhcr said last year that rubbish bins were often "seen to be overflowing" with "rubbish strewn in communal areas" which, I saw was still the case 12 months later. The sight of people washing dishes and queuing for food along the garbage-filled laneways invoked a feeling of distance from life in a European country.
I was led to the distribution centre – recently rebranded as "Angela's Centre"after a popular volunteer. Here the residents receive clothing and hygiene products twice weekly. A look inside revealed supplies of infants clothing, nappies, and children's wipes but very serious shortages of other necessities.  Asking a volunteer why this was the case I was informed that the centre relied almost entirely on donations.
This meant that on a week-to-week basis there were always excesses of certain supplies and scarcities of others.
In its report from early 2017 the Unhcr noted that there were thousands of asylum seekers in Cyprus living below the poverty line and requested that the matter be addressed urgently. At Kofinou, open since 2004, hosting anything from 300 to 400 people at a time, asylum seekers receive as little as €40 per month per person which has forced residents to depend almost entirely on weekly donations from the distribution centre.
As a volunteer began to look over the supplies inside Angela's Centre people began approaching us. Many had come to say hello while others had come to ask for hygiene products. The volunteer was forced to have to keep saying "I am sorry but we do not have any". Aware of the presence of an outsider a pregnant woman tried to turn away from me to make a request – shyly and quietly –  for shampoo and toilet paper. She, like the others, had to be told that there was nothing to offer in that regard.
Opposite the distribution centre stood the staff kitchen. At about noon a large queue had formed. A small window in the kitchen not much larger than a human head opened to offer bananas, water and salad. Each time the window opened, a hand laid the food on the counter while the face remained hardly visible. I remarked to a woman standing near that this system seemed impersonal. She almost laughed at my naive statement assuring me that this was the least of their worries.
A short walk from the staff kitchen brought me to the residents' kitchen and washrooms. The sight of the kitchen resulted in a sudden loss of appetite. The floor was covered with a layer of water, and black mold was clearly visible on the walls and above the sinks. It smelled of decay and damp rotting wood and it was hard to imagine – for basic health reasons – why anyone would want to cook there. I later learned that the residents rarely did. The Unhcr report had said damage in kitchens extended to ovens, broken faucets, exposed wiring and generally poor cleanliness. Kisa has repeatedly stated that the lack of an operational kitchen not only posed a health hazard but also deprived residents of their independence and their ability to cook food relevant to their culture. 
As midday moved to afternoon I saw most residents queue for packaged food and ignore the kitchen altogether.
Soon after, I took off on my own around the sewage spills in the far end of the camp, past men kneeling and washing their clothes in bins and past young boys playing around the garbage. Stopping, a man started to make conversation. He explained how he had serious liver problems which he felt were not being taken seriously enough by the centre's administration. Hospital visits were infrequent and the centre did not have the resources to treat his condition. Later, relaying this story to a staff member I was told that it was difficult to track the needs of all those in the camp.
In a six-month-old proposal Kisa suggested that "a medical professional be on site to deal with any necessary medical emergencies" but from what the man told me I gathered there was still no such person at the centre trained to handle such emergencies. Those residents that were getting care received it infrequently.
Leaving down the dusty road and back to the security and banal comforts of Europe I turned over the day in my head. Curious as to what my escort was thinking I tried to make conversation. The last thing I have recorded is them saying:  "We need to question what our values are as a society – we need to ask ourselves how we might feel if it were our children or our mothers in there".
Basic services
According to the NGO, Future Worlds Centre (FWC), Kofinou staff includes 6 institutional officers, 2 cleaners, 1 person responsible for technical maintenance and a team of three social workers and one administrator.
Specialised services include: three full-time in-house social workers, one nurse offering services on a daily basis for six hours, visits by a mental health nurse three times per week, and a visit of a health visitor once a week for purposes of raising awareness among the residents regarding healthy lifestyle and personal hygiene.  "No medical services are offered in the premises and the same applies to psychological/psychiatric support," the NGO says.
Regarding translation services, Arabic interpretation is available on a daily basis. French and Somali translation is available once a week. FWC said it occasionally receives complaints related to the number of staff as well as the quality and efficiency of their interaction and communication.
There is no specific duration of stay for asylum seekers in the reception centre. As long as the claimant of material reception conditions retains the status of an asylum seeker, he or she may be referred or obliged to stay in the centre depending on the status of their application. As a way to free up resources, the asylum service says residents who complete six months at the centre have the possibility to apply for reception conditions in the community and move out once granted support from welfare. "However, due to the unsatisfactory levels of support provided to welfare recipients, residents are reluctant to move into the community," FWC says.