Novak Djokovic will face Juan Martin del Potro for the U.S. Open title after the Serb beat Kei Nishikori 6-3 6-4 6-2 in their semi-final on Friday.
Djokovic, this year's Wimbledon champion, kept Nishikori under relentless pressure, carving out 17 break point opportunities and winning 80 percent of his own first serve points to win in two hours and 23 minutes.
Twice champion Djokovic, who reached his eighth final at Flushing Meadows and is seeded sixth this year, broke Nishikori in his first service game and closed out the opening set with an ace in 37 minutes without facing a break point.
"It felt really good," Djokovic said courtside. "Easier said than done – you have to execute the shots against Kei Nishikori, who is one of the quicker movers on the tour."
Nishikori improved in the second set, coming to the net more often, but Djokovic was in imperious form. He fended off the only two break points he faced and broke the Japanese again for a 3-2 lead.
"I thought in the important moments I came up with some good second serves, some good first serves. I was returning well," Djokovic added.
"I was putting constantly pressure on him, trying to move him around the court, take away the rhythm from him, not give him the same look always. The match was really, really good from my side."
The Serb dominated from the baseline while Nishikori's cause was undermined by 51 unforced errors.
"He was playing very solid everything: serve, return, groundstrokes," Nishikori said. "Wasn't easy to stay with him tonight."
Djokovic, who was forced to skip last year's tournament due to an elbow injury and returned to the tour this year after surgery, said he was thrilled to be back on the big stage.
"It means the world to me obviously," he added. "Like thousands of other tennis players around the world I'm trying to be the best I can be."
Reaching a second consecutive Grand Slam final suggests the 13-times major champion is nearly back to his best, though he will need to be even more clinical against Del Potro, who has only dropped one set in six matches in New York.
"He's a dear friend," Djokovic said of Del Potro, who won the title in 2009. "He always possessed that big forehand, big serve … one of the biggest forehands ever in the history of this game."
"One of the keys … will be how well can I return, how many returns I can get back in play, but also try to have some depth in that return, and how accurately I can serve myself."
Nishikori began the third set with a confident hold of serve but the 28-year-old made four unforced errors in his next service game to set Djokovic on the road to victory.
The Japanese player's spirit was finally broken and his serve followed, with Djokovic claiming his fourth break with a fist-pumping celebration before serving for the match.
The 31-year-old, who was beaten by Nishikori at Flushing Meadows in 2014, sealed victory on his second match point to improve his head-to-head record against the Japanese to 15 wins from 17 meetings.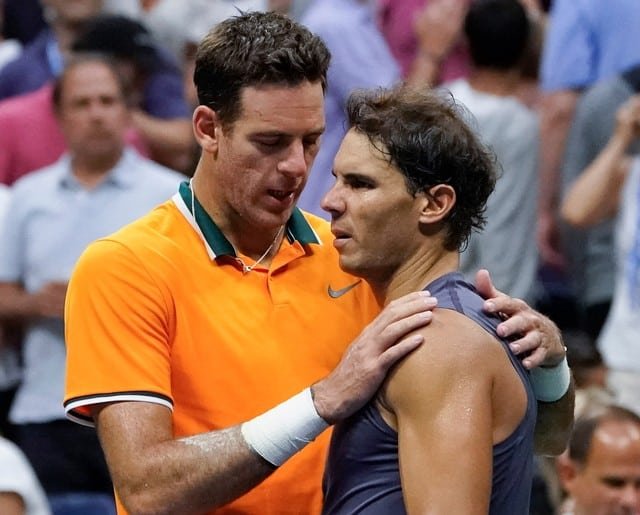 Martin del Potro v Rafa Nadal(R) 7-6 6-2
A weary and wounded world number one Rafael Nadal retired from his U.S. Open semi-final while trailing Juan Martin del Potro 7-6(3) 6-2 on Friday, sending the Argentine back to the Flushing Meadows final for the first time since his 2009 triumph.
Nadal, who had never before retired from a U.S. Open match, showed signs of distress almost from the start as he limped noticeably after a gruelling 69-minute opening set.
Grimacing with every sudden move, the 17-time Grand Slam winner called for the trainer during the changeover on serve at 2-1 in the second.
The defending champion had his knee massaged and re-taped and bravely continued through the second set before telling the umpire he was unable to continue.
"I think it was two-all in the first, 15-love, something like this in the first set, that I felt (something)," said Nadal. "I said to my box immediately that I felt something on the knee.
"After that, I was just trying to see if in some moment the thing can improve during the match.
"But no, was not the day.
"I waited as much as I can. You could imagine very difficult for me to say goodbye before the match finish but at some point you have to take a decision."
Nadal's stamina and famous fitness have been put to the test on the sweltering Flushing Meadows hardcourts as he has logged nearly 16 hours through five matches.
The Spaniard was made to work for his place in the last four, needing a fifth set tiebreak to see off Dominic Thiem in the quarters.
It was the second time this year that the world number one has retired from a slam as he also quit during his quarter-final against Marin Cilic at the Australian Open in January.
"This year have been a fantastic year until this moment," said Nadal. "I lost four matches. Two of them I had to retire.
"Negative thing is two of them have been in quarter-finals and semi-finals of a Grand Slam, close to fight for titles.
"That's frustrating. Is tough for me."
"I feel that I fight all my career against these kind of things."
One of the greatest players of all time, the one chink in the Spaniard's armour has always been his knees with injuries plaguing him throughout his career.
Nadal's all out, take-no-prisoners attacking style has seen his body absorb more punishment on the court than perhaps any other player, leaving many to wonder just how long the 32-year-old can continue to pound away.
"All my career everybody say that because of my style, I will have a short career," said Nadal. "I am still here."
Del Potro, who has also had his career disrupted by injuries, was not happy to get the victory the way he did but the big-hitting Argentine will now get a chance to raise a Grand Slam trophy nine years after his first.
The third seed will now await the winner of the second semi-final between Japan's Kei Nishikori and Serbia's Novak Djokovic.
"It's not the best way to win a match," said Del Potro, who also beat Nadal at the same stage of the 2009 U.S. Open to reach what had been his one and only Grand Slam final.
"I love to play against Rafa because he's the biggest fighter in this sport.
"I'm sad for him."