By Andria Kades
A full year after the catastrophic Solea fire which killed two firefighters and destroyed over 18.5 square kilometres of forest, the area still wears the brutal scars of the blaze that raged for five days.
Forestry department officials acknowledge that to the untrained eye it would appear that little has changed since the immediate aftermath of the fire that required assistance from Israel, Greece, Britain, France and Italy.
Forest regeneration takes years, senior conservation officer at the forestry department Andreas Christou told the Sunday Mail. Removing all trees that are now dried up as a result of the fires will in itself take two or three years, he added.
"About half the area has now been cleared," he said.
While there have been new pine and terebinth plantations, their growth is slow, as little as two or three centimetres.
"But someone knowledgeable about forests would see the area is in a phase of speedy regeneration."
Small bushes are also naturally regenerating, Christou said.
In total about 15,000 plants and 20,000 trees will be planted, with forestry department staff responsible for watering them.
"Where we've made plantations, we have to water them."
Artificial soil has been used but natural regeneration is an integral part of the process.
"Forests have their own defences and the ecosystem can adapt. This is why our interventions are limited," he said. In five years' time, the growth will be much more visible and in 15 years, the forest will look much richer with plantations having had time to grow, Christou said.
Gabions and tree trunk fences have also been put in place to prevent flooding and keep the soil intact, he added.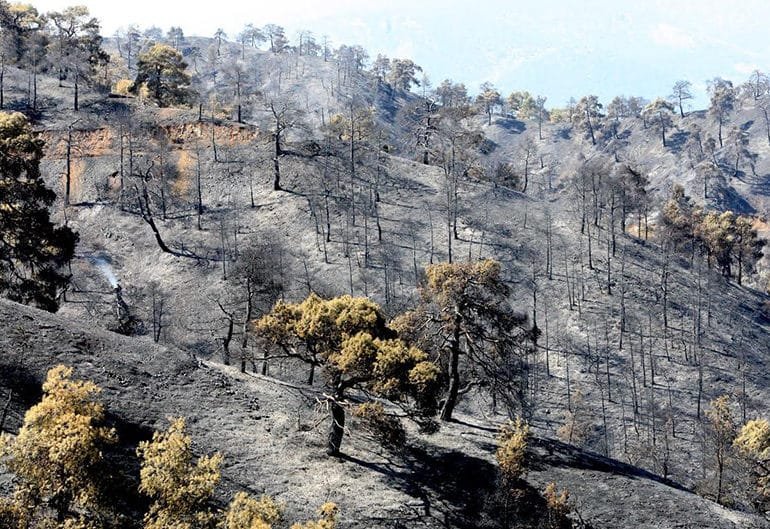 With the start of the dangerous summer forest season now upon us, the government has outlined its measures to ensure that a fire on the scale of Solea is not repeated.
By the end of May, the state had rubberstamped a decision to create a runway at Mammari, north of Kokkinotrimithia to help aircraft deal with fires in the Troodos area.
The runway will help airborne crew battle the northwest region of Troodos in case of a fire rather than use the current setup at Larnaca and Paphos airports, Christou said.
Works are expected to be completed by 2018
Meanwhile, in April, the EU decided Cyprus would receive €7.3 million in aid from the EU Solidarity Fund to help restore essential infrastructure, reimburse the cost of emergency measures and cover the costs of some of the clean-up operations.
Justice Minister Ionas Nicolaou also announced that apart from the Peristerona, Moniatis and Stroumbi fire stations which operate for 24 hours, so too would Evrychou and Lefkara stations.
Additionally, the fire department will be reinforced with the recruitment of 169 seasonal firefighters and from October, 40 new permanent firefighters will be recruited, Nicolaou said.
Currently the forestry department has 95 firefighting vehicles, according to Christou with other equipment such as bulldozers at their disposal, that can help firefighters reach the flames.
Although this is the same number they had last year tenders are being called for another 15 medium-sized firefighting vehicles which be available by next year.
Asked if this means the current equipment is not enough, Christou said "when there's a fire, vehicles from other departments are used as well, such as the firefighting service."
Spokesman for the firefighting service Andreas Kettis told the Sunday Mail, they have at their disposal 257 vehicles, two which have been purchased this year, aimed to tackle chemical attacks.
Ten more vehicles will be purchased by the end of this year and the beginning of 2018.
"We can't just buy vehicles from one day to the next. There are procedures in place that we have to follow."
Cameras have also been installed in rural areas transmitting live images to the crisis management centre in Larnaca. By the end of July, two cameras will be purchased and installed in two police helicopters to provide live feeds to the crisis management centre and any mobile crisis centres that are set up near any fires, Kettis said.
GPS systems have also been installed on 75 firefighting vehicles and firefighting foam will now be used on two Bell helicopters for the first time.
According to Nicolaou, an evaluation study has been submitted to the finance ministry to either buy or rent two aircraft for use by the forestry department.
What remains paramount however is the public.
"Over the years we see that people are more careful and contact us if they see something. However, as we saw last year, it only takes one person or one mistake," said Kettis.
Asked whether the fire department was ready for summer, Kettis said: "we don't have any shortages. We will do our best and we feel ready. We believe we will do well."